What customers have to say about our New Year's Cards
January 27, 2019
I highly recommend this card!!
"Absolutely love this card they came out perfect!"
January 23, 2019
good purchase
"Paper is excellent quality as is the envelope. Shipping can be high unless you are ordering a larger number of cards but I only bought one."
January 23, 2019
I will absolutely use this product again.
"The first time I have used Shutterfly for our annual greeting card. Very pleased and will use again."
January 22, 2019
Chinese New Year
"Christmas came too soon. No cards went out. New Year's came and went! Still no cards were sent out. But thanx to Shutterfly, made it for a Chinese Greeting! Beautiful cards front and back with pictures of family sent! Halleluah!!!!!"
January 22, 2019
I looved these cards and they arrived so quickly!
"Shutterfly makes last minute projects easy .. I love these holiday cards and continue to make photo books each month with their app as well as edits on desktop site. I love Shutterfly!"
Sparkle & Shine New Year's Cards
Share your excitement for the start of a new year with Shutterfly's Sparkle & Shine New Year's card collection. These gorgeous card designs are a special way to wish your friends and family members all the best for the New Year in a stylish, personalized way. From glitter card designs to personalized foil lettering, your custom Happy New Year's cards will wow your recipients as soon as they lay eyes on them. Personalize your holiday greeting cards with your favorite photos and memories from the last year to update loved ones and send warm wishes.
How to Design New Year's Cards
Choose from Shutterfly's collection of stunning card designs featuring sparkles and shine that are perfect for New Year's greetings. Whether you're looking for something festive, elegant, cheerful or simple, we make it easy to find a New Year's photo card design that suits your personal style. Discover your favorite Sparkle & Shine New Year's card design from a range of beautiful options, including styles such as:
Foil-Stamped Designs: A metallic shine is the perfect accent to your New Year's greetings. Choose from our premium foil-stamped cards, available in gold, silver and rose gold options.
Gate-Fold Cards: Our unique gate-fold cards open in the center to reveal your New Year's sentiments and family photos in a lovely way.
Glitter Cards: Bring sparkle and personality to your cards with dazzling glitter designs. And don't worry about a mess - it's real glitter but it doesn't rub off!
Designing Personalized New Year's Cards
Shutterfly offers a variety of card customization options, making the design process a breeze. To send a heartwarming season's greetings message to celebrate the upcoming year, customize your card with your favorite photos and festive designs. Some options for customizing your New Year's cards include:
Photos: Upload your own photos. You can create a collage of pictures to highlight favorite memories from the past year or showcase one or two special photos to serve as the focal point of your personalized New Year's card design.
Colors: You can personalize your greeting cards with your favorite colors. Choose the colors that coordinate best with your family photos for a professional, custom-tailored look.
Fonts: Select the font size and style that beautifully displays your holiday message in your personal style.
Trim: Choose a trim style you love to add even more personality and flair to your photo cards.
For more design tips and inspiration for creating the perfect custom New Year's card, check out our post on how to make a personalized card.
Festive New Year's Card Envelopes
Shutterfly's Sparkle & Shine New Year's cards will deliver holiday greetings with the perfect amount of sparkle and shine to your family members and friends. After you have the design you love, give your envelopes an extra special touch to create a cohesive look. Our personalized address labels and custom stickers are the perfect way to add some flair to your envelopes. You can even choose to send your photo New Year's cards with custom envelopes with beautiful designs perfect for welcoming the upcoming year and the good wishes you're sending family and friends. These extra personal touches will ensure your envelopes get noticed in the mail and bring joy to your recipients.
Related Products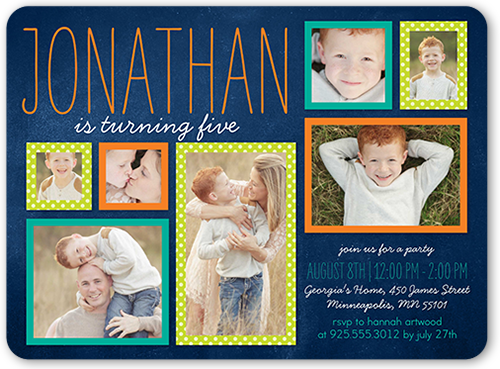 Chalkboard Bash Boy 6x8 Stationery Card by Petite Lemon. Another year older. Another year of fun. Invite all the guests with this stylish birthday invitation. Just add your favorite photos and all the event details.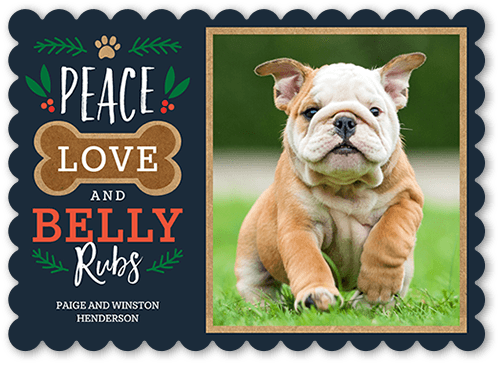 Belly Rubs 6x8 Stationery Card by Stacy Claire Boyd. Send a Christmas card friends and family will love. Add your own greeting and everyone's names. There's room for more photos and wishes on the back, too.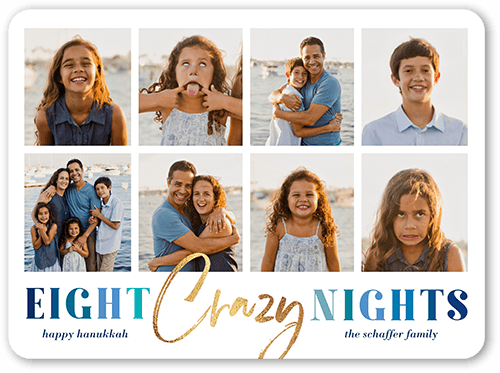 Eight Crazy Nights 6x8 Stationery Card by Poppy Studio. Send a Hanukkah card full of light and love. Add your own greeting and everyone's names. There's room for more photos and wishes on the back, too.