What customers have to say about our Notepads
January 27, 2019
Family Fun Notes
"Love to have pictures of my family on my notepad. What a great idea for a gift!"
January 26, 2019
Great Quality!
"I bought this notepad for a teacher and she was very happy with it. The thickness of the paper and the quality of the picture turned out great! She was very impressed and so was I."
January 26, 2019
Great notepad
"I have been looking for something like this. It's great! One suggestion, it needs a magnet in the back for the fridge."
January 23, 2019
I would buy this product again and again.
"i never saw something cuter! i made it for my friend and she was pumped!!! i recommend it to everyone!!!!!!!!!!!!!!!!!!!!!!!!!!!!!11"
January 23, 2019
Love it!
"It came just as I ordered. There were no shipping updates which was weird, but I wasn't in a rush so I didn't care. No complaints."
Personalized Notepads
With Shutterfly, custom notepads can add style to your personal stationery. In today's busy life, it can also be more than difficult to keep everything organized. If you are someone that likes to make to-do lists to keep everything straight, a personalized notepad is a fun way to make sure you can get everything crossed off. You can grab a notepad and take it with you to work, school, or while you're running errands to encourage organization in all aspects of your life. Customized notepads also make great gifts and promotional products that add the right touches of personality to one's life. Learn how to design your own notepads easily with Shutterfly!
How to Create Custom Notepads
Shutterfly makes it easier than ever to turn your favorite memories, artwork, and photographs into beautiful personalized stationery pads. Browse through Shutterfly's vast collection of custom notepad designs and choose your favorite. From watercolor and floral designs to monogram styles, there's something for everyone. When designing your custom notepads, simply upload your favorite images into the easy-to-use templates. When creating your notepads custom, you can utilize the design assistant to modify your memo pad with custom design elements, messaging, and other options to make it truly yours.
Shutterfly Personalized Notepad Designs
When designing personalized notepads, pick a template that showcases your personality and fits what you're looking for. Shutterfly's small notepads measure 5x7 inches, so they're perfect for use at home or on the go. Are you a fan of lists? Design unique custom notepads perfect for crossing items off to-do lists or grocery lists. If you love color, customize your notepad with watercolor, animal print, or flowery designs. From kids personalized notepads to custom notepads perfect for a teacher or coach, you can create the perfect stationery gift for anyone in your life.
Match a Custom Notepad With Stationery and Gifts
Once you realize how easy it is to create a custom notepad, you may be wondering, "What other products can I personalize?" Along with notepad printing, Shutterfly lets you easily customize all your stationery as well as unique gifts for your home or loved ones. Here are just a few ideas:
You can turn your favorite pictures or artwork into a reusable shopping bag that you will use every day. Reusable bags are perfect for carting the kid's stuff between school, sports, parks, and the beach.
Are you a coffee lover, or is there one in your life? A custom latte mug is a fun way to greet each day and is guaranteed to help you start each morning with a smile.
Need to thank someone for all that they do? A personalized desk plaque is an elegant way to say "thank you."
With Shutterfly, it is easier than ever to turn your favorite memories into beautiful gifts, decorations, and products that you (and the ones you love) can use every single day. Organization and list-making do not have to be boring. Whether you are looking for a way to spruce up your desk at home or in the office, creating personalized stationery is a fun way to add a little extra pizzazz into your everyday life. From personalized notepads and journals to monthly planners and more, Shutterfly is here to help you keep track of all the things you need to do while having a little fun as you take care of business.
Related Products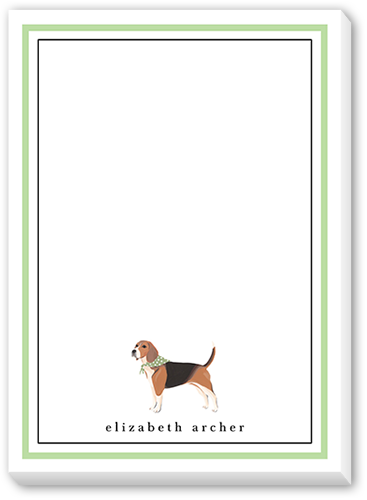 Beagle Dog Love 5x7 Notepad by Yours Truly. Jot down your notes on this personalized notepad. Just add your name and you're done. Makes a great gift, too.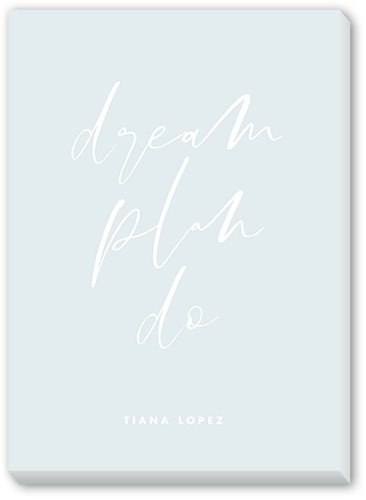 Dream And Do 5x7 Notepad by Kelli Hall. Jot down your notes on this personalized notepad. Just add your name and you're done. Makes a great gift, too.
Hashtag Notes 5x7 Notepad by Float Paperie. Jot down your notes on this personalized notepad. Just add your name and you're done. Makes a great gift, too.