Orange Baby Shower Invitations
What customers have to say about our Baby Shower Invitations
January 26, 2019
I would buy this again definitely!
"This invitation is beautiful I just wish the liners that came with it stuck better"
January 25, 2019
Perfect invite
"These are so cute and came exactly as I expected. Love them!"
January 24, 2019
In love with the shower invites
"These invites are so cute. They came just as ordered. I love shutterfly. They never disappoint."
January 22, 2019
I would buy this product again.
"Bought this for my baby shower invitations and it exceed my expectations."
January 21, 2019
I really liked my purchase experience
"I needed to order baby shower invites. I was pleasantly surprised to find out I could have Shutterfly take care of the invitees addresses, return addresses, and stamps! What a time savor! And the invitations are adorable!!"
Uniquely Orange Baby Shower Invitations for Your Family
If you're throwing a baby shower, you'll need some invitations. Send your guests fabulous orange baby shower invitations lovingly printed with Shutterfly.
Keep everyone in the loop with these informative invites. It's easy to remember which info you'll need to include for your guests to attend. You'll be automatically prompted to include everything, including the address, RSVP contact, phone number, attire, and gift registry. Your orange baby shower invitations will look complete when you design them with Shutterfly.
Choose a color that celebrates the gender of your new bundle of joy, or a neutral color that keeps a secret. It's important to send information to your guests while keeping them in their seats as everyone awaits the new arrival of your new little one.
Celebrate a New Boy or Girl on the Way
Your wee one may be a new boy or a little girl. Send baby shower invitations that make a proper announcement. Orange and blue or pink shower invitations will impress your guests. They may also drop a hint or two to anyone unaware of the new baby's gender.
Shutterfly provides cute templates for your orange girl or boy-themed baby shower invitations. They feature flags, dots and bright colors that express the theme of your party. Navigate to the design studio on Shutterfly, and you'll be a few clicks away from having adorable orange baby shower invitations shipped right to your door.
Design Baby Shower Invitations With Ease
When you've decided on a template for your orange baby shower invitation design, just click the template and you'll be redirected to the design studio. There you'll find options for personalization.
It can be easy to forget certain information when designing invitations. That's why designing with Shutterfly is a dream. You'll be prompted immediately upon clicking your template to enter information about your event. Be complete when you follow the prompts to ensure your invitations aren't lacking information.
Your girl baby shower invitations will be perfect, sweet, and dazzling. The prompt will also ask you to name the host of the party. The host takes care of things so that mommy can be stress-free. Be sure to note this contact information!
Related Products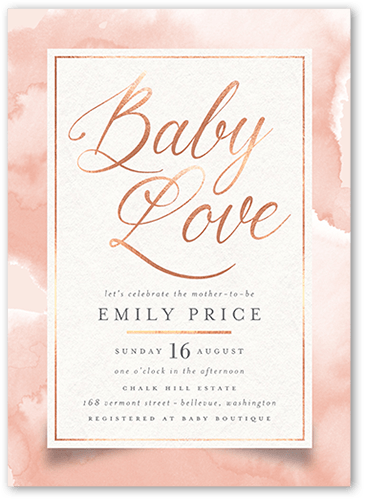 Baby Girl Watercolors 5x7 Stationery Card by Yours Truly. Shower her with love and a stylish baby shower invitation. Personalize it with the party details.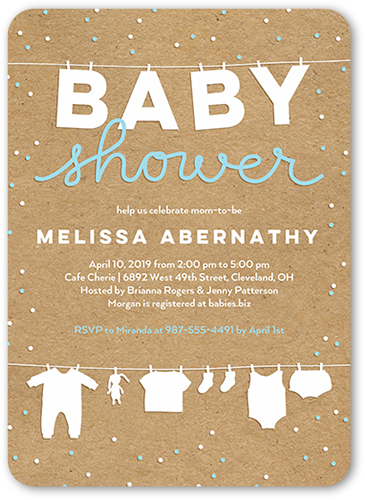 Cute Linens Boy 5x7 Baby Shower Invitation Cards. Shower her with love and a stylish baby shower invitation. Personalize it with the party details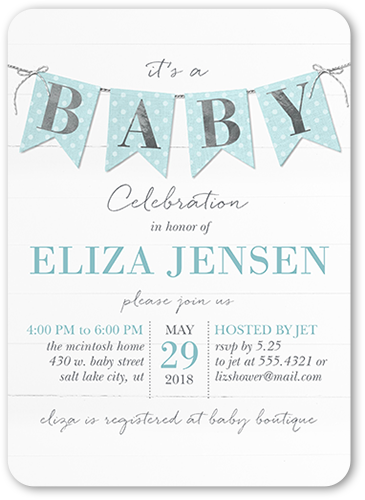 Cute Pennant Boy 5x7 Baby Shower Invitation Cards. Shower her with love and a stylish baby shower invitation. Personalize it with the party details