What customers have to say about our Thank You Cards
January 27, 2019
Grateful for my thank you cards
"I ordered these cards to give out with my closing gifts to my buyers and I am so glad that I did. The quality is amazing and the print was perfect. Can't wait to use them!"
"Love the size, love the card stock, love how our photo fit so nicely."
January 27, 2019
Love these cards.
"Shutterfly always does a great job."
"Once again, Iove my end result from Shutterfly. The people love their personalized cards too."
January 26, 2019
These turned out so CUTE!!!
"The card stock is very heavy and makes it a nice writing experience. Quality, thick, great bright colors on the card. This is a great product and a wonderful purchase."
Decadent Orange Thank You Cards
When you normally think of the color orange, you may have visions of fruit and creamsicles passing in front of your eyes. While these are very popular items that are completely orange, there's no reason for you to avoid the color. You can use it to your advantage. Stop neglecting your color palette and order some orange thank you cards. They are fun, bright and adventurous for anyone who is looking for a way to capture everyone's attention just right.
Orange Is a Great Color for Any Occasion
These cards are the perfect color for any theme and occasion, especially ones that involve Halloween and fall. Even if it's the beginning of the year and you are getting ready for a wedding, orange thank you cards make it possible for you to break tradition so you can shock everyone into paying attention to the message you have sent.
Keep in mind that the use of orange is not just appropriate for shock value. It can really help to even out or enhance other colors that are in the pictures you have included on your cards. For example, if you have used pictures that were taken in the fall or you have some black and white photos you are planning to use, simply using the smallest amount of orange can help to draw attention to the areas of those photos that you want to stand out the most and deflect it away from the less important areas.
There's Nothing Wrong With Using Orange
Orange is a color that many people don't think about using for their invitations. However, that doesn't mean that you have to do the same. The next time you need to send off some thank you cards to your friends, family and others, don't forget to use orange ones. While you are at it, don't be afraid to try out the use of orange on other personalized gifts like calendars and custom pillows to improve the view and mood in your home and office.
Related Products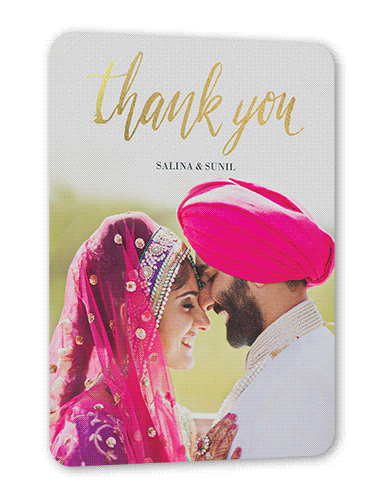 Spectacular Splatter 5x7 Wedding Thank You Card. Because they deserve it. Give them a personalized thank you card to express your gratitude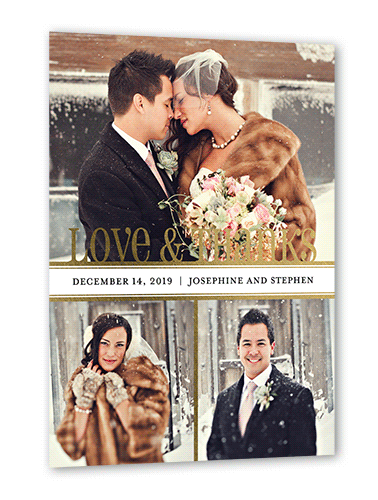 Thankful Thoughts 5x7 Wedding Thank You Card. Because they deserve it. Give them a personalized thank you card to express your gratitude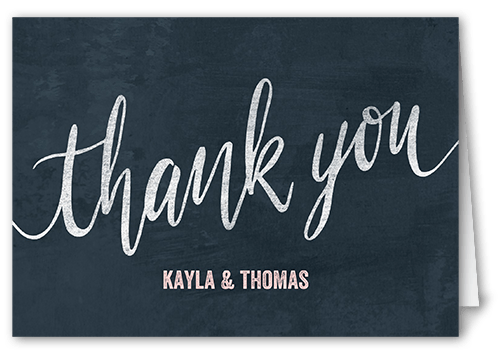 Wonderful Union Personalized Thank You Cards. Show just how much you appreciate them with this stylish thank you card. Add your favorite photos and a message of thanks