What customers have to say about our Thank You Cards
January 27, 2019
Grateful for my thank you cards
"I ordered these cards to give out with my closing gifts to my buyers and I am so glad that I did. The quality is amazing and the print was perfect. Can't wait to use them!"
"Love the size, love the card stock, love how our photo fit so nicely."
January 27, 2019
Love these cards.
"Shutterfly always does a great job."
"Once again, Iove my end result from Shutterfly. The people love their personalized cards too."
January 26, 2019
These turned out so CUTE!!!
"The card stock is very heavy and makes it a nice writing experience. Quality, thick, great bright colors on the card. This is a great product and a wonderful purchase."
Outdoor Thank You Cards
Brighten someone's day by sending a few thoughtful words of appreciation with one of our beautiful outdoor-themed thank you card designs. Whether you're sending your gratitude to friends and family members who attended your wedding, to your child's teacher for the amazing job he or she is doing or to your neighbor for lending a helping hand, you'll find the perfect greeting card in our collection to express your sincere thanks. When you make thank you cards with Shutterfly, you can customize your greeting with unique designs, favorite photos, and a custom message. Your loved ones will be impressed by the thought you put into your one-of-a-kind thank you note. With a variety of lovely designs to choose from, you can express your gratitude with outdoor custom thank you cards from Shutterfly.
Thank You Cards for Every Occasion
Whether you need thank you cards for a specific reason or occasion, or simply want to have a set on-hand to use for unexpected occasions, there are many times when a stylish and thoughtfully written thank you note comes in handy. From weddings and baby showers to anniversary parties and graduations – and everything in between - a beautiful thank you card is always a wonderful and touching way to let someone know you're grateful for their love and support. If you're sending out custom thank you cards following a big celebration or occasion, such as a wedding, anniversary, birthday, graduation or baby shower, browse through our gorgeous designs to find one that best coordinates with your event's theme. And if you're looking to send a thank you card to someone for a specific reason, however large or small, you'll find the ideal card to suit your personality and style in this collection.
Personalized Thank You Card Stationery Accessories & Extras
Expressing your gratitude has never been more convenient! Making a thank you card is simple with Shutterfly. Whether you're sending a thank you note after a graduation party, baby shower, wedding, or birthday party, you can create a personalized thank you card for any occasion. Our thank you cards are extremely easy to customize, enabling you to select your favorite design elements, upload your favorite photos and add highly personalized messages. With plenty of stunning designs, from vibrant floral prints that immediately capture attention to more subdued botanical patterns with elegant accents, your recipients are sure to feel special and appreciated. Add a final custom touch to your thank you cards with matching outdoor address labels and outdoor stickers.
Related Products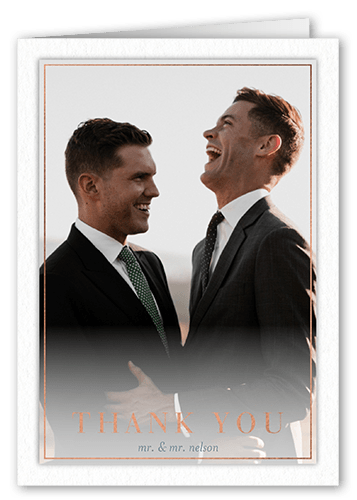 Elegant Flowers 3x5 Folded Card by Petite Lemon. Because they deserve it. Give them a personalized thank you card to express your gratitude.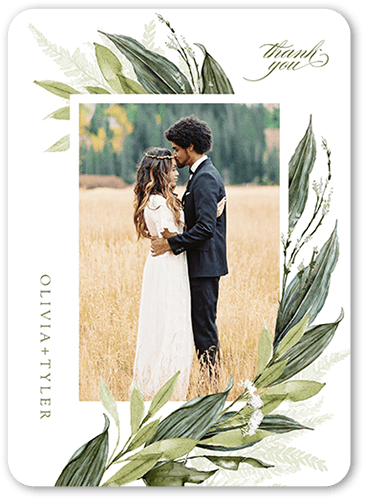 Floral Frond 5x7 Stationery Card by Lady Jae. Because they deserve it. Give them a personalized thank you card to express your gratitude.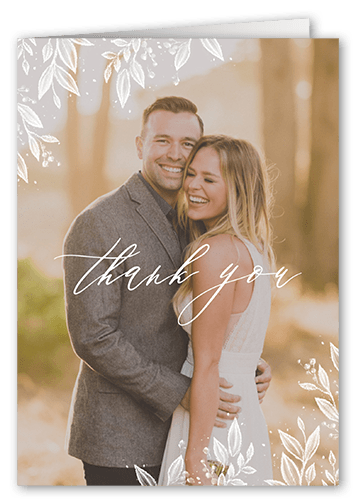 Garland Bliss 3x5 Folded Card by Petite Lemon. Because they deserve it. Give them a personalized thank you card to express your gratitude.