Two Photo Party Invitations
What customers have to say about our Everyday Party Invitations
January 21, 2019
LOVE LOVE LOVE these invitations!
"I have ordered invitations for a very long time from Shutterfly - for both big and small occasions and they are always perfect! and affordable.....Even for a small event they add a touch of special to the gathering....I use them for everything and would recommend them."
January 21, 2019
Great product!
"Website is very easy to use. Anyone can create beautiful items."
November 26, 2018
Always Quality
"I have done several Shutterfly projects. It takes some practice, but Shutterfly allows me to customize and I have many choices for design with the layouts, backgrounds and embellishments. It is easy to add my own photos, which makes each project special. The stock is always high quality. I would highly recommend Shutterfly!"
November 1, 2018
I LOVE SHUTTERFLY!!
"These cards were lovely!!"
"Surprise party for my husband!! I love them. Quality is perfect!"
Two Photo Party Invitations
Whether you're throwing a summer party or celebrating your recent engagement, our photo invitations set the stage for a memorable event. You can choose from bright, fun colors and patterns to more subdued tones and solid shapes. Whatever the occasion, a two photo party invitation opens the door to friendship and lasting memories.
Pick the Perfect Pic
You might already have a couple of favorite photos to include in the invitation. If not, it's a good idea to pick those out before you start designing, because you'll add the photos right after deciding the layout and colors. If this is your oldest daughter's birthday bash, you might choose photos that represent "then" and "now." If your family is having a reunion, highlighting pictures from your last gathering could remind everyone how much they enjoyed the time together and encourage them to come again.
Let Creativity Lead
Once you've decided on the photos, layout, and colors, you can play around with text, trim, and paper options, letting your creativity lead you. Text can be as big or as small as you like and as silly or as serious. Rounded trim softens the invitation's edges, but straight corners appear clean and crisp. Signature cardstock, photo paper, and pearl shimmer cardstock present a myriad of printing options. With Shutterfly's two photo party invitations, the only limitation is you.
Spell Out the Specifics
Remember to include all the details your friends and family need to get to the right place at the right time. You want to make it as easy as possible for guests to accept your invitation, so spell out the who, what, when, where, and why of the get-together. A well-designed photo invitation is the first step toward those memories you've been hoping to make.
Personalize party invitations without photos, too. Shutterfly has playful, thoughtful, and practical designs for any occasion. All you need to do is add the specifics of your celebration, create the envelope, review your order, and click "add to cart." Inviting your friends to celebrate with you has never been easier.
Related Products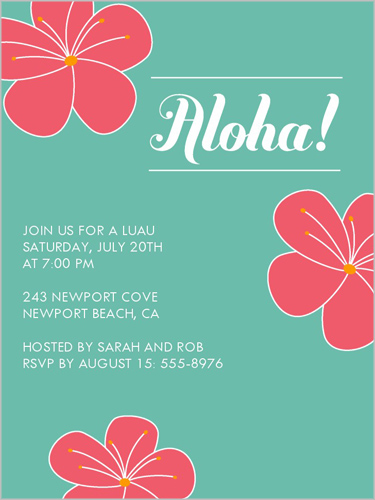 Aloha Flowers Luau Surprise Party Invitations. Tropical flowers bloom in poppy pink, giving this summer invitation a Hawaiian appeal. The celebration details appear against a powder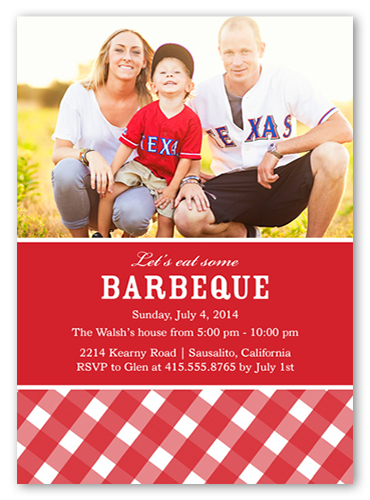 BBQ 5x7 Surprise Party Invitations. The heat is on. A picnic-perfect print adds a jolt of color to this summer barbecue invitation. The party details appear on a bright red background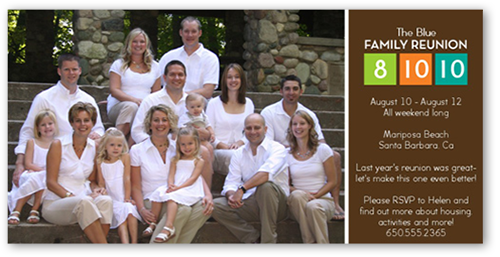 Family Time Housewarming Invitations. There's nothing like family. Everyone will be marking their calendars when they see the reunion date in bright color blocks