Affordable Party Invitations
What customers have to say about our Everyday Party Invitations
January 21, 2019
LOVE LOVE LOVE these invitations!
"I have ordered invitations for a very long time from Shutterfly - for both big and small occasions and they are always perfect! and affordable.....Even for a small event they add a touch of special to the gathering....I use them for everything and would recommend them."
January 21, 2019
Great product!
"Website is very easy to use. Anyone can create beautiful items."
November 26, 2018
Always Quality
"I have done several Shutterfly projects. It takes some practice, but Shutterfly allows me to customize and I have many choices for design with the layouts, backgrounds and embellishments. It is easy to add my own photos, which makes each project special. The stock is always high quality. I would highly recommend Shutterfly!"
November 1, 2018
I LOVE SHUTTERFLY!!
"These cards were lovely!!"
"Surprise party for my husband!! I love them. Quality is perfect!"
Affordable Party Invitations for Any Situation
Not every day is a party, but that doesn't mean you can't throw a few more. When you know how to create affordable party invitations, it becomes a lot easier to get everyone organized and excited about hanging out at your place or anywhere you choose to celebrate. Since you're the one in charge, it's up to you to consider all the little details -- and you've got a head start when you customize cute invites that feature eye-catching graphics, welcoming text, and all the info they need to have a good time with you.
Throwing An Affordable Party
Learn to budget for fun and throwing parties becomes a breeze. Start with affordable party invitations that you send to all your friends. They're a special way to let people know that you value their company and cherish the idea of spending a day having fun together. You can make it a special occasion when you send a special invitation.
Planning an Affordable Party Food and Drinks
While you could always ask friends to each bring something, some people like to be the one who provides most of the food and drinks -- especially since you're the one who invited everyone! Split the difference with a few basics that you can ask close, trusted friends to bring. Pour your energy into creating an attractive tabletop that fits with your party theme. Maybe feature images of parties past on a table runner to get the vibe going! Then, you can focus on that specialty snack you make that you know your friends are going to rave over. Most people will bring a bottle of soda or something stronger. If they ask if they can, tell them please and thank you!
Affordable Party Invitations for Any Occasion
Sometimes, you just miss everyone and want a little fun in your life. Other times, you truly have something to celebrate, even if it's just the little things that others might let pass by. Try some new party ideas to keep your circle strong. If you don't know anyone who is about to graduate, just throw a Start of Summer party. Not sure when the last time was you sat down with your coworkers? Have a cocktail at your place and let them bring their partners and kids. You'll never run out of options when you have a celebratory spirit!
Related Products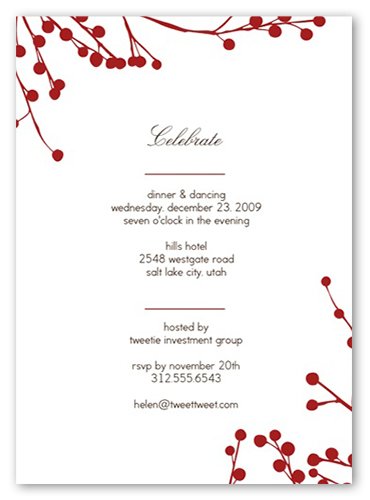 Red Blossoms Party Invitation by Petite Lemon. Simply elegant, this party invitation with its red berry branch is perfect for formal affairs and intimate gatherings alike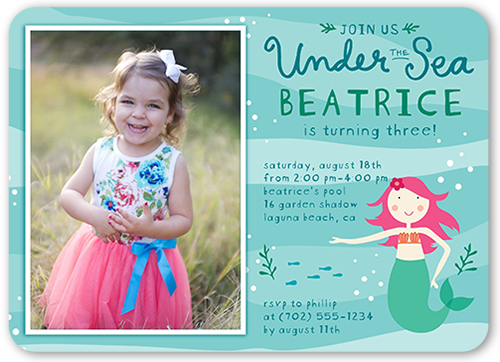 Marvelous Mermaid 5x7 Girls Party Invitations. Invite all the guests with this stylish birthday invitation. Just add your favorite photos and all the event details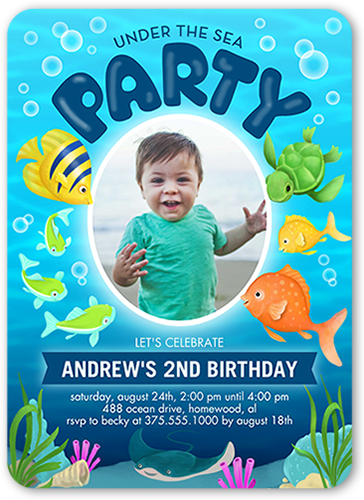 Oceanic Party 5x7 Stationery Boy Birthday Invitations. Invite all the guests with this stylish birthday invitation. Just add your favorite photos and all the event details