Blue Party Invitations
What customers have to say about our Everyday Party Invitations
January 21, 2019
LOVE LOVE LOVE these invitations!
"I have ordered invitations for a very long time from Shutterfly - for both big and small occasions and they are always perfect! and affordable.....Even for a small event they add a touch of special to the gathering....I use them for everything and would recommend them."
January 21, 2019
Great product!
"Website is very easy to use. Anyone can create beautiful items."
November 26, 2018
Always Quality
"I have done several Shutterfly projects. It takes some practice, but Shutterfly allows me to customize and I have many choices for design with the layouts, backgrounds and embellishments. It is easy to add my own photos, which makes each project special. The stock is always high quality. I would highly recommend Shutterfly!"
November 1, 2018
I LOVE SHUTTERFLY!!
"These cards were lovely!!"
"Surprise party for my husband!! I love them. Quality is perfect!"
Customize Your Blue Party Invitations With Ease
Planning a party can feel like a daunting task. There's so much to do, like creating a guest list, preparing food, and arranging entertainment. At Shutterfly, you can check the first and most important thing off your to do list: the invitation. Whether you're planning a summer beach party with friends or a retirement party for your coworker, find fabulous blue party invitations that your guests will proudly hang by their calendars.
Blue Party Invitations For Any Occasion
At Shutterfly, browse dozens of blue party invitations for your special event. With a variety of blue hues from teal to navy, you can choose a bold and fun design or a more formal layout. We offer invitations for backyard BBQs, pool parties, and even family reunions. Consider a flat card for modern celebrations or stick with a traditional folded invitation. Use our Signature Cardstock, photo paper, or Pearl Shimmer Cardstock to make your invitation glisten. With three size options, you can choose what works best for you. You can even personalize the wording to fit your style. Choose from an assortment of fonts, colors, and sizes for all of your party information.
Want to create a unique invitation but aren't sure what to say? Shutterfly offers great party invitation wording tips so you'll know exactly what to include. You can even add information to the back of our blue party invitations. Include a coordinating picture, driving instructions, or social media hashtags. When you're finished, upgrade to a colored envelope and seal it with a custom sticker to impress your guests the minute they open the mailbox.
Save Time and Money With Personalized Accessories
Shutterfly makes it easy to plan a great party at an affordable price. Check out our special offers page for any additional discounts on all of your favorite personalized stationery. We also offer time-saving accessories like address labels so you can focus your attention elsewhere. If you're short on time, we can even address and mail your cards for you! Because Shutterfly offers a 100% Happiness Guarantee, you can rest assured your blue party invitations will be perfect.
Related Products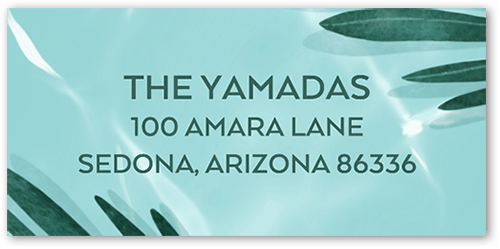 Cool Pool Party Address Label by Stacy Claire Boyd. Address your envelopes with stylish address labels. Corresponding invitations, gift tags and thank you cards are also available.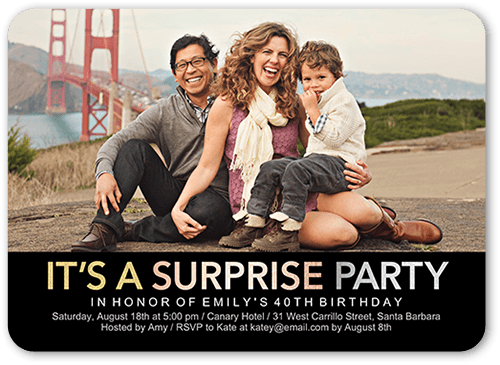 Elegant Surprise 5x7 Photo Card by Shutterfly. Another year older. Another year of fun. Invite all the guests with this stylish birthday invitation. Just add your favorite photos and all the event details.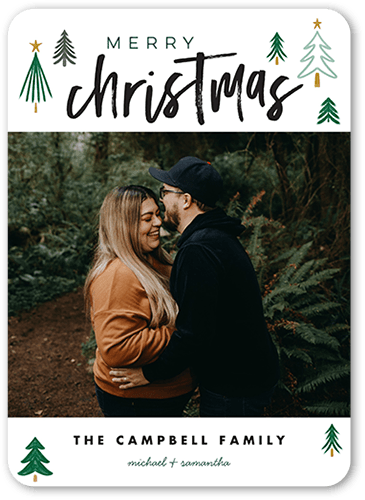 Spruce Confetti 5x7 Photo Card by Shutterfly. Send cheer to friends and family with this holiday card. Add your own greeting and everyone's names on the front.