Cocktail Party Invitation
What customers have to say about our Everyday Party Invitations
January 21, 2019
LOVE LOVE LOVE these invitations!
"I have ordered invitations for a very long time from Shutterfly - for both big and small occasions and they are always perfect! and affordable.....Even for a small event they add a touch of special to the gathering....I use them for everything and would recommend them."
January 21, 2019
Great product!
"Website is very easy to use. Anyone can create beautiful items."
November 26, 2018
Always Quality
"I have done several Shutterfly projects. It takes some practice, but Shutterfly allows me to customize and I have many choices for design with the layouts, backgrounds and embellishments. It is easy to add my own photos, which makes each project special. The stock is always high quality. I would highly recommend Shutterfly!"
November 1, 2018
I LOVE SHUTTERFLY!!
"These cards were lovely!!"
"Surprise party for my husband!! I love them. Quality is perfect!"
Simplifying Cocktail Party Planning
A well-planned cocktail party begins with the right invitations. Shutterfly's collection of everyday cocktail party invitations allows you to prepare your guests for a night of good food, good drinks, and good conversation. These invitations take the stress out of party planning, allowing you to deliver party details to all of your guests in one purchase. Designed with signature cardstock and available in a variety of designs, these cocktail party invitations add chic style to your upcoming event.
Preparing Guests for the Event
Use cocktail party invitations to get your guests excited for your festive shindig. These invitations offer ample space to provide details about your event. Include the party date, time, and location, as well as RSVP information. If you have a dress code, selected a party theme, or plan to celebrate a special occasion, share this information on your invitation as well. Complete your invitation with the right photos, and your guests will be excited to get dressed up and enjoy an evening of fun and celebration.
Creating Cocktail Party Invitations With Ease
Cocktail party invitations come in several designs, so select one that's best suited for your event. You can find modern chalkboard-inspired invitations, fun photo collage styles, and a classic polka dot look. Each design is completely customizable, from the picture to the text. Personalizing your card is simple thanks to Shutterfly's easy design tools. Upload photos and enter the required information about your event, including the hosts, date, time, location, and RSVP information.
Planning a Stylish Cocktail Party
Shutterfly makes party planning simple. You can find an array of party invitations, including these designs ideal for a cocktail party. Don't waste your time on handwritten letters. Instead, use Shutterfly's design tool to create a one-of-a-kind invitation that prepares your guests for a festive evening. Let Shutterfly be your party-planning assistance, and enjoy the convenience of having your party invitations delivered to your mailbox.
Related Products
Backyard BBQ 5x7 Surprise Party Invitations. Celebrate summer with this stylish barbecue invitation. Make a splash with your photos and all the event details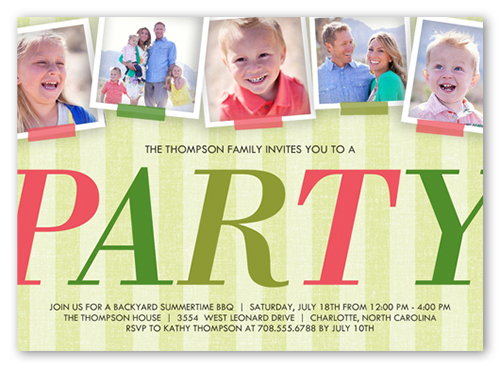 Big Party Collage Surprise Invitations. Celebrate summer with this stylish summer invitation. Make a splash with your photos and all the event details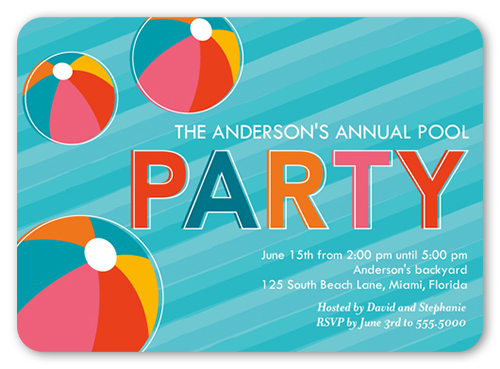 Bright Beach Balls Surprise Party Invitations. Celebrate summer with this stylish summer invitation. Make a splash with your photos and all the event details