Orange Party Invitations
What customers have to say about our Everyday Party Invitations
January 21, 2019
LOVE LOVE LOVE these invitations!
"I have ordered invitations for a very long time from Shutterfly - for both big and small occasions and they are always perfect! and affordable.....Even for a small event they add a touch of special to the gathering....I use them for everything and would recommend them."
January 21, 2019
Great product!
"Website is very easy to use. Anyone can create beautiful items."
November 26, 2018
Always Quality
"I have done several Shutterfly projects. It takes some practice, but Shutterfly allows me to customize and I have many choices for design with the layouts, backgrounds and embellishments. It is easy to add my own photos, which makes each project special. The stock is always high quality. I would highly recommend Shutterfly!"
November 1, 2018
I LOVE SHUTTERFLY!!
"These cards were lovely!!"
"Surprise party for my husband!! I love them. Quality is perfect!"
Get Ready for Your Next Event
Party planning doesn't have to be an overwhelming experience. Leave the invitations to Shutterfly, which offers many designs, including festive and colorful orange everyday party invitations. These cheerful invitations are designed on sturdy cardstock and can be personalized with your favorite photos. Plus, you can customize these invitations with all of the details about your event. Thanks to orange party invitations, you can inform your entire guest list in one purchase.
Simplify Party Planning
Orange party invitations simplify your party planning. With several available styles, these versatile party invitations can be used for a variety of occasions. Whether you're celebrating a youngster's birthday, hosting a backyard barbecue, or throwing a bridal shower, you can find vibrant orange party invitations that pop. Use these invitations to inform your guests of the event and provide all of the relevant details. With just one purchase, you will be able to check a major to-do off of your party planning list, and you'll be ready to watch the RSVPs roll in.
Create a Vibrant Orange Party Invitation
When it comes to orange party invitations, every feature of the invitation is customizable. As a result, you will create a one-of-a-kind invitation for your event. You can select from several designs, all of which feature bright orange hues. Then, enter the text you want to appear on the invitation. You'll want to include the date, time, and location of your party, as well as any RSVP contact information. Upload a favorite photo, such as a picture of the guest of honor, to further personalize your card.
Before you place your order, you'll have a few other considerations to make as well. Select a paper style: Signature Cardstock or Pearl Shimmer Cardstock. Then, choose a trim, such as a rounded, square, scallop, ticket, or bracket corner. In these simple steps, you will create an orange party invitation perfect for your celebration.
Make Party Prep Easier
Let Shutterfly assist you in all of your party planning needs. In addition to these orange party invitations, choose from a vast selection of invitations for all occasions, including baby showers, graduation parties, and sweet sixteen celebrations. Start your search for the perfect stationery with these orange party invitations.
Related Products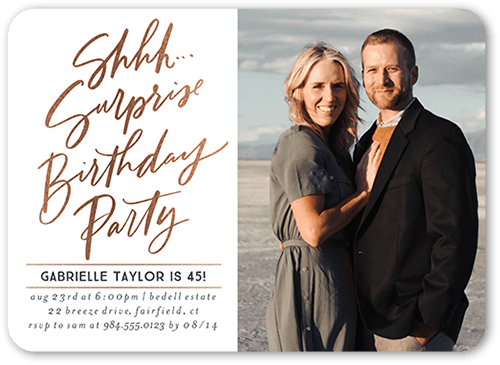 Surprise Party 5x7 Stationery Card by Petite Lemon. Another year older. Another year of fun. Invite all the guests with this stylish birthday invitation. Just add your favorite photos and all the event details.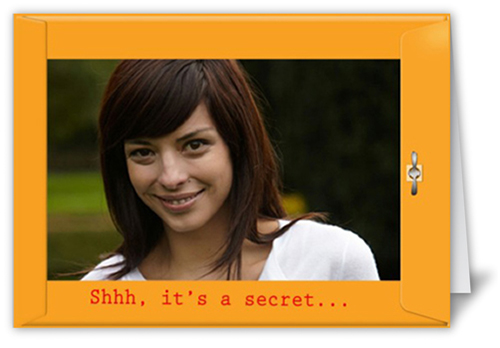 It's a Secret 5x7 Greeting Card by Shutterfly. Let your friends and family in on the surprise! This party greeting card features an orange-colored cover that has room for one picture. Choose from vertical or horizontal orientation, then add more ...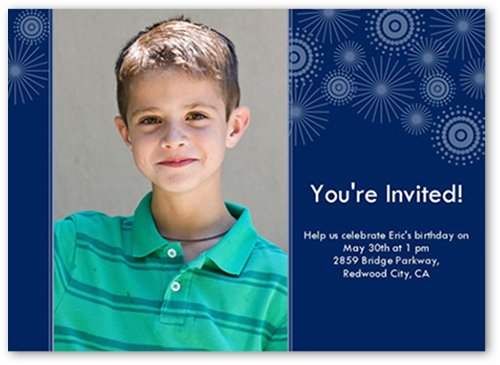 Sprinkle Midnight Swimming Party Invitations. Dazzling swirls pop against a midnight-blue background. Highlight your favorite photo beside important event details