Pink Party Invitations
What customers have to say about our Everyday Party Invitations
January 21, 2019
LOVE LOVE LOVE these invitations!
"I have ordered invitations for a very long time from Shutterfly - for both big and small occasions and they are always perfect! and affordable.....Even for a small event they add a touch of special to the gathering....I use them for everything and would recommend them."
January 21, 2019
Great product!
"Website is very easy to use. Anyone can create beautiful items."
November 26, 2018
Always Quality
"I have done several Shutterfly projects. It takes some practice, but Shutterfly allows me to customize and I have many choices for design with the layouts, backgrounds and embellishments. It is easy to add my own photos, which makes each project special. The stock is always high quality. I would highly recommend Shutterfly!"
November 1, 2018
I LOVE SHUTTERFLY!!
"These cards were lovely!!"
"Surprise party for my husband!! I love them. Quality is perfect!"
Pink Party Invitations
What better way to invite your daughter's friends to her birthday party than with pink party invitations? Whether she likes pretty pastels or vibrant brights, Shutterfly has you covered with a complete palette of pink shades. We have tons of pink party invitation choices, so there will be one to match her personality and party theme. Just choose a photo that features the birthday girl and combine the party details, and you are all set.
Pretty Party Picks
A simple way to add a creative and lovely flair to your party is to include personalized gift tags in the gift bags. The cute sticker designs are sure to be a hit. All you need to do is choose any words you would like to include on the stickers, and you have a special and economical thank you for your party attendees.
Treat Her Royally
Give the birthday girl the royal treatment on her special day. Give her a special pink dinner plate to eat her birthday cake on that can become a keepsake in years to come.
Add to the Excitement
If you are looking for a gift for the birthday girl that is truly unique, consider a personalized photo puzzle. You can choose to feature one large photo or a collage of several smaller pictures. Puzzles are available in a wide range of piece numbers for varying ability levels and can be a memento of fun times spent as a family.
Keep It Creative
While you are working hard to plan the perfect party with invitations in pink, blue, or whatever color the birthday kid loves, Shutterfly helps you out with party details. We provide convenience, selection, and quality of your personalized invitations, greeting cards, and gifts. Shutterfly walks you through the process of creating your one-of-a-kind cards and gifts, so it is easy to share family photos creatively with friends and loved ones.
Related Products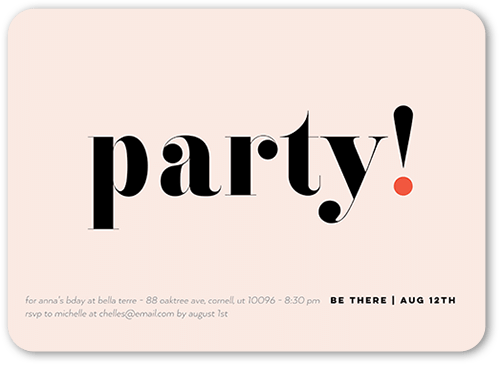 Big and Bold 5x7 Stationery Card by Kelli Hall. Another year older. Another year of fun. Invite all the guests with this stylish birthday invitation. Just add your favorite photos and all the event details.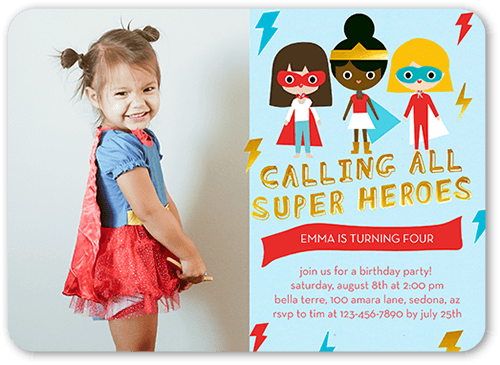 Super Heroes 5x7 Stationery Card by Hello, Kelle. Another year older. Another year of fun. Invite all the guests with this stylish birthday invitation. Just add your favorite photos and all the event details.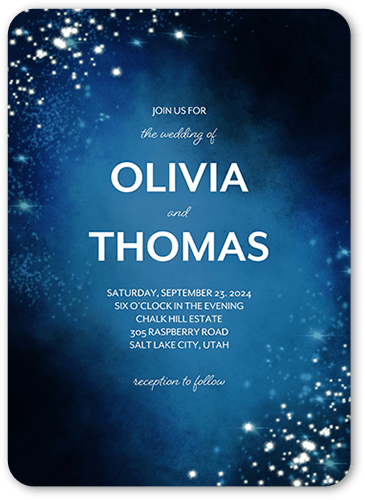 Amongst The Stars 5x7 Stationery Card by Yours Truly. Enjoy a FREE Sample Kit. Experience the quality of our wedding stationery. Order a FREE Sample Kit today > Send guests a wedding invitation that perfectly expresses your style. All you ...