Red Party Invitations
What customers have to say about our Everyday Party Invitations
January 21, 2019
LOVE LOVE LOVE these invitations!
"I have ordered invitations for a very long time from Shutterfly - for both big and small occasions and they are always perfect! and affordable.....Even for a small event they add a touch of special to the gathering....I use them for everything and would recommend them."
January 21, 2019
Great product!
"Website is very easy to use. Anyone can create beautiful items."
November 26, 2018
Always Quality
"I have done several Shutterfly projects. It takes some practice, but Shutterfly allows me to customize and I have many choices for design with the layouts, backgrounds and embellishments. It is easy to add my own photos, which makes each project special. The stock is always high quality. I would highly recommend Shutterfly!"
November 1, 2018
I LOVE SHUTTERFLY!!
"These cards were lovely!!"
"Surprise party for my husband!! I love them. Quality is perfect!"
Make Your Even Memorable with Red Party Invitations
With Shutterfly, it's easy to make your next get-together a memorable one using our red party invitations. These chic, professional invitations add a touch of class to even the most informal of parties. We offer invitations tailored to a variety of party themes, including backyard barbecues, movie nights, and more. Let us help your next party feel like an extraordinary event when you send out these fun customizable invitations.
When To Send Invitations
While you may think you should reserve paper invitations for only the unique events like weddings and anniversaries, in fact, you can send more formalized invitations for any get-together. In the age of group texts and social media, paper invitations lend a personal touch to the event in question. It lets guests know you were thinking of them and willing to take extra steps to ensure they had the necessary information to attend your event.
How To Customize Your Invitations
Begin by choosing an invitation template you like and that suits your event. Then, on the "Personalization" page, add pictures and text to make it your own. We make it easy to upload photos directly from your computer or social media account, but you can also use one of the images from our free library. Fill in the details of your event to see them printed right on the invitation.
Ordering and Mailing Invitations
We offer two shipping options for your invitations. You can choose to send the invites to you so you can address and deliver them, or you can give us the names and addresses of the people you want to invite, and we can take care of the stamping and mail them to you.
Your guests are sure to love receiving a customized red party invitation for your next get together. Paper invitations impart a sense of formality to even the most casual parties and encourage guests to come in the spirit of the event and ready to have a great time.
Related Products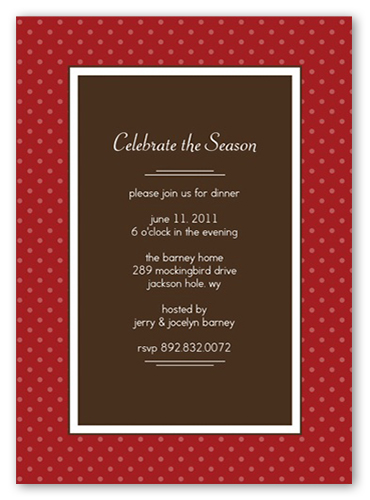 Berry Dots Party Photograph Invitations. An understated, yet elegant invitation for any seasonal celebration. This dark-chocolate colored card is surrounded by a field of cranberry-red polka dots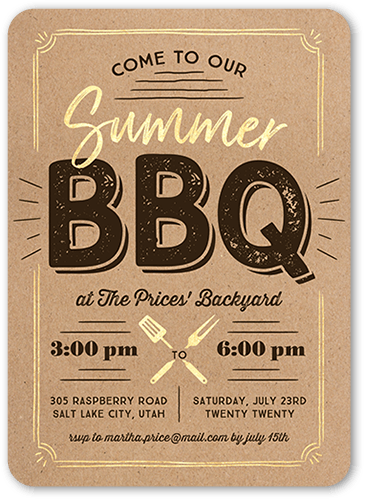 Big BBQ Bash 5x7 Stationery Card by Petite Lemon. Celebrate summer with this stylish summer invitation. Make a splash with your photos and all the event details.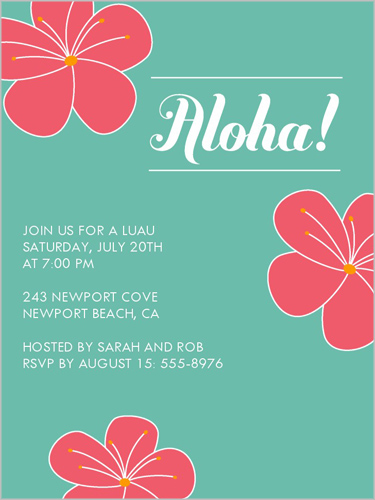 Aloha Flowers Luau Surprise Party Invitations. Tropical flowers bloom in poppy pink, giving this summer invitation a Hawaiian appeal. The celebration details appear against a powder