Twin Birthday Invitations
What customers have to say about our Twin Birthday Invitations
"Used the silver glitter template for my daughter's 16th birthday invites. They turned out amazing."
October 20, 2018
Great value
"Modified so I could use it for a Confirmation card!"
July 8, 2018
Family Reunion cards
"Thanks for a quick productions and a quality product"
"Turned out great"
"Pictures turned out great and the design around the border added a pop that I love."
Twin Birthday Party Invitations
What's double the fun of throwing a birthday party for your little boy or girl? Throwing a party for your boy or girl and their twin, of course! This year, throw your twins the best birthday party ever and start it off right with custom twin birthday invitations from Shutterfly. Get playful with creative templates designed for pairs of kids, whether infants, toddlers, big kids, or teenagers.
Creative Twin Birthday Invitation Templates
Shutterfly has everything you need to design one-of-a-kind invitations for your two-of-a-kind pair. Whether your twins are identical or fraternal, chances are they have very different and distinct personalities. Lucky for you, Shutterfly has an array of photo twin birthday party invitation templates, so you are sure to find a happy medium. These templates allow you to highlight a favorite photo of each twin, and some even allow for a third photo, so you can include one picture of each child and an extra one of them together. And with birthday invitations, more photos equals more fun.
Designing Custom Party Invitations for Your Twins
Once you pick the best template for your and your twins, Shutterfly makes it easier than ever to personalize your invitations. Upload your favorite photos to Shutterfly and use the design template to arrange them with ease. You can customize the fonts, colors, and other artistic accents. Add the time, date, and location of your double birthday party, along with whatever other details are relevant. For instance, you'll likely want to include an RSVP by date and contact information to help you plan your party with ease.
Planning Your Twin Birthday Party
Once the invitations are sent you can get to the fun part: planning the birthday party. You can think of fun foods and treats and brainstorm ways to display them in twos. Or play off the fact that while your children may look the same, in the case of identical twins, at least, their favorite foods are probably very different. Consider making half and half pizzas with their favorite toppings, or put chocolate cupcakes on one tray and vanilla on another tray.
A photo booth-styled backdrop is always a great way to encourage everyone to smile for the camera. Hang up a bold, patterned fabric or sheet for the background. Stock your photo booth with duplicates of fun props for party guests to wear. Fun hats, oversized sunglasses, and large paper mustaches on sticks are all silly props for your photo shoot. Make sure to charge your camera, so you are ready to capture every special double moment at the birthday party. You were given the bonus gift of twins and now you can give them the gift of the perfect birthday party.
More Birthday Stationery
Another thing to remember once your invites are in order is your birthday cards themselves. Make unique birthday greeting cards for your equally unique twins by selecting from our selection of creative templates, uploading photos of each child, and adding some special text tailored just for your son or daughter. After the party's over, you can also send photo birthday thank you cards to thank guests for their generous gifts and attendance.
Related Products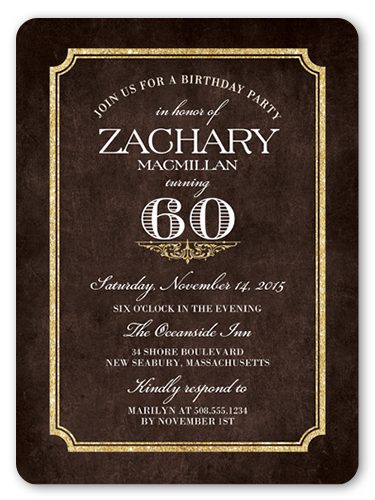 Shining Elegance Surprise Birthday Invitation. Invite all the guests with this stylish birthday invitation. Just add your favorite photos and all the event details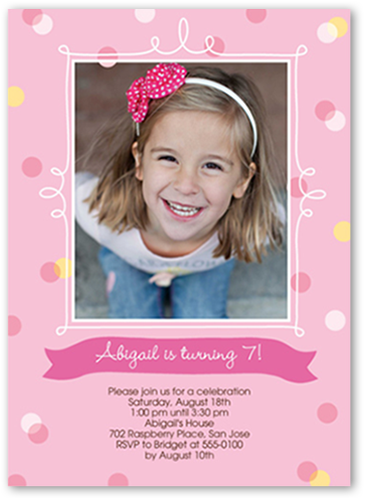 Confetti Splash Girl First Birthday Invitation. Invite all the guests with this stylish invitation. Simply add your favorite photos and all the event details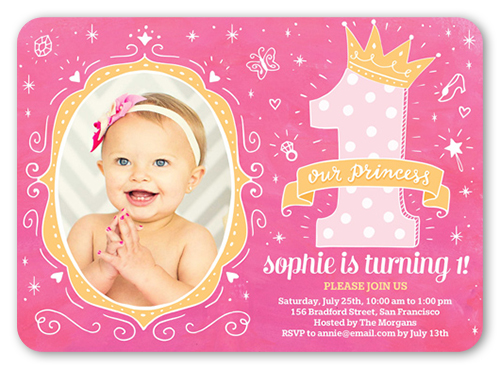 Princess Doodles Baby Girl 1st Birthday Invitation. Invite all the guests with this stylish birthday invitation. Add your favorite photos and all the event details