White Party Invitations
What customers have to say about our Everyday Party Invitations
January 21, 2019
LOVE LOVE LOVE these invitations!
"I have ordered invitations for a very long time from Shutterfly - for both big and small occasions and they are always perfect! and affordable.....Even for a small event they add a touch of special to the gathering....I use them for everything and would recommend them."
January 21, 2019
Great product!
"Website is very easy to use. Anyone can create beautiful items."
November 26, 2018
Always Quality
"I have done several Shutterfly projects. It takes some practice, but Shutterfly allows me to customize and I have many choices for design with the layouts, backgrounds and embellishments. It is easy to add my own photos, which makes each project special. The stock is always high quality. I would highly recommend Shutterfly!"
November 1, 2018
I LOVE SHUTTERFLY!!
"These cards were lovely!!"
"Surprise party for my husband!! I love them. Quality is perfect!"
Let People Know About Your New Home With Personalized Party Invitations
Buying a new home and moving into a different rented property are both major milestones. When you take pride in where you live, it's easier to have a fulfilling existence that includes unforgettable interactions with friends. Buy white party invitations and customize them with a picture of your abode when inviting guests over for a housewarming party.
The light-colored background provides ample freedom for customizing each invitation to your liking. Decorate the inside of each white party invitation using colorful markers or a monogram sticker that has your initial or a treasured photo as a personalized touch.
Bring People Together for a Birthday Bash
Turning a year older is another fantastic reason to host a gathering in your home. Plan a Hollywood-themed celebration and encourage people to dress up like their favorite celebrities, complete with dark glasses for privacy.
Having a Hawaiian-themed party is another cool option. No matter the weather outside, you can transform your home into a realistic-looking getaway. Purchase glass jars and fill them with authentic beach sand or blue marbles similar to the color of the ocean to create themed centerpieces.
Plan a Festive Graduation Party
If someone you know will graduate soon or has received a diploma, recognize that notable achievement with a graduation party. Earning a degree represents countless hours of attending lectures, writing papers, giving presentations and studying for exams. That accomplishment deserves celebration, and your home is the perfect venue for the big event.
During a party-planning process that includes choosing food to serve and decorations to hang, think ahead and order beautiful foil-stamped thank you cards. Whether the guest of honor gives gratitude for someone offering his or her presence, a meaningful gift or both, this sort of special stationery gets noticed.
Shop for party essentials at Shutterfly. They'll help you enjoy convenience while excelling as a host or hostess.
Related Products
Bellinis and Bikinis 5x7 Stationery Card by Éclair Paper Company. Ready to party? Invite all the girls to a fabulous fete with bachelorette party invitations.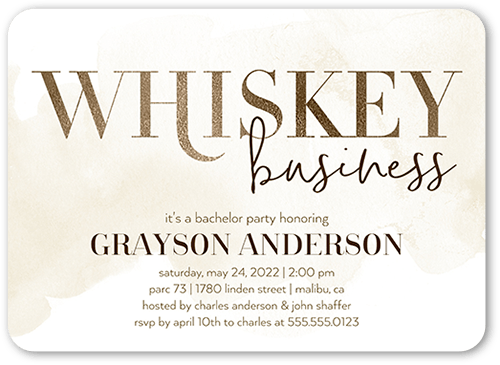 Whiskey Business 5x7 Stationery Card by Éclair Paper Company. Ready to party? Invite all the girls to a fabulous fete with Bachelor Party Invitations.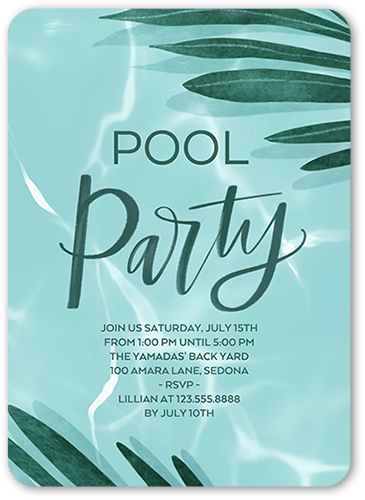 Cool Pool Party 5x7 Stationery Card by Stacy Claire Boyd. Celebrate summer with this stylish summer invitation. Make a splash with your photos and all the event details.