Yellow Party Invitations
What customers have to say about our Everyday Party Invitations
January 21, 2019
LOVE LOVE LOVE these invitations!
"I have ordered invitations for a very long time from Shutterfly - for both big and small occasions and they are always perfect! and affordable.....Even for a small event they add a touch of special to the gathering....I use them for everything and would recommend them."
January 21, 2019
Great product!
"Website is very easy to use. Anyone can create beautiful items."
November 26, 2018
Always Quality
"I have done several Shutterfly projects. It takes some practice, but Shutterfly allows me to customize and I have many choices for design with the layouts, backgrounds and embellishments. It is easy to add my own photos, which makes each project special. The stock is always high quality. I would highly recommend Shutterfly!"
November 1, 2018
I LOVE SHUTTERFLY!!
"These cards were lovely!!"
"Surprise party for my husband!! I love them. Quality is perfect!"
Yellow Party Invitations
If you're going to be throwing a party, there's no better way to prepare your guests than by sending out great invitations. Well-designed invites will build excitement, share crucial information, and start things out on the right foot. We have a wide variety of yellow party invitations you can use to make your party special.
Going Gold
Yellow is a bright, happy color that is perfect for events taking place in the spring or summer. Whether you're hosting a pool party, barbecue, summer wedding, Easter dinner, iced-tea party, birthday celebration, graduation party, anniversary event, or anything else, we can help you find the invitation you need.
A Personal Touch
Our selection of cards includes everything from elegant designs to cute patterns. Once you've picked out the template you want, it's time to personalize the invitation with your text. For some designs, you can put the finishing touches on the invitation by adding a photo or two of the ones you love.
Party Etiquette
How soon should you send out the invitation, and what information should you include on it? If possible, you should try to send out invitations three to six weeks in advance. Make sure to include important details such as the date, time, location, dress code, RSVP info, and the reason for the celebration. Also, be sure to mention whether extra guests like spouses or children may attend and whether your guests should provide a dish or bring a necessary item for a party activity.
Top Quality
We print each yellow party invitation with care so that your design will appear clear. You can have your choice of our Signature finish or a Pearl Shimmer coating. The cards are durable cardstock so you can mail them and your guests can reference them over and over without causing damage.
Here at Shutterfly, we want to help you make every celebration special, and our custom invitations are the perfect way to do it. Browse our selection of invitations above to get started.
Related Products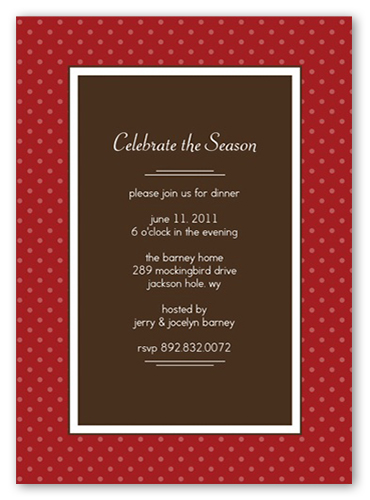 Berry Dots Party Photograph Invitations. An understated, yet elegant invitation for any seasonal celebration. This dark-chocolate colored card is surrounded by a field of cranberry-red polka dots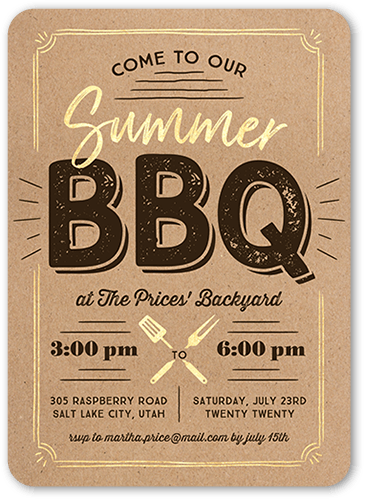 Big BBQ Bash 5x7 Stationery Card by Petite Lemon. Celebrate summer with this stylish summer invitation. Make a splash with your photos and all the event details.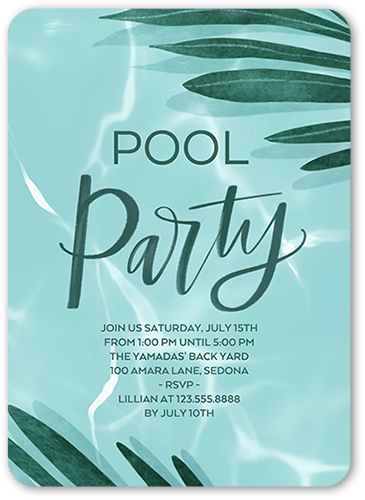 Cool Pool Party 5x7 Stationery Card by Stacy Claire Boyd. Celebrate summer with this stylish summer invitation. Make a splash with your photos and all the event details.