Pearl Baby Shower Invitations
What customers have to say about our Baby Shower Invitations
January 26, 2019
I would buy this again definitely!
"This invitation is beautiful I just wish the liners that came with it stuck better"
January 25, 2019
Perfect invite
"These are so cute and came exactly as I expected. Love them!"
January 24, 2019
In love with the shower invites
"These invites are so cute. They came just as ordered. I love shutterfly. They never disappoint."
January 22, 2019
I would buy this product again.
"Bought this for my baby shower invitations and it exceed my expectations."
January 21, 2019
I really liked my purchase experience
"I needed to order baby shower invites. I was pleasantly surprised to find out I could have Shutterfly take care of the invitees addresses, return addresses, and stamps! What a time savor! And the invitations are adorable!!"
Creating Class with Pearl Baby Shower Invitations
When you plan your baby shower, you likely put much deliberation into decisions such as who to invite, baby shower guest book ideas, what activities to enjoy and what snacks to server. All of these are important details, but more importantly, you will need to decide what tone and baby shower theme the celebration will have.

A baby shower is a great reason to pull out all the stops and throw a classy event for the mom-to-be. If you want to make it a classy affair, pearl baby shower invitations can set the stage for a wondrously elegant event, and endless customization options ensure you can add the personal touch that makes all the difference.
Make It an Affair to Remember
Shutterfly is all about details that have an impact and giving you the power to customize those details. Pearl baby shower invitations are no exception, and they make the perfect precursor to a soiree that is just as refined and elegant as the expecting mother. This makes setting the mood at your baby shower simple.

Add some faux silk tablecloths, champagne flutes for drinks and hors-d'oeuvre samplings to make this gathering as classy as can be. You can even use your pearl baby shower invitations to indicate that evening wear should be worn to the shower. Imagine the memories that will be made and the fun that will be had at a faux-formal baby shower. Even without champagne, it's sure to be a good time.
Design an Invite to Remember
Do you ever happen across a photo, playbill or other small mementos that instantly reminds you of a specific time, place and event? Shutterfly gives you all the tools you need to create pearl baby shower invitations that will do exactly that. If you want your invites to be more than pieces of paper, we can help you design and customize perfectly personal invites that will make your baby shower more than memorable. In addition to invites, don't forget the following essentials before and after the party:
Prints of the party photos
Gifts for the party's guests
A camera to take photos
We aim to make creating custom cards and gifts easy and enjoyable. Planning a baby shower shouldn't be stressful, and with our help, you can enjoy the party and relax about the details—we have that part under control. Gorgeous pearl baby shower invitations and a few other fun features can turn your baby shower into a truly unforgettable affair.
Related Products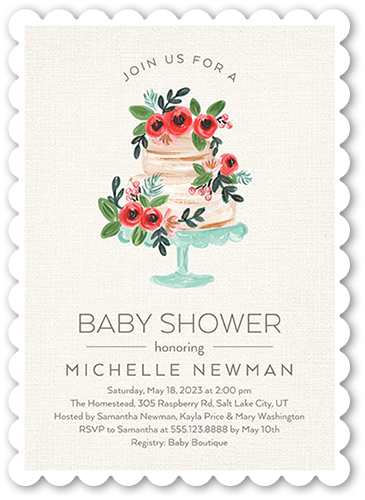 Floral Sweets 5x7 Stationery Card by Stacy Claire Boyd. Shower her with love and a stylish baby shower invitation. Personalize it with the party details.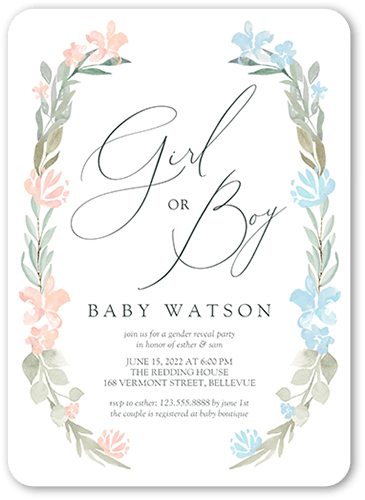 Gentle Floral Frame 5x7 Stationery Card by Poppy Studio. Shower her with love and a stylish baby shower invitation. Personalize it with the party details.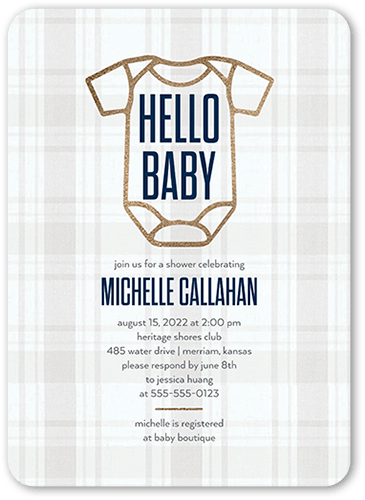 Onesie 5x7 Stationery Card by Éclair Paper Company. Shower her with love and a stylish baby shower invitation. Personalize it with the party details.