What customers have to say about our Business Cards
"Okay"
January 14, 2019
I would like to buy a greater quantity at a discount
"The business cards were exactly what I wanted. They arrived very quickly. I only wish that there was a choice of quantity to order with a discount for a larger quantity. I would have purchased a larger quantity. Two packages were too expensive compared to other printers."
December 18, 2018
Business cards
"The cards were exactly what I expected and I was very pleased with them."
December 3, 2018
This is My Second Purchase and Won't be My Last
"Love these personal monogram calling cards. This was my second purchase. I only needed to upload a new (more recent) photo. Great quality card. Easy ordering and quick delivery. Perfect!"
November 20, 2018
Great cards
"I made these for my husband so he could give out his contact information to friends and acquaintances. They are very sharp."
Encouraging Potential Clients to Remember You with Black Business Cards
Some people encounter dozens or even hundreds of individuals per day. To help your business make an impact, it's important to do something that makes it stand out. Black business cards could help you achieve that objective. When ordering from Shutterfly, you can personalize the front with your name, email, street address and phone number.
You might choose a monogrammed business card design. It makes one of your initials stay in a person's memory and features an elegant layout. By keeping business cards with you at all times, it's easy to make the most of networking opportunities whether you're at a casual luncheon or a weekend conference.
Notebooks To Help You Stay Organized
Regardless of what kind of business you have, notebooks are essential for giving you dedicated places to write down responsibilities, project goals, budgets and more. You can check out our photo notebooks and find beautiful designs ranging from classic to modern.
A customized image on the front personalizes the item and makes it more identifiable.
You might consider a beloved picture of you posing with your dog during a trip to the park or one featuring you and your best friend after a challenging hike in the Rocky Mountains. Some notebooks offer the possibility of adding text to the front, as well.
Framed Prints Decorate Your Workplace
Whether you run a home business and don't often see other people or have a client-facing establishment that's very popular in the community, decorations help with creating a certain atmosphere. Spending time in an appealing space could help you feel at ease when working alone or show customers you care about giving strong impressions.
Framed prints bring character to any room and let you highlight treasured photos. Some options we sell hold one picture and others accommodate several in a single frame.
Shutterfly offers personalized items that let you keep business aspirations in sight. Our website makes online shopping simple.
Related Products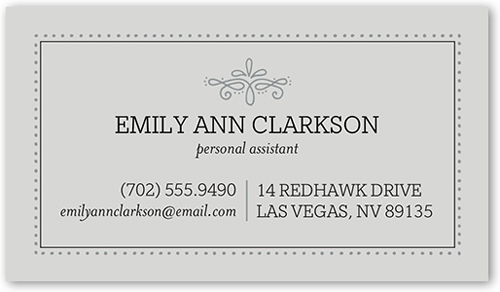 Charming Dotted Border Custom Business Cards by Blonde Designs. Create unique business cards in modern and classic styles. Set of 50 cards start at just $15.00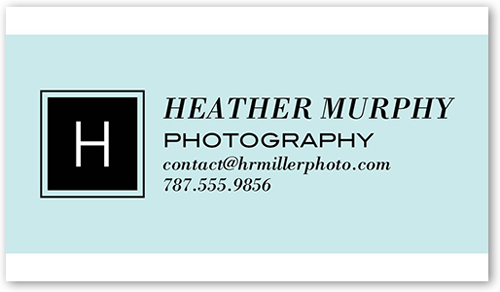 Initial Block Custom Business Cards by Stacy Claire Boyd. Create unique business cards in modern and classic styles. Set of 50 cards start at just $15.00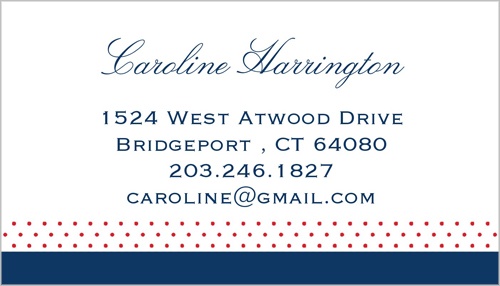 Monterey Blue Personalized Business Cards by Yours Truly. Charming red dots and bold black stripes give these elegant calling cards a stylish first impression. Corresponding invitations, thank you cards, address labels and gift tags are also available.