What customers have to say about our Business Cards
"Okay"
January 14, 2019
I would like to buy a greater quantity at a discount
"The business cards were exactly what I wanted. They arrived very quickly. I only wish that there was a choice of quantity to order with a discount for a larger quantity. I would have purchased a larger quantity. Two packages were too expensive compared to other printers."
December 18, 2018
Business cards
"The cards were exactly what I expected and I was very pleased with them."
December 3, 2018
This is My Second Purchase and Won't be My Last
"Love these personal monogram calling cards. This was my second purchase. I only needed to upload a new (more recent) photo. Great quality card. Easy ordering and quick delivery. Perfect!"
November 20, 2018
Great cards
"I made these for my husband so he could give out his contact information to friends and acquaintances. They are very sharp."
Using Blue Business Cards To Distribute Your Details
You never know when you might encounter someone who needs a service you provide or who can help you with something you want to achieve. Having blue business cards available for individuals you meet saves you from writing contact details on a crumpled receipt or wrinkled tissue.
You can browse the full assortment of designs available with Shutterfly, then choose a blue business card style that suits your preferences. Many cards feature graphical elements that draw attention and make the text stand out. It's also possible to select different card colors from various blue hues.
Staying Relaxed While Preparing for Social Events
In many cases, the number of people you know goes up with little effort. You become acquainted with individuals from a religious congregation, crafting class or fitness group, plus numerous other places. As your social circle grows, the likelihood increases of receiving invitations to fundraising dinners, school plays and game nights.
When you're ready to return the favor and host attendees at your home, Shutterfly streamlines the planning process. You can find elegant glass plates that work well for passing around appetizers before serving the main course. We also have accessories such as table runners and placemats that show guests you kept decorating in mind when getting ready for their arrival.
Giving Gratitude After Gestures of Goodness
Many people love doing what they can to help colleagues, fellow parents, neighbors, and friends. When you're on the receiving end of a thoughtful action a person did to make your life better, writing a thank you card is a wonderful way to recognize that selfless individual.
You can browse our assortment of engaging designs, then add a picture on the front for a customized outcome. An image of a sunset over your country home or a landscape photo from your last beach vacation could be attractive choices.
Shutterfly provides personalized products that could help you become more known in your community and beyond. We also feature items that make socializing simpler.
Related Products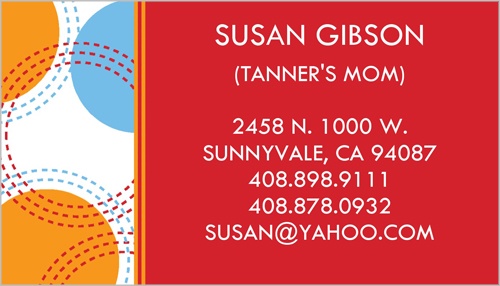 Bubble Red Calling Card by Petite Lemon. If you've ever searched for paper to jot down your name, you'll enjoy having these handy calling cards. Great for park visits, play dates, school functions or whenever you're on the go. Corresponding ...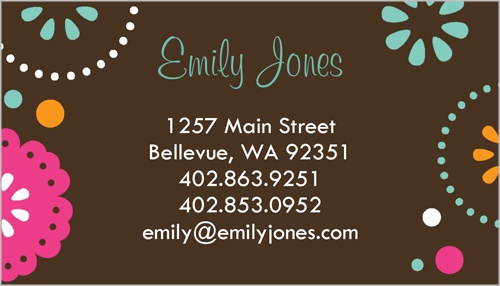 Cocoa Fiesta Custom Business Cards by Petite Lemon. Bold iconic flowers make a bright statement. This trendy calling card will perfectly suit your style. Corresponding invitations, address labels, and gift tags are also available.
Cowboy Hero Calling Card by Yours Truly. if you've ever searched for paper to jot down your name, you'll enjoy these calling cards. Great for park visits, play dates, school functions or when you're on the go. Corresponding invitations, thank ...