What customers have to say about our Business Cards
"Okay"
January 14, 2019
I would like to buy a greater quantity at a discount
"The business cards were exactly what I wanted. They arrived very quickly. I only wish that there was a choice of quantity to order with a discount for a larger quantity. I would have purchased a larger quantity. Two packages were too expensive compared to other printers."
December 18, 2018
Business cards
"The cards were exactly what I expected and I was very pleased with them."
December 3, 2018
This is My Second Purchase and Won't be My Last
"Love these personal monogram calling cards. This was my second purchase. I only needed to upload a new (more recent) photo. Great quality card. Easy ordering and quick delivery. Perfect!"
November 20, 2018
Great cards
"I made these for my husband so he could give out his contact information to friends and acquaintances. They are very sharp."
Impressing the People You Meet With Classic Business Cards
There are so many business card designs available that picking one sometimes involves making a decision after evaluating several kinds in a collection. At Shutterfly, we stock a full inventory of classic business cards versatile enough for any need.
From options with colorful borders to scripted fonts, our broad assortment makes it simple and quick to select a classic business card style that supports your livelihood. A contemporary business card could be another possibility you consider.
You can place a classic business card order before going to a major conference. Or, make sure you always have enough available to distribute to individuals you meet.
Personalized Postage Stamps Make Your Mailings More Memorable
People often receive several pieces of mail a day. When sending your clients messages through the mail, it's necessary to stimulate interest and inspire curiosity about an envelope's contents. Otherwise, individuals might put pieces of mail aside and not open them soon enough.
Personalized postage stamps are thoughtful ways to decorate envelopes. Upload your own design and make the stamp feature your business logo, custom colors or other characteristics representing your company. You may even add a picture that showcases your establishment's new building or an image emphasizing what your business does or how it assists clients.
Celebrating Notable Corporate Accomplishments
No matter the size of your company or when you started it, you can anticipate certain milestones worthy of planned festivities. If you secured a lucrative deal with a business partner or launched a product that's already a hit with customers, those are two of many such achievements.
We carry customized stemless wine glasses that let people toast occasions in style. Our collection allows for adding dates, names or monograms to the exterior or selecting a themed item. By shopping at Shutterfly, you can get appealing products that support your business. Buying online is also likely to save a lot of time.
Related Products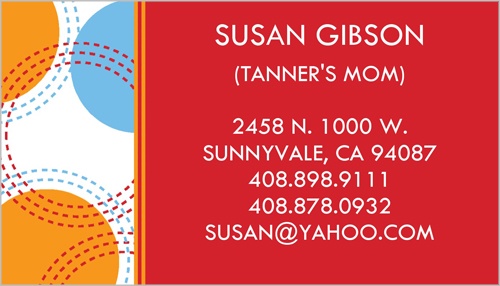 Bubble Red Calling Card by Petite Lemon. If you've ever searched for paper to jot down your name, you'll enjoy having these handy calling cards. Great for park visits, play dates, school functions or whenever you're on the go. Corresponding ...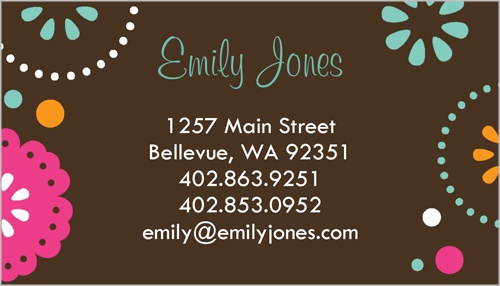 Cocoa Fiesta Custom Business Cards by Petite Lemon. Bold iconic flowers make a bright statement. This trendy calling card will perfectly suit your style. Corresponding invitations, address labels, and gift tags are also available.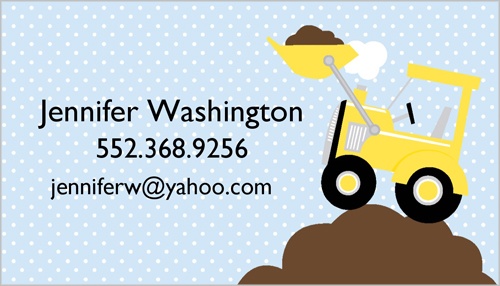 Dig It Custom Business Cards by Stacy Claire Boyd. Everyone "digs" your boy. The simple, child-like graphics on this calling card feature a big yellow earth-mover sitting atop a pile of dirt. Corresponding invitations, thank you cards, address labels and ...