Custom Color Business Cards
What customers have to say about our Business Cards
"Okay"
January 14, 2019
I would like to buy a greater quantity at a discount
"The business cards were exactly what I wanted. They arrived very quickly. I only wish that there was a choice of quantity to order with a discount for a larger quantity. I would have purchased a larger quantity. Two packages were too expensive compared to other printers."
December 18, 2018
Business cards
"The cards were exactly what I expected and I was very pleased with them."
December 3, 2018
This is My Second Purchase and Won't be My Last
"Love these personal monogram calling cards. This was my second purchase. I only needed to upload a new (more recent) photo. Great quality card. Easy ordering and quick delivery. Perfect!"
November 20, 2018
Great cards
"I made these for my husband so he could give out his contact information to friends and acquaintances. They are very sharp."
Stocking Up on Personalized Stationery With Custom Color Business Cards
At Shutterfly, we have a wide range of colors represented in our inventory. However, there may be occasions that necessitate using more specific hues. That's why we offer custom color business cards. It's simple to order products that strengthen your company's image in the minds of your customers.
You can also personalize a DIY business card with one photo. A snapshot of well-tamed tresses is a smart idea if you operate a hair salon, while a picture of music notes works well to advertise a studio where you teach students to play guitar, piano, and bass.
Collage Posters Chronicle Amazing Vacations or Impressive Corporate Achievements
It's possible to customize most Shutterfly products with a photo. Sometimes, choosing the image is difficult, especially when sorting through pictures from a recent unforgettable trip to Costa Rica. Our collage posters prevent making hard choices because they feature several images.
You could order a collage that includes many of the standout accomplishments associated with your career, too. Snapshots from when you signed the contract for your office building, welcomed your first customers or launched a website are a few of the numerous possibilities. These decorative accessories give customers the impression you're involved in a business venture that's going places.
Coasters Keep Beverages by Your Side
Staying productive through a day at work is much easier with the hydration provided by coffee or tea brewed to your preferences. Our custom photo coasters let you place beverage mugs within easy reach, allowing you to remain focused on writing a proposal, typing an email or brainstorming ideas for a new advertising campaign. These products protect your desk from rings caused by moisture. It's also possible to customize a set of coasters with meaningful imagery.
Shutterfly features personalized items that help you correspond with clients, decorate your office and more. Shopping is efficient when you purchase from us.
Related Products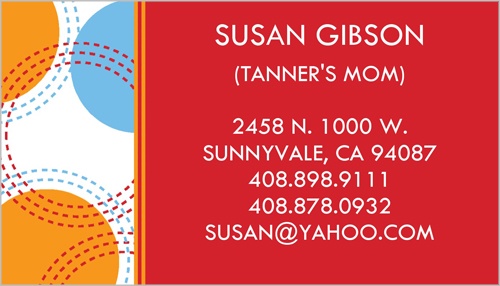 Bubble Red Calling Card by Petite Lemon. If you've ever searched for paper to jot down your name, you'll enjoy having these handy calling cards. Great for park visits, play dates, school functions or whenever you're on the go. Corresponding ...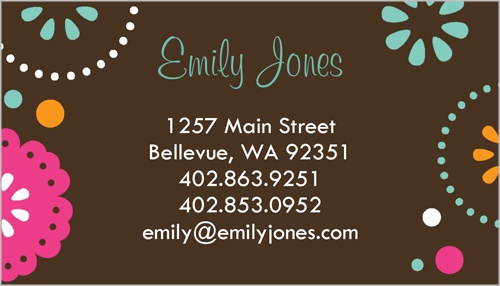 Cocoa Fiesta Custom Business Cards by Petite Lemon. Bold iconic flowers make a bright statement. This trendy calling card will perfectly suit your style. Corresponding invitations, address labels, and gift tags are also available.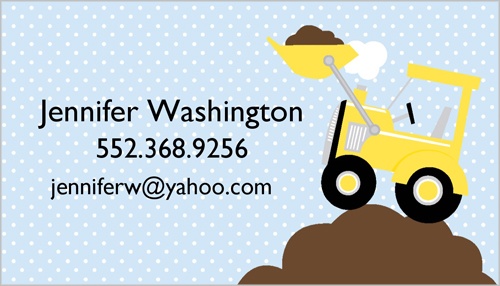 Dig It Custom Business Cards by Stacy Claire Boyd. Everyone "digs" your boy. The simple, child-like graphics on this calling card feature a big yellow earth-mover sitting atop a pile of dirt. Corresponding invitations, thank you cards, address labels and ...