What customers have to say about our Business Cards
"Okay"
January 14, 2019
I would like to buy a greater quantity at a discount
"The business cards were exactly what I wanted. They arrived very quickly. I only wish that there was a choice of quantity to order with a discount for a larger quantity. I would have purchased a larger quantity. Two packages were too expensive compared to other printers."
December 18, 2018
Business cards
"The cards were exactly what I expected and I was very pleased with them."
December 3, 2018
This is My Second Purchase and Won't be My Last
"Love these personal monogram calling cards. This was my second purchase. I only needed to upload a new (more recent) photo. Great quality card. Easy ordering and quick delivery. Perfect!"
November 20, 2018
Great cards
"I made these for my husband so he could give out his contact information to friends and acquaintances. They are very sharp."
Green Business Cards Help You Stand Out
One of the most common ways to become successful in the business world is to convey that what you offer is distinctive from what already exists. However, before you do that, it's necessary to raise awareness. Green business cards feature pleasing shades that make the text easy to read against the background.
These products let people refer to your details and keep that information handy, which makes potential clients more aware of you and your company. A green business card can fit in your wallet, making it easy to hand one out in every setting.
Preparing and Serving Food With Customized Items
Your business may relate to food, whether you make it, serve it or do both. Shutterfly sells numerous customizable items that are handsome additions to your culinary workspace. You can find cutting boards with designs and words etched into the wood. It's possible to add your business name, the date you established the company or a corporate slogan.
We also have melamine plates. Made from a food-safe material, these plates can feature your desired image. You might include a snapshot of your company's grand opening or a picture captured when an employee won an award last year.
Furthermore, you can upload a design using our website tools. A plate bearing your logo is an excellent accessory to use while presenting edible samples to your customers.
Bookmarks Complement a Continual Desire To Learn
Regardless of your chosen industry, a decision to stay abreast of developments in the sector makes you more competitive. When reading a professional periodical, textbook or business guide, you can clip a blue bookmark onto the page. Then, dive into the content at the start of each reading session instead of spending time looking for where you left off.
Shutterfly features numerous personalized products to help you reach business objectives. Our product categories facilitate finding what you need without delay.
Related Products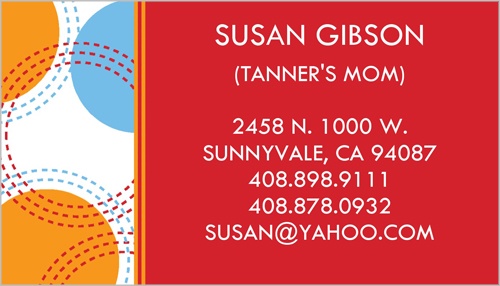 Bubble Red Calling Card by Petite Lemon. If you've ever searched for paper to jot down your name, you'll enjoy having these handy calling cards. Great for park visits, play dates, school functions or whenever you're on the go. Corresponding ...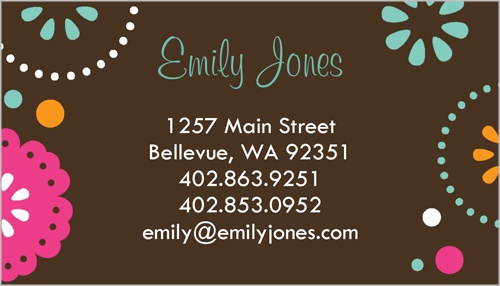 Cocoa Fiesta Custom Business Cards by Petite Lemon. Bold iconic flowers make a bright statement. This trendy calling card will perfectly suit your style. Corresponding invitations, address labels, and gift tags are also available.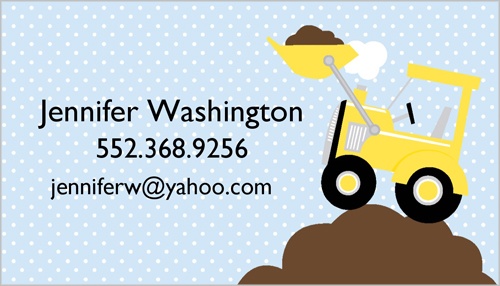 Dig It Custom Business Cards by Stacy Claire Boyd. Everyone "digs" your boy. The simple, child-like graphics on this calling card feature a big yellow earth-mover sitting atop a pile of dirt. Corresponding invitations, thank you cards, address labels and ...