What customers have to say about our Business Cards
"Okay"
January 14, 2019
I would like to buy a greater quantity at a discount
"The business cards were exactly what I wanted. They arrived very quickly. I only wish that there was a choice of quantity to order with a discount for a larger quantity. I would have purchased a larger quantity. Two packages were too expensive compared to other printers."
December 18, 2018
Business cards
"The cards were exactly what I expected and I was very pleased with them."
December 3, 2018
This is My Second Purchase and Won't be My Last
"Love these personal monogram calling cards. This was my second purchase. I only needed to upload a new (more recent) photo. Great quality card. Easy ordering and quick delivery. Perfect!"
November 20, 2018
Great cards
"I made these for my husband so he could give out his contact information to friends and acquaintances. They are very sharp."
Improving Name Recognition With Grey Business Cards
Today's society is action-packed, and many people go throughout their days without forming meaningful relationships with the people they meet. Some individuals can recognize faces but realize they don't know the names of numerous citizens who are part of their lives.
Grey business cards help you become more known to those you come across, whether they are your child's teachers, colleagues from a large workplace or fellow attendees at a business conference.
You can find a textured or patterned business card design. On the other hand, you might opt for a monogrammed style or one with a scripted font. After browsing our possibilities, it's easy to customize a choice with your details.
Maintaining Your Social Status With Help From a Calendar
Whether you're the keynote speaker at a local technology gathering or have confirmed your attendance at an upcoming charity dinner, it's not always easy to keep track of obligations. Using one of our desk calendars is a sensible solution. You can personalize them with a cherished image, such as a photo of your kids from last year or a snapshot from a vacation in Florida.
It's possible to order them with your desired starting month and year. Also, the spiral-bound design facilitates quick flipping from one page to the next. You could circle important dates with a marker to make them stand out at a glance.
Organizing Small, Important Papers With Magnets
From event tickets for a play you're attending with a group of friends to receipts for business-related travel, there are many pieces of paperwork to keep track of during a typical week or month. Wooden magnets come in sets or single pieces and let you attach papers to the refrigerator or another magnet-ready surface.
Shutterfly provides personalized products that complement your work and social life. You can browse our inventory and ship items to your door.
Related Products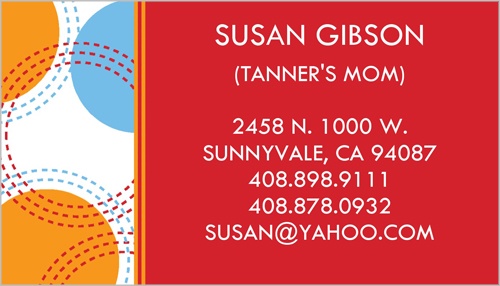 Bubble Red Calling Card by Petite Lemon. If you've ever searched for paper to jot down your name, you'll enjoy having these handy calling cards. Great for park visits, play dates, school functions or whenever you're on the go. Corresponding ...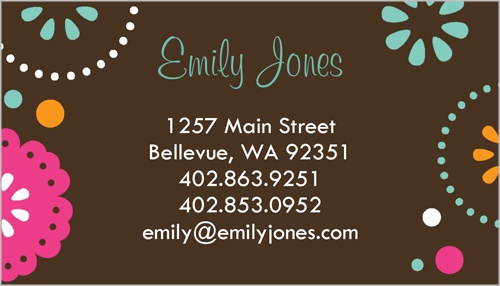 Cocoa Fiesta Custom Business Cards by Petite Lemon. Bold iconic flowers make a bright statement. This trendy calling card will perfectly suit your style. Corresponding invitations, address labels, and gift tags are also available.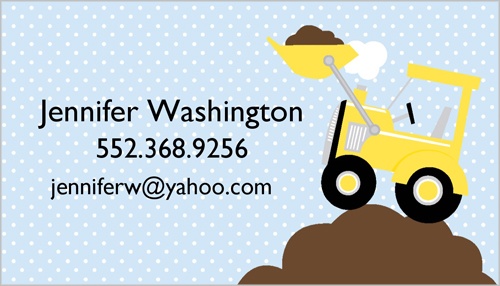 Dig It Custom Business Cards by Stacy Claire Boyd. Everyone "digs" your boy. The simple, child-like graphics on this calling card feature a big yellow earth-mover sitting atop a pile of dirt. Corresponding invitations, thank you cards, address labels and ...