What customers have to say about our Business Cards
"Okay"
January 14, 2019
I would like to buy a greater quantity at a discount
"The business cards were exactly what I wanted. They arrived very quickly. I only wish that there was a choice of quantity to order with a discount for a larger quantity. I would have purchased a larger quantity. Two packages were too expensive compared to other printers."
December 18, 2018
Business cards
"The cards were exactly what I expected and I was very pleased with them."
December 3, 2018
This is My Second Purchase and Won't be My Last
"Love these personal monogram calling cards. This was my second purchase. I only needed to upload a new (more recent) photo. Great quality card. Easy ordering and quick delivery. Perfect!"
November 20, 2018
Great cards
"I made these for my husband so he could give out his contact information to friends and acquaintances. They are very sharp."
Advertising Your Brand or Business With Monogram Business Cards
Awareness is a huge part of what makes a business succeed. Monogram business cards are excellent for increasing recognition of a personal brand or business venture in your community and beyond.
Whether you want the initial in a delicate script or prefer the letter to appear inside a circle featuring a contrasting color, we have those possibilities and numerous others. Also, you can consider choosing a hue that represents your business. A green business card is a clever option if you have a gardening or lawn-cutting company, for example.
Keeping Your Workspace Tidy
Having an organized area to work makes it easier to find things when you need them. When your office stays neat and clean, you can arrange meetings with clients in a place that's familiar to you instead of going to an off-site location.
Mason jars are inventive ways to store pens, markers and pencils. Besides using them to maintain a clutter-free environment, you can fill them with colorful marbles and create a desk decoration that earns compliments.
Often used for wedding receptions, these accessories are versatile enough for work needs, too. Our designs are customizable and can include a business name, the date of your grand opening or another meaningful etched element.
Saving Time With Self-Inking Custom Rubber Stamps
There are many mailings you might send out to promote your business. From sales flyers to invitations for a customer appreciation event, these correspondences cater to clients and offer brand-boosting benefits.
You can get postal materials ready to go through efficient methods that rely on self-inking rubber stamps. Our assortment includes monogrammed styles that let you continue your business card theme, as well as other appealing options made with your name and address. The included inkpad works for 800-1,000 stamps.
Supporting your business is easy when shopping at Shutterfly. You can sort through our categories of personalized products, and we'll ship them to your workplace or home.
Related Products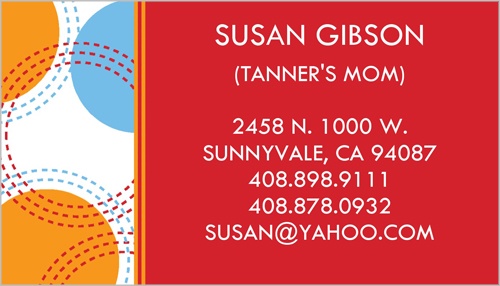 Bubble Red Calling Card by Petite Lemon. If you've ever searched for paper to jot down your name, you'll enjoy having these handy calling cards. Great for park visits, play dates, school functions or whenever you're on the go. Corresponding ...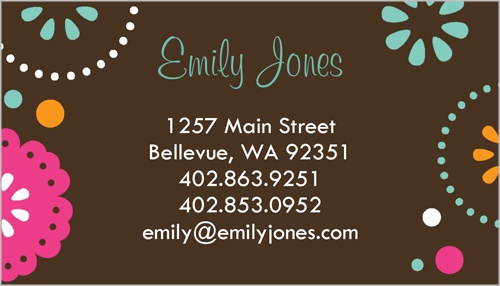 Cocoa Fiesta Custom Business Cards by Petite Lemon. Bold iconic flowers make a bright statement. This trendy calling card will perfectly suit your style. Corresponding invitations, address labels, and gift tags are also available.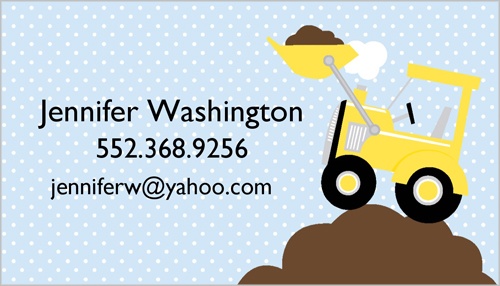 Dig It Custom Business Cards by Stacy Claire Boyd. Everyone "digs" your boy. The simple, child-like graphics on this calling card feature a big yellow earth-mover sitting atop a pile of dirt. Corresponding invitations, thank you cards, address labels and ...