What customers have to say about our Business Cards
"Okay"
January 14, 2019
I would like to buy a greater quantity at a discount
"The business cards were exactly what I wanted. They arrived very quickly. I only wish that there was a choice of quantity to order with a discount for a larger quantity. I would have purchased a larger quantity. Two packages were too expensive compared to other printers."
December 18, 2018
Business cards
"The cards were exactly what I expected and I was very pleased with them."
December 3, 2018
This is My Second Purchase and Won't be My Last
"Love these personal monogram calling cards. This was my second purchase. I only needed to upload a new (more recent) photo. Great quality card. Easy ordering and quick delivery. Perfect!"
November 20, 2018
Great cards
"I made these for my husband so he could give out his contact information to friends and acquaintances. They are very sharp."
Promoting Your Career with Pink Business Cards
There are many things you might do to bolster your career and the awareness others have of it. Attending specialized night classes, going to industry conferences and giving talks at community centers are a few possibilities. However, you can also build your brand by giving out pink business cards.
While browsing our assortment, you'll see we have beautiful choices to consider. They include themed graphics, complementing borders and monogrammed styles. You can also choose a sparkle business card.
Whether you run a tea shop that all the neighborhood residents love or specialize in offering vintage clothing at low prices, our attractive card designs suit your needs. It's also possible to upload photos online at our website.
Welcoming Clients Into a Comfortable Space
Your business might involve giving expertise to people who require certain kinds of insight, such as psychological guidance or technology tips. Or, it could entail helping clients plan major events, such as weddings, first communion celebrations, and corporate parties.
In those cases, you need a dedicated place to meet with customers. There, they can discuss their needs with you in a private setting.
Our photo pillows make it easy to let individuals know you prepared the area before they arrived. They're soft and plump for extra comfort. You can also customize a pillow with an image, whether it's a picture from your graduation ceremony that confirmed the hard work spent earning a master's degree or a snapshot of your lovable striped cat.
Decorating Your Workspace With Desktop Plaques
Like many people, you may spend hours each day sitting at your desk. Our desktop plaques make each hour as pleasant as possible. In addition to featuring at least one of your photographs on the front, these accessories have convenient built-in easel stands.
Shutterfly stocks personalized items that let you cater to customers, decorate your office and more. You can browse our wide assortment of products today.
Related Products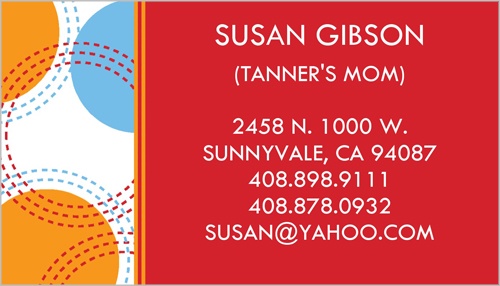 Bubble Red Calling Card by Petite Lemon. If you've ever searched for paper to jot down your name, you'll enjoy having these handy calling cards. Great for park visits, play dates, school functions or whenever you're on the go. Corresponding ...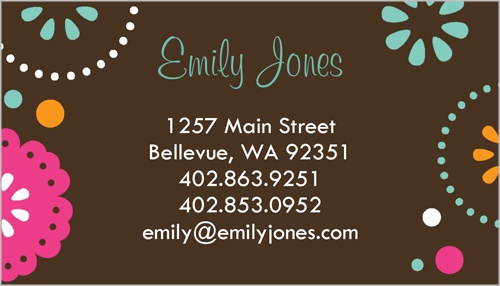 Cocoa Fiesta Custom Business Cards by Petite Lemon. Bold iconic flowers make a bright statement. This trendy calling card will perfectly suit your style. Corresponding invitations, address labels, and gift tags are also available.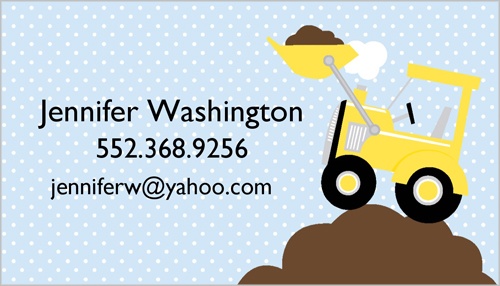 Dig It Custom Business Cards by Stacy Claire Boyd. Everyone "digs" your boy. The simple, child-like graphics on this calling card feature a big yellow earth-mover sitting atop a pile of dirt. Corresponding invitations, thank you cards, address labels and ...