What customers have to say about our Business Cards
"Okay"
January 14, 2019
I would like to buy a greater quantity at a discount
"The business cards were exactly what I wanted. They arrived very quickly. I only wish that there was a choice of quantity to order with a discount for a larger quantity. I would have purchased a larger quantity. Two packages were too expensive compared to other printers."
December 18, 2018
Business cards
"The cards were exactly what I expected and I was very pleased with them."
December 3, 2018
This is My Second Purchase and Won't be My Last
"Love these personal monogram calling cards. This was my second purchase. I only needed to upload a new (more recent) photo. Great quality card. Easy ordering and quick delivery. Perfect!"
November 20, 2018
Great cards
"I made these for my husband so he could give out his contact information to friends and acquaintances. They are very sharp."
Sparkle Business Cards Highlight Your Details in Memorable Ways
A business card does more than inform recipients of methods they may use to contact you. It shows off your personality and could also reflect the kind of work you do.
You might run a nail salon where customers often ask for glitter-filled nail polish and decide that sparkle business cards cater to that audience. If you're a clothing maker or fine artist, a stylish and unforgettable sparkle business card design could also give the impression that your work has a characteristic hint of glamour.
Looking for another option that could help you create outstanding results? We also have appealing possibilities such as floral business cards to consider.
Decorating Your Home Office and Getting Fantastic Results
Whether being a parent is your full-time job or you work as a self-employed fitness trainer, a dedicated office space could increase your focus when you're paying bills or creating a to-do list. Making the room into a place that's consistent with your personality and passions should pay off.
You could go with beach decorating ideas and order a canvas print of a photograph taken when your kids built a prize-winning sand castle during a competition held last Memorial Day weekend. Or, you might glue seashells to the frame of a mirror and use that piece to make the room appear larger. When you love the way your workspace looks, you'll appreciate spending time in it.
Filling Notebooks With Essential Contents
During a typical day, it's common to think of subjects ranging from what to cook for dinner to whether you should buy the book about effective communication strategies that your boss recommended. Notebooks let you jot down thoughts and make sense of them. They also offer plenty of room for planned drawings or impromptu doodles when the mood strikes. No matter if you need personalized items for work, downtime or both, Shutterfly makes shopping easy and fast. You can browse what's available now.
Related Products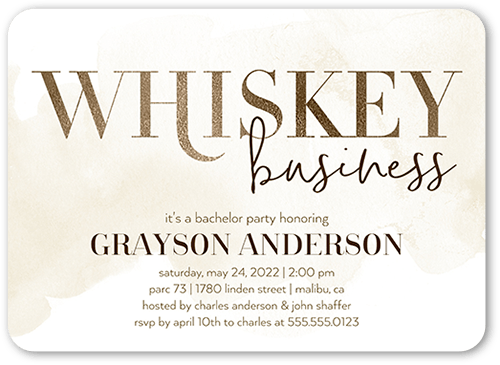 Whiskey Business 5x7 Stationery Card by Éclair Paper Company. Ready to party? Invite all the girls to a fabulous fete with Bachelor Party Invitations.
Extraordinary Initial Custom Business Cards by Éclair Paper Company. Create unique business cards in modern and classic styles. Set of 50 cards start at just $15.00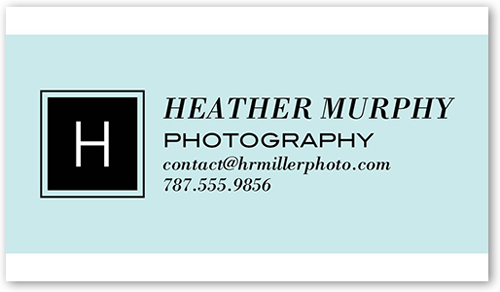 Initial Block Custom Business Cards by Stacy Claire Boyd. Create unique business cards in modern and classic styles. Set of 50 cards start at just $15.00