What customers have to say about our Business Cards
"Okay"
January 14, 2019
I would like to buy a greater quantity at a discount
"The business cards were exactly what I wanted. They arrived very quickly. I only wish that there was a choice of quantity to order with a discount for a larger quantity. I would have purchased a larger quantity. Two packages were too expensive compared to other printers."
December 18, 2018
Business cards
"The cards were exactly what I expected and I was very pleased with them."
December 3, 2018
This is My Second Purchase and Won't be My Last
"Love these personal monogram calling cards. This was my second purchase. I only needed to upload a new (more recent) photo. Great quality card. Easy ordering and quick delivery. Perfect!"
November 20, 2018
Great cards
"I made these for my husband so he could give out his contact information to friends and acquaintances. They are very sharp."
Choosing a Pattern Business Card to Match Your Personality
Throughout your life, you may give out hundreds of business cards or even more, depending on how many networking opportunities arise. At Shutterfly, we have a wide variety of pattern business card options that let you uphold a professional image while emphasizing a pleasing amount of pizzazz.
We carry pattern business cards with stripes in the corner, polka dots on the background and even choices with wood grain backgrounds. You can select from block fonts or scripted letters, then add information such as your name, job title and email address. Our online tools facilitate the creation of business cards you'll love to distribute for work-related reasons, as well as in your personal life.
Mix-and-Match Stationery Lets You Send Attractive Messages
No matter what kind of business you have, the smallest details can make significant differences. When sending a note to a client, colleague or friend, mix-and-match stationery gives you control over the design. Our sets enable you to select numerous photos, color schemes or both and make writing materials that reflect your life, career, and interests.
If you own a catering business, you might use photos of fabulous feasts and contented diners digging into the food with gusto. Or, if you focus on photography for a living, your stationery could include a snapshot of camera equipment or images from a recent wedding ceremony a client hired you to shoot. Also, our snowflakes label save you time while preparing envelopes for mailing.
Relishing Relaxation Time Under a Cozy Blanket
Work may be an essential part of your routine, but it's necessary to rest, too. A fleece photo blanket is an ideal accessory to help you unwind. It's also possible to customize this soft product with an image, such as last year's family holiday picture.
While browsing for products at Shutterfly, you can find items that enhance your career and domestic life. We simplify shopping online.
Related Products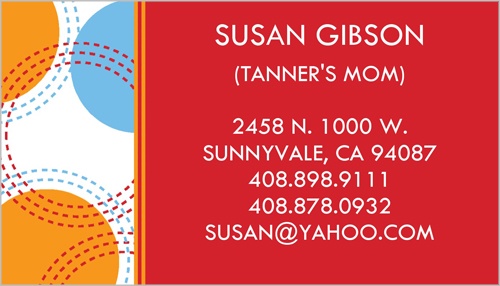 Bubble Red Calling Card by Petite Lemon. If you've ever searched for paper to jot down your name, you'll enjoy having these handy calling cards. Great for park visits, play dates, school functions or whenever you're on the go. Corresponding ...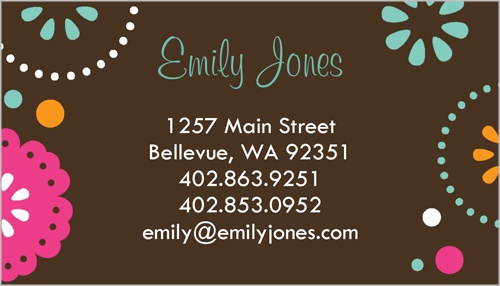 Cocoa Fiesta Custom Business Cards by Petite Lemon. Bold iconic flowers make a bright statement. This trendy calling card will perfectly suit your style. Corresponding invitations, address labels, and gift tags are also available.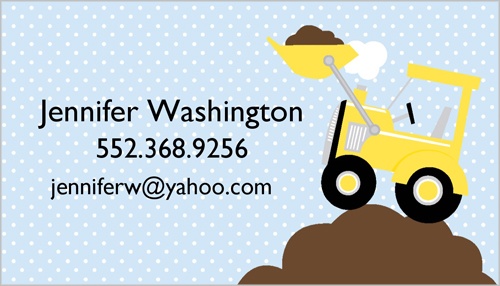 Dig It Custom Business Cards by Stacy Claire Boyd. Everyone "digs" your boy. The simple, child-like graphics on this calling card feature a big yellow earth-mover sitting atop a pile of dirt. Corresponding invitations, thank you cards, address labels and ...