Personalized Foil Christmas Cards
What customers have to say about our Christmas Cards
January 27, 2019
I highly recommend this card!!
"Absolutely love this card they came out perfect!"
January 23, 2019
good purchase
"Paper is excellent quality as is the envelope. Shipping can be high unless you are ordering a larger number of cards but I only bought one."
January 23, 2019
I will absolutely use this product again.
"The first time I have used Shutterfly for our annual greeting card. Very pleased and will use again."
January 22, 2019
Chinese New Year
"Christmas came too soon. No cards went out. New Year's came and went! Still no cards were sent out. But thanx to Shutterfly, made it for a Chinese Greeting! Beautiful cards front and back with pictures of family sent! Halleluah!!!!!"
January 22, 2019
I looved these cards and they arrived so quickly!
"Shutterfly makes last minute projects easy .. I love these holiday cards and continue to make photo books each month with their app as well as edits on desktop site. I love Shutterfly!"
Spread Cheer in Style With Personalized Foil Christmas Cards
This holiday season, make your Christmas cards stand out among the stack with personalized foil paper. When you're sending custom Christmas cards to your friends and family, add an elegant touch to your holiday greetings with iridescent, rose gold, or gold foil paper lettering. See your family's name in personalized foil paper on your high-quality Christmas cards that will wow your recipients. Personalized foil cards are triple coated on the front for super photo quality with a stationery feel on the back for handwritten notes and Merry Christmas messages.
What are Personalized Foil Christmas Cards?
Personalized foil holiday cards are different than foil stamped Christmas cards. Personalized foil Christmas cards have a raised, embossed texture, and the message, whether it be a sentiment, family name, date, or monogram can be customized. Christmas cards with personalized foil lettering are offered in iridescent, gold, and rose gold. To make your stunning custom holiday cards, look for a 'PERSONALIZED FOIL' or 'AVAILABLE IN FOIL' badge under the card template image. Foil-stamped cards use the traditional foil stamp technique resulting in an indented, debossed texture, and do not allow for customization; instead, foil elements are embedded into the design.
Personalized Foil Christmas Cards Add Elegance to Your Holiday Greetings
Personalized Foil Christmas cares are beautiful, stylish, and add a luxurious look to your cards that can't be matched. Say Happy Holidays in style this season with glamorous and elegant customize Christmas cards that spell out your family name and holiday greeting in gorgeous foil colors. Whether you're sending religious Christmas cards, modern watercolor cards, or Christmas photo cards with your favorite family portraits, personalized foil takes your correspondence to the next level. Your loved ones will be wowed as soon as they open up your gorgeous piece of snail mail this holiday season. Personalized foil cards aren't just for Christmas — you can send foil greeting cards when saying Happy New Year to your loved ones, too.
How to Make Custom Christmas Cards
Start making custom Christmas cards with personalized foil by choosing your preferred card design. Next, upload your favorite photos so you can send a unique holiday greeting card to friends and family that is instantly recognizable. Whether you design a personalized Christmas card with that's traditionally festive or one that's more modern and sleek, it's easy to make your season's greeting cards with Shutterfly. You can then personalize your Christmas photo cards by modifying the text, colors, and messaging to your preference. Looking for what to write on a Christmas card? View our Christmas card sayings for ideas and inspiration to make a Christmas card that's as special as you are. It is so easy to use that you will get into the holiday spirit. If you're looking for more holiday items after creating personalized foil Christmas cards, consider making Christmas ornaments for the tree or personalized Christmas gifts that will wow your loved ones.
Related Products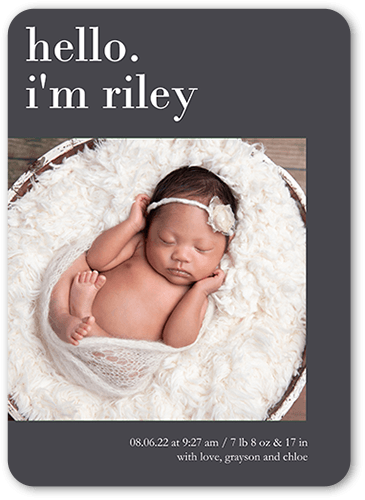 Hello I Am 5x7 Personalized Foil Card by Yours Truly. Announce your newest arrival with this stylish birth announcement. Add your baby's name, a favorite photo and the news everyone's been waiting for.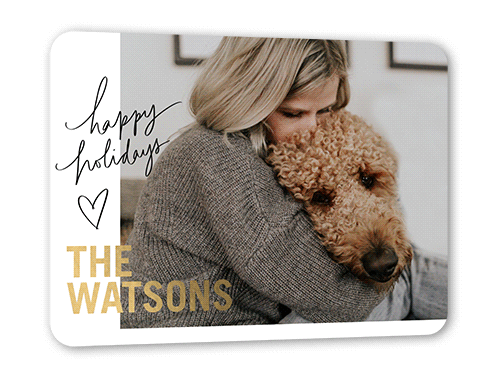 Gentle Heart 5x7 Personalized Foil Card by Blonde Designs. Send a holiday card friends and family will love. Add your own greeting and everyone's names. There's room for more photos and wishes on the back, too.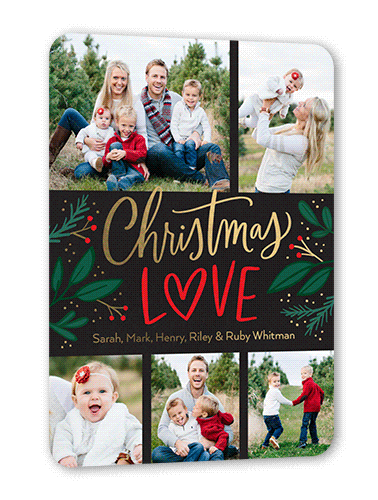 Sending Out Love 5x7 Personalized Foil Card by Stacy Claire Boyd. Send a holiday card friends and family will love. Add your own greeting and everyone's names. There's room for more photos and wishes on the back, too.