Personalized Foil Flat Stationery Cards
What customers have to say about our Flat Stationery Cards
January 27, 2019
I highly recommend this card!!
"Absolutely love this card they came out perfect!"
January 23, 2019
I will absolutely use this product again.
"The first time I have used Shutterfly for our annual greeting card. Very pleased and will use again."
January 22, 2019
Chinese New Year
"Christmas came too soon. No cards went out. New Year's came and went! Still no cards were sent out. But thanx to Shutterfly, made it for a Chinese Greeting! Beautiful cards front and back with pictures of family sent! Halleluah!!!!!"
January 21, 2019
Loved how these came out!
"I liked that I was able to personalize this card for my son's first Christmas. The way I designed it online is exactly how they looked when I received them. Everyone loves them, including me!"
January 20, 2019
Quality card. Easy to personalize.
"Ample space for family pictures and a short message on the back. The ability to change the font size and color also helps you to be in control of the final design."
Personalized Foil Flat Stationery Cards
Flat stationery cards are a great way to connect with family and friends over the holidays. Because of their simplicity and versatility, they've become the standard format for Christmas and holiday greetings. The addition of gold, rose gold, or iridescent foil to flat 5x7 holiday cards takes them over the top, adding luster, sophistication, and shine to your Christmas, Hanukkah, or New Years messages. Illuminate your season with personalized foil flat stationery cards from Shutterfly.
The Special Appeal of Personalized Foil
At Shutterfly, we feature an alluring collection of 5x7 flat stationery cards for the holiday season, and a number of these cards are foil-ready. Setting your family name, Christmas or holiday greeting, or other design elements in the shimmer of gold, rose gold, or iridescent foil adds a unique charm to your holiday cards. This is something your recipients will notice immediately upon opening the envelope, their eyes drawn to the way the foil catches the ambient light. This is a Hanukkah or Christmas card that will be cherished for years to come.
Creative Templates For Personalized Foil Flat Stationery Cards
Shutterfly's easy-to-use design tools allow you to make stunning holiday and Christmas cards quickly, so you have more time to spend on things that matter during the holiday season. With dozens of design templates to choose from, each with its own special customization options, the possibilities to share your love and holiday greetings are endless. Explore our creative design templates for personalized foil flat stationery cards—some allowing you to put your family name in gold foil, and others that feature your holiday greeting, writ large and shimmering in foil. Our Greeting Selector allows you to toggle between Christmas, Holiday, Hanukkah, and New Years greetings.
Create Your Personalized Foil Flat Stationery Cards
Begin by choosing a beautiful template. Our templates range from classic to contemporary, modern to rustic, and everything in-between. Let your style shine. Next, upload your favorite family photos. If you can't decide, our templates allow for up to eight photos if you have too many favorite memories to choose from. From there, customize the text and greeting. Choose your holiday greeting and add your family's name(s). With free back of card designs you can add additional personalized greetings or extra photos, too. Finally, add finishing touches. Our templates have a variety of customization options, including different foil colors, stylized card trims, and luxurious cardstock choices.
Making the Most of Your Personalized Foil Cards
There is no better time than the holiday season to share special memories with family and friends. Using our personalized stationery is a wonderful way to share those special milestones or to show off your favorite memories. Most importantly, however, sending loved ones a personalized foil holiday card lets them know not only that you are thinking of them, but that your connection is extra special. They're simply one of the best ways to spread the joy of the season.
Related Products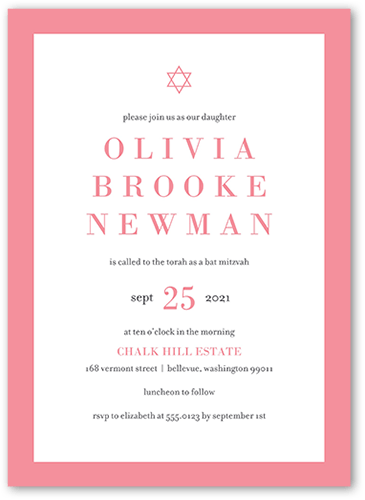 Bright Color Frame 5x7 Stationery Card by Yours Truly. Mazel Tov! Celebrate your daughter's Bat Mitzvah with a personalized Bat Mitzvah invitation. Just add her photos and event details.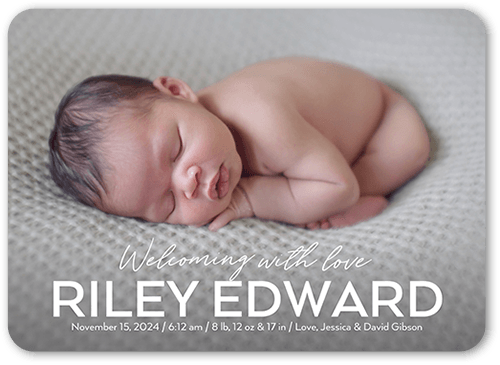 Grand Type 5x7 Stationery Card by Yours Truly. Announce your newest arrival with this stylish birth announcement. Add your baby's name, a favorite photo and the news everyone's been waiting for.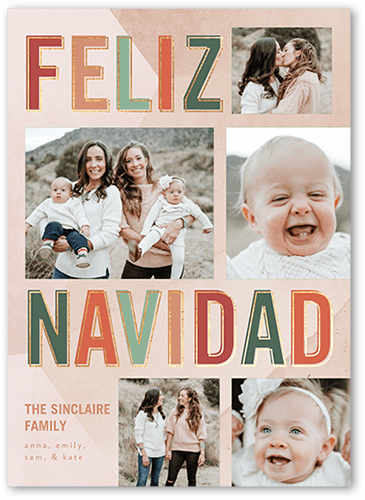 Bright Feliz 5x7 Stationery Card by Yours Truly. Share holiday memories con familia y amigos by adding a special personalized message to your customized tarjeta de Navidad – including all Spanish letras and acentos. It's the perfect regalito for everyone ...