What customers have to say about our Holiday Cards
January 27, 2019
I highly recommend this card!!
"Absolutely love this card they came out perfect!"
January 23, 2019
good purchase
"Paper is excellent quality as is the envelope. Shipping can be high unless you are ordering a larger number of cards but I only bought one."
January 23, 2019
I will absolutely use this product again.
"The first time I have used Shutterfly for our annual greeting card. Very pleased and will use again."
January 22, 2019
Chinese New Year
"Christmas came too soon. No cards went out. New Year's came and went! Still no cards were sent out. But thanx to Shutterfly, made it for a Chinese Greeting! Beautiful cards front and back with pictures of family sent! Halleluah!!!!!"
January 22, 2019
I looved these cards and they arrived so quickly!
"Shutterfly makes last minute projects easy .. I love these holiday cards and continue to make photo books each month with their app as well as edits on desktop site. I love Shutterfly!"
Pet Holiday Cards
Dogs are a man's best friend, and cats are beloved members of the family. They always look adorable, so why not share that adorable spirit with others? Most people use pictures of their families for personalized cards, but this isn't the only option. Instead, you can celebrate your furry friend by placing him or her front and center.
Personalized Cards that Show Off Your Pet
Pictures of pets can be used for just about any iconic holiday card. Simply upload a photo of your dog or cat (or any other animal) when creating your personalized card. Shutterfly also offers cards that are specifically animal centered. These cards don't just provide space for your pet; they also have language and images to celebrate your beloved animal. In this way, you're able to say "happy holidays" and showcase Buddy or Shadow at the same time. These cards are also a great option for anyone who prefers not to use themselves or a family member on a card.
Perhaps you and your significant other want to send a card together but think it's a little early for a picture of the two of you in front of a tree. Or maybe you're single and don't want a picture of just yourself (though that can make a great card as well!). Everyone loves pets, and your holiday greeting might just get the most attention when displayed next to all the others in your family member's home. For dog holiday cards or cat holiday cards, Shutterfly has the perfect options to make your personalized card animated and fun.
Even More Options to Celebrate Your Furry Family Member
Make your holiday card complete with pet-themed return address labels. These labels are great not just for the holidays but all year round. Shutterfly also has iPhone cases, pet tags, notebooks, placemats and more, all to celebrate your four-legged friend. Pets make great muses, and these cards and products can help you commemorate your dog or cat for a lifetime.
Related Products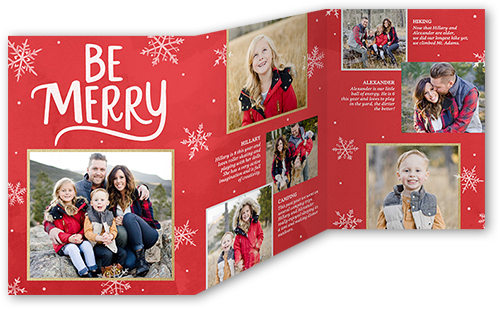 Be Merry Flurries 5x7 Tri Fold Christmas Cards. Enjoy this festive season by sending Charming Christmas cards, friend and family will love. Personalize it with photos and wishes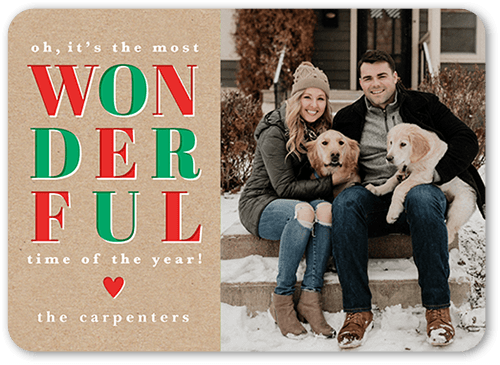 Crafted Wonder 5x7 Stationery Card by Yours Truly. Send a Christmas card friends and family will love. Add your own greeting and everyone's names. There's room for more photos and wishes on the back, too.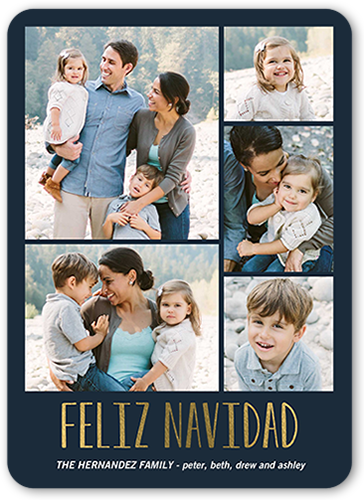 5x7 Christmas Card by Yours Truly. Share holiday memories con familia y amigos by adding a special personalized message to your customized tarjeta de Navidad – including all Spanish letras and acentos. It's the perfect regalito for everyone on your ...