Photo Gallery Baby Shower Invitations
What customers have to say about our Baby Shower Invitations
January 26, 2019
I would buy this again definitely!
"This invitation is beautiful I just wish the liners that came with it stuck better"
January 25, 2019
Perfect invite
"These are so cute and came exactly as I expected. Love them!"
January 24, 2019
In love with the shower invites
"These invites are so cute. They came just as ordered. I love shutterfly. They never disappoint."
January 22, 2019
I would buy this product again.
"Bought this for my baby shower invitations and it exceed my expectations."
January 21, 2019
I really liked my purchase experience
"I needed to order baby shower invites. I was pleasantly surprised to find out I could have Shutterfly take care of the invitees addresses, return addresses, and stamps! What a time savor! And the invitations are adorable!!"
Celebrate Your Bundle of Joy with Photo Gallery Baby Shower Invitations
Creating baby shower invitations is something you want to get perfect for your little one and loved ones. Baby showers are a special time to celebrate welcoming your new baby into the world. From trendy chalk-themed baby girl shower invitations to cool and chic baby boy shower invitations, you can find the perfect baby shower cards to celebrate your bundle of joy at Shutterfly. Photo gallery baby shower invitations let you choose a variety of pictures to add to your invites, including your family and pregnancy photos. With more photos to choose from, you can get your attendees excited for the big day.
Photo Baby Shower Invitation Wording
Planning a baby shower can be hard work. With designing baby shower invitations, you need to figure out how to word it to get your information across in a fun and cute way. Typically, baby shower invitation wording includes the name of the parents and baby (if you plan to reveal it already). Some parents wait until after the birth for the big name announcement, but the choice is up to you! Unless you want to keep the gender of your baby a secret or have a gender reveal, people will also sometimes include the gender on their baby shower cards. Additional details like the date, location, and time are also important to add to your photo baby shower invitations. You should also clarify how you want guests to RSVP to your photo baby shower invitation. Whether you plan to include baby shower invitation response cards or ask for a virtual RSVP, you should have a specified date for your guests to respond to your photo baby shower invitations. If you have a baby registry, you should also include details about the registry on your baby shower invitations wording. Whether you're sending out baby boy shower invitations or baby girl shower invitations, your friends and family will be so excited to get presents for the arrival of your little one.
Mail Your Baby Shower Invitation Cards
Be sure to send out the photo baby shower invitations least four or six weeks in advance. Typically, parents choose to have the shower around six or seven months into the pregnancy, so you should plan to send the baby shower cards around month five or six. After the celebration is over, be sure to send out baby shower thank you cards for a special gift your shower guests will adore.
Related Products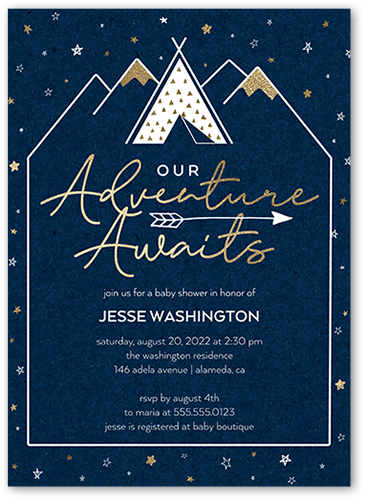 Awaiting Adventure 5x7 Stationery Card by Éclair Paper Company. Shower her with love and a stylish baby shower invitation. Personalize it with the party details.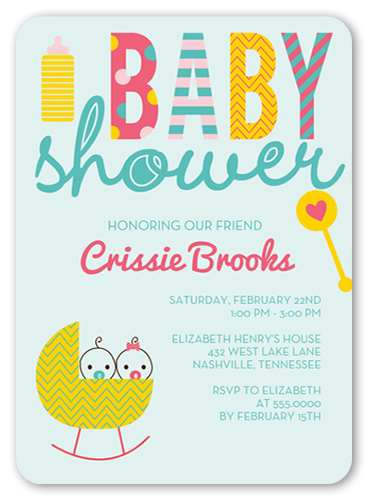 Cute Cradle Twins 5x7 Neutral Baby Shower Invitations by Hello, Kelle. Shower her with love and a stylish baby shower invitation. Personalize it with the party details.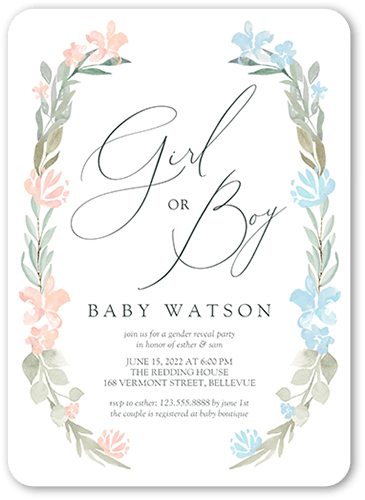 Gentle Floral Frame 5x7 Stationery Card by Poppy Studio. Shower her with love and a stylish baby shower invitation. Personalize it with the party details.