What customers have to say about our Birth Announcements
January 25, 2019
A Hit With All the Family!
"We used this card as a birth announcement and thank you card for our baby shower attendees. It's on a nice heavy cardstock, and the print was super clear. With my first order there was a smear on the return address on the back of the envelope, but no big deal. With the first order I also didn't receive the blank envelopes I ordered. The second order everything was perfect. I would highly recommend!"
January 24, 2019
Very nice cards
"Super classy cards"
January 24, 2019
Great buy
"Looks and feels great. Came so quickly and is such great quality!"
January 22, 2019
So sweet
"Easy to create!sweet design"
January 22, 2019
Love this product!!
"I love the simplicity of this birth announcement, it was easy to make and arrived on time!"
Celebrate the Whole Family With a Photo Gallery Birth Announcement
Photo gallery birth announcements are perfect for new parents who want to show off multiple photos of their newborn baby. With a photo gallery baby announcement, you can include snaps of your newborn, all the siblings, or even the whole family. From a sweet filmstrip-style baby birth announcement to a trendy poster-style baby announcement, you can create a precious baby announcement card to show off your new bundle of joy. At Shutterfly, you can unleash your inner designer to personalize every aspect of your birth announcements to perfectly fit your newborn.
Make Your Own Personalized Birth Announcements
Baby birth announcements are a special way to let your friends and family know about the arrival of your newborn baby. To make your custom baby announcement cards truly special, you can customize the birth announcements at Shutterfly. You can design all of the details on the baby announcement card like the orientation, size, trim, and paper finish. Additionally, Shutterfly helps you upload photos of your newborn to customize the card to be special and unique for your newborn baby. Whether you opt for a few sweet snaps of your little bundle of joy or photos of the entire happy family, you can create a baby announcement card your friends and family will fall in love with. If you receive special baby shower gifts or new mom gifts, make sure to show your gratitude with a custom thank you card.
How to Word Your Baby Announcement Cards
Wording a baby birth announcement can be difficult — from deciding the tone of the card to which details are going to be included, there is so much to figure out to create your perfect card! Check out these baby announcement wording ideas to get inspiration on how to create your perfect card. Parents typically include an introduction message, the baby and parent's names, and the date of birth. You can choose to include more details on the personalized baby announcement like the location where your newborn was delivered and the weight and length of the baby. For some ideas on sweet introduction messages, take a look at these baby quotes and sayings that will put a smile on your face. If you're ahead of the game with creating birth announcements, think about putting together a pregnancy announcement card as well — you can even match the theme of the cards for a lovely detail that will definitely be appreciated.
Related Products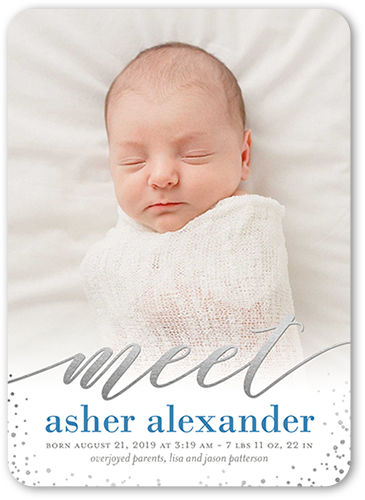 Delicate Introduction Boy 5x7 Birth Announcement Cards. Announce your newest arrival with this stylish birth announcement. Add your baby's name, a favorite photo and the news everyone's been waiting for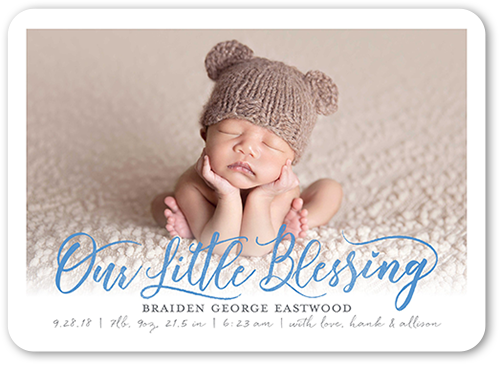 Little Blessing Boy 5x7 Birth Announcement Card. Announce your newest arrival with this stylish birth announcement. Add your baby's name with a photo and the news everyone's been waiting for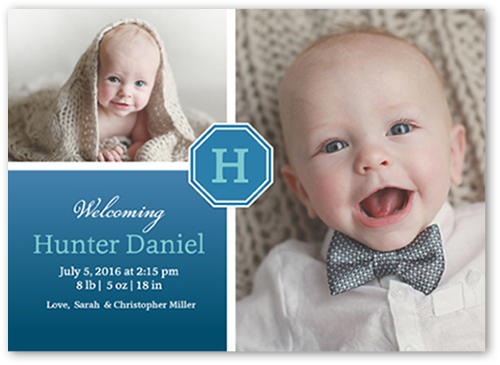 Monogram Hues 5x7 Boy Photo Birth Announcement Card. Announce your newest arrival with this stylish birth announcement. Add your baby's name with a photo and the news everyone's been waiting for