Pink Valentine's Day Cards
What customers have to say about our Valentine's Day Cards & Stationery
January 23, 2019
The cards were great
"Shutterfly does a great job on their products --I have gotten, from prints, cards, calendars and art."
January 22, 2019
Personalized Card Bliss
"Great quality card made from personal photo and personalized captions. Sometimes a store bought card doesn't capture the sentiment you're trying to portray. This is a fantastic option to create your own!"
January 22, 2019
Personalized Valentines Day Cards
"My daughter will be handing these cards out to her classmates for Valentines."
January 20, 2019
Absolutely loved my purchase
"Omg....i ordered a personalized valentines day card for my boyfriend and when I tell you I am so in love with it. I absolutely love it. Great job and I will definitely be using your services again. I love it and I know he will love it. Thank you so so much."
January 17, 2019
Please Update the year to 2019!!!
"Hi! I love your design and am hoping to use it for my daughter's valentines cards. Is there anyway you can update the design?! I tried to find a way to email you directly but was unable to. Thanks :)"
Finding the Right Valentine's Cards for Your Loved Ones
When the big day rolls around each year and it is time to pick out lovely and meaningful Valentine's gifts for the person or people closest to you, it's time to remember how much more you can say when you create a custom message. That means finding the cutest, most relevant designs that you can work with and then filling them with the photos, quotes, memories, and messages that tell your beloved just what your relationship means.
Creating Cute Valentine's Cards
The first step in your path to the perfect Valentine's gift is a cute card, and that means finding the right colors and designs for the season. Pink Valentine's Day cards are a great way to do this because they provide color and versatility without getting into the deep and serious overtones that dark reds invoke. If you do want to add some gravity, going with a design that works the pinks and reds together helps to balance things and create a card that is cute and has personality.
Once you select a design, the following steps will help you complete your card:
• Upload your photos and assign them to the right parts of the template.
• Write your message, and don't forget to use some popular Valentine's Day quotes as a springboard.
• Select your options and order.
Don't forget that you can add custom gifts to complete your celebration.
Valentine's Gift Options
All of the popular custom gift ideas available through our site have the same guided creation processes that make our custom card selections so easy to navigate. That lets you easily add your special message to a custom Valentine's Day gift like:
• Valentine's pillows
• Fleece blankets
• Candles
• Keepsake Boxes
When you put together the right card with the right message alongside a perfectly thoughtful gift, you are able to create beautiful and memorable Valentine's designs.
Related Products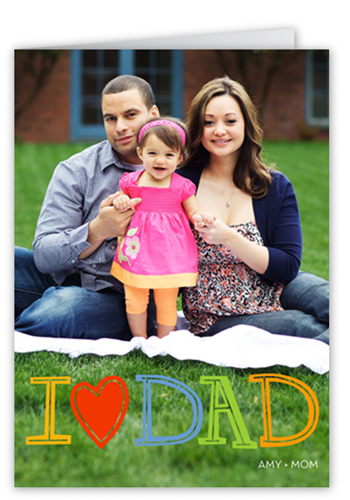 Chalkboard Heart Dad Fathers Day Cards. It's time to put it in writing. Chalkboard letters spell out "I heart Dad" in bright, colourful hues. Add a favourite photo and your own wishes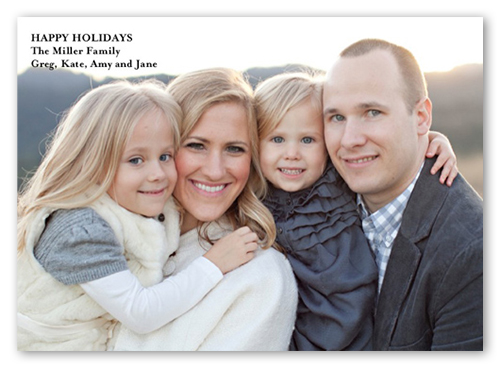 Gallery Greetings 5x7 Holiday Card. Send a holiday card friends and family will love. Add your own greeting and everyone's names. There's room for more photos and wishes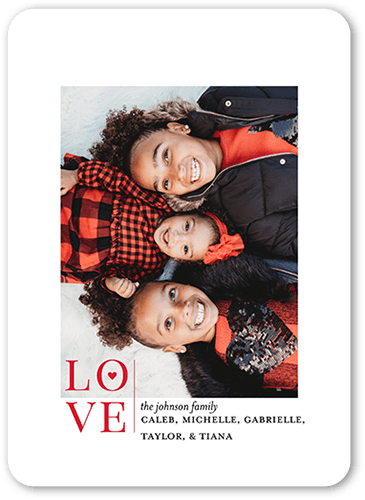 Minimal Love 5x7 Stationery Card by Petite Lemon. Send a holiday card friends and family will love. Add your own greeting and everyone's names. There's room for more photos and wishes on the back, too.