What customers have to say about our Christmas Cards
January 27, 2019
I highly recommend this card!!
"Absolutely love this card they came out perfect!"
January 23, 2019
good purchase
"Paper is excellent quality as is the envelope. Shipping can be high unless you are ordering a larger number of cards but I only bought one."
January 23, 2019
I will absolutely use this product again.
"The first time I have used Shutterfly for our annual greeting card. Very pleased and will use again."
January 22, 2019
Chinese New Year
"Christmas came too soon. No cards went out. New Year's came and went! Still no cards were sent out. But thanx to Shutterfly, made it for a Chinese Greeting! Beautiful cards front and back with pictures of family sent! Halleluah!!!!!"
January 22, 2019
I looved these cards and they arrived so quickly!
"Shutterfly makes last minute projects easy .. I love these holiday cards and continue to make photo books each month with their app as well as edits on desktop site. I love Shutterfly!"
Surefire Ways to Add Some Pop to Your Christmas Cards
Sending out Christmas greetings is a tradition that many families follow. Because there are so many cards going around during the holiday season, you probably want to find a way to make yours stand out from the crowd. Pop out Christmas cards combine the space of a greeting card with the intimacy of a family photo. Sending this stationery with a little keepsake could be enough of a surprise to make your card pop. Here at Shutterfly, we offer a lot of ways to make your stationery extraordinary.
Pick Design Elements You Love
Because many families choose to display their Christmas cards, we know how important it is to make yours eye catching. Incorporate glitter, color schemes, complementary fonts and special trim as you strive for an elegant yet fun card. As a rule of thumb, you should try to pick out elements you love. If you do not love your pop out Christmas cards, you may not be excited about sending them to your friends and family.
Use the Right Photo
Another way you can increase the appeal of your card is by choosing a high-quality, personality-filled family photo. As your family expands and kids become a reality, taking a good picture can get harder and harder. Thankfully, our photography experts have some advice you may be able to use:
Add props to help distract the kids and make your photo a little more festive at the same time.
Wear matching clothes, or at least clothes with the same color scheme, to make your photo feel polished.
Try capturing a natural moment.
Are you trying to include a pet in your pop out Christmas cards? You can use a pet-themed Christmas card to really center your holiday greetings on your four-legged family member, or make the affair a little more subtle by simply including your dog or cat in the family photo.
Focus on the Message
There are a lot of Christmas-related sentiments you can share with your close family and friends. Do you think a 'Happy Holidays' would be more appropriate than 'Merry Christmas?' Or are you looking to add a special Bible verse to your card? No matter what sentiment you want to share, focus on your Christmas message to make sure you are saying exactly what you want to say. You can even choose to use the space on the card to send a quick update about your family's latest news.
For many families, creating a Christmas card is an integral part of the year. Start your creation by looking through the pop out Christmas cards offered here on Shutterfly.
Related Products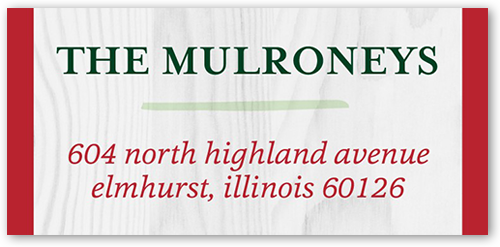 Tree Pop Christmas Return Address Labels. Address your envelopes with stylish address labels. Corresponding invitations, gift tags and thank you cards are also available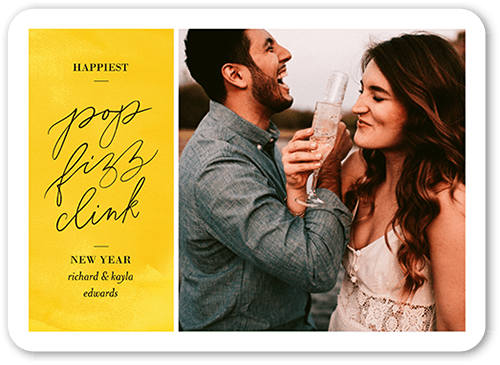 Colorful Pop Fizz 5x7 Stationery Card by Petite Lemon. It's time to celebrate with stylish New Year's cards. Personalize with your names and send to everyone on your list.