Premium Baby Shower Invitations
What customers have to say about our Baby Shower Invitations
January 26, 2019
I would buy this again definitely!
"This invitation is beautiful I just wish the liners that came with it stuck better"
January 25, 2019
Perfect invite
"These are so cute and came exactly as I expected. Love them!"
January 24, 2019
In love with the shower invites
"These invites are so cute. They came just as ordered. I love shutterfly. They never disappoint."
January 22, 2019
I would buy this product again.
"Bought this for my baby shower invitations and it exceed my expectations."
January 21, 2019
I really liked my purchase experience
"I needed to order baby shower invites. I was pleasantly surprised to find out I could have Shutterfly take care of the invitees addresses, return addresses, and stamps! What a time savor! And the invitations are adorable!!"
Premium Baby Shower Invitations
As much as you want to make the baby shower you are planning for the new parent-to-be a special and unique one, you just can't seem to find the time or resources you need to do so. You like the idea of taking the customized route, but you are not really sure you have what it takes to make the quality and caliber of baby sprinkle or shower invitations you want. Fortunately, you have the best and biggest selection of baby shower invitations to choose from with us. Instead of you trying to come up with a particular design or theme, we've already done it for you. All you have to do is select the ones you like the best so you can send them out.
Show Off the Best Moments
Quality and creativity are two things you should never compromise on when you are planning special events and celebrations. The guests are not the only ones you are trying to amaze. You want to show the new mom how happy everyone is about her pregnancy. It doesn't matter if she is becoming a new parent all over again or if it is her very first child. The only thing that matters is her joy and happiness once the day of the event arrives. The happiness and excitement surrounding pregnancy can be contagious. Use that positive energy to your advantage by selecting premium baby shower invitations that look even better when you add your favorite images of the parents-to-be or mom-to-be to them.
No matter what design of invitations you choose, adding a photo of the new parents or an ultrasound of the newborn baby can really enhance them and make the moment more realistic. Of course, you shouldn't skimp when it comes to showing everyone who comes to the event some appreciation. Be sure to use customized thank you cards and custom stickers.
Related Products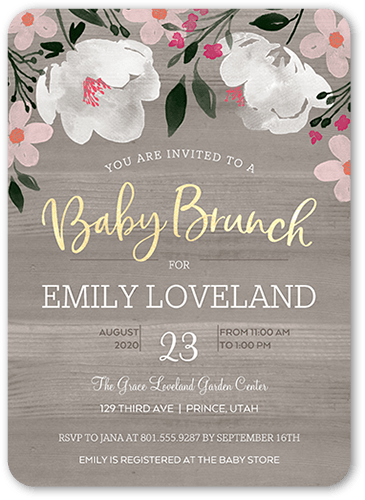 Brunch Blooms 5x7 Stationery Card by Petite Lemon. Shower her with love and a stylish baby shower invitation. Personalize it with the party details.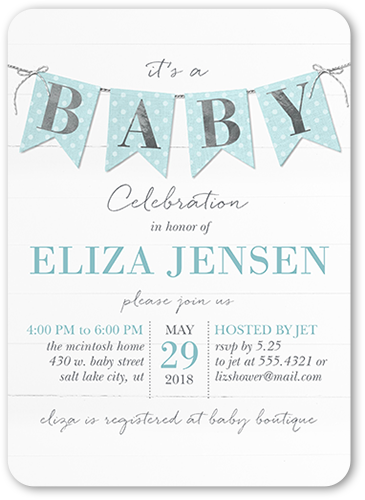 Cute Pennant Boy 5x7 Baby Shower Invitation Cards. Shower her with love and a stylish baby shower invitation. Personalize it with the party details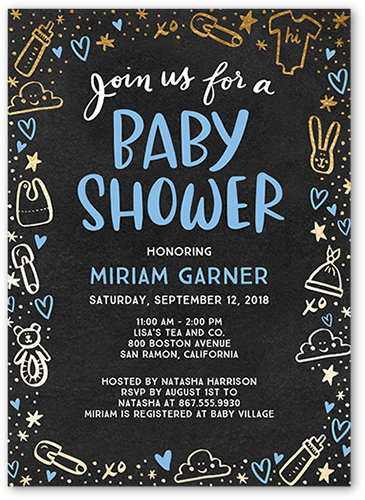 Doodle Border Boy 5x7 Baby Shower Invitation Cards. Shower her with love and a stylish baby shower invitation. Personalize it with the party details