Pride
Happy Pride Cards
Celebrate Pride Month with a custom greeting card that spreads the love. Our Pride collection features cards that celebrate the LGBTQ+ community to help you say "Love is love," and commemorate diversity, equality, and visibility. This Pride Month, send custom, rainbow note cards to your friends, family members, and loved ones to show your support for Pride and love. With greeting cards featuring the pride rainbow to designs that say "Love Wins" or "Love is Love," you'll be able to create the best Happy Pride Month cards for you. Personalize your cards with your favorite photos or images of the pride flag. Your loved ones will smile opening up your one-of-a-kind note card during Pride Month this June.
LGBTQ+ Cards
Happy Pride Month cards are a great way to celebrate gay pride and the greater LGBTQ+ community. Send your friends and loved ones a personalized greeting card emblematic of the holiday. Shutterfly's Pride card collection is bursting with color and style, featuring classic rainbow colored text and design elements, including arches, neon, hearts, and more. We have LGBTQ+ Pride cards in modern, retro, whimsical, and contemporary styles. Pick one that speaks to you or your connection with your recipient, upload a photo, and personalize the card to your heart's content.
Rainbow Cards for Pride Month
Happy Pride cards are a wonderful way to show your support for your friends in the LGBTQ+ community. Whether you're sending a special rainbow greeting card to invite them to a Pride Month celebration or simply want to send them warm wishes, you can create the perfect gay pride card with Shutterfly. Send a Happy Pride Month greeting to your loved ones as a "thinking of you" card that will make them smile. You can even customize yours as a special coming out card for yourself, or as a congratulations card to a friend or family member.
How To Make The Best Pride Cards
With Shutterfly's customization tools, it's simple to make a gay pride greeting card that's perfect for you. Start by browsing through our collection of rainbow Pride Month cards and pick the one you want to personalize. Our unique Pride greeting card templates feature rainbow hearts and neon letters to get you in the Pride Month spirit. Once you've chosen your rainbow Happy Pride card, personalize it by choosing the paper style and trim and uploading a favorite photo. Then add a custom message and more photos to the back of your card. However you want to customize your Happy Pride Month card—it's up to you. If you don't want to upload a photo on your device, use one of our Pride-themed images from Shutterfly's Art Library to make the perfect Pride card for you.
More LGBTQ+ Stationery
There are so many other occasions perfect for cards that celebrate members of the LGBTQ+ community, including birthdays, anniversaries, and weddings. Make creative, unique LGBTQ wedding cards, including wedding invitations and save the dates, by customizing one of our stylish design templates. Perhaps your best friend has a June birthday. Send them a Pride birthday card to show your love.
Related Products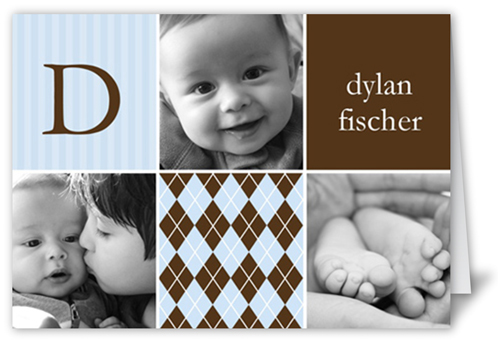 Hopscotch Time Blue 5x7 Greeting Card by Stacy Claire Boyd. Powder-blue and chocolate-brown pair beautifully in this handsome boy baby announcement. Add your baby's name and a favorite photo
Birthday Coral Colors 5x7 Folded Card by Yours Truly. Another year older. Send personalized celebratory greetings with a favorite photo and your own message in this stylish birthday card.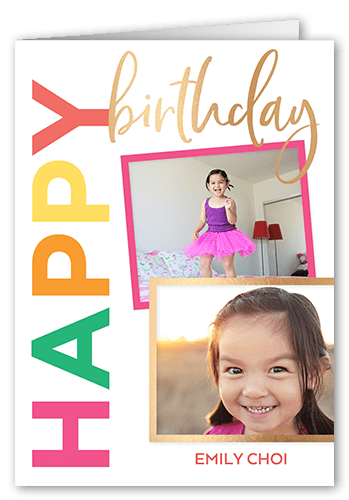 Bold Happy Birthday 5x7 Folded Card by Yours Truly. Another year older. Send personalized celebratory greetings with a favorite photo and your own message in this stylish birthday card.