What customers have to say about our Thank You Cards
January 27, 2019
Grateful for my thank you cards
"I ordered these cards to give out with my closing gifts to my buyers and I am so glad that I did. The quality is amazing and the print was perfect. Can't wait to use them!"
"Love the size, love the card stock, love how our photo fit so nicely."
January 27, 2019
Love these cards.
"Shutterfly always does a great job."
"Once again, Iove my end result from Shutterfly. The people love their personalized cards too."
January 26, 2019
These turned out so CUTE!!!
"The card stock is very heavy and makes it a nice writing experience. Quality, thick, great bright colors on the card. This is a great product and a wonderful purchase."
Picking the Right Thank You Cards
When you want to say thank you to someone in just the right way, then custom rectangular or square thank you cards are the way to go. When you design your own card, you're not just letting the other person know how much you appreciate them but also letting them know they're worth a little extra effort. If you aren't sure what kind of thank you card to send, here are a few ideas.
Funny Cards for Close Friends
Someone's who been in your life for a very long time is bound to share a variety of inside jokes with you. These are perfect for including in a thank you card as an extra way to make the recipient smile. Think about any funny moments from the following activities.
First day of school
When you met
An epic night out
Spiritual Cards for Parents and Grandparents
Spiritual doesn't have to mean specifically Christian, there are many soothing and inspirational messages from a variety of cultures. These are wonderful for parents and grandparents because it can sometimes be so hard to come up with words that feel sufficient to thank them for all they've done in your life. Add a personal photograph to give the card an extra touch of love.
Go Simple When You Can't Decide
If there are too many options, you can always opt for elegant and simple square thank you cards. You can still make some simple choices, such as color and layout, but you don't need to go overboard if it will stress you out. Just the act of thanking someone can be enough.
Saying thank you is a wonderful human tradition that crosses generations and cultures. Square thank you cards and other shapes and sizes are easy to customize with our online tools. Be sure to look at some envelopes and personalized address labels, too.
Related Products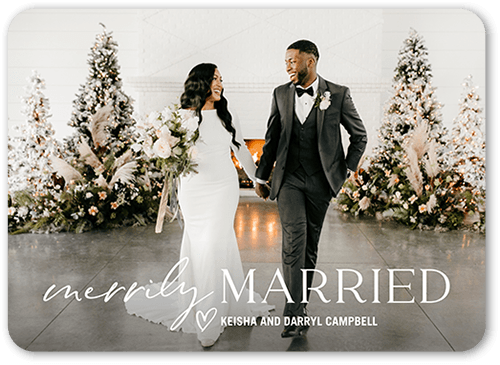 Merrily Wedded 5x7 Personalized Foil Card by Jill Smith. Send a holiday card friends and family will love. Add your own greeting and everyone's names. There's room for more photos and wishes on the back, too.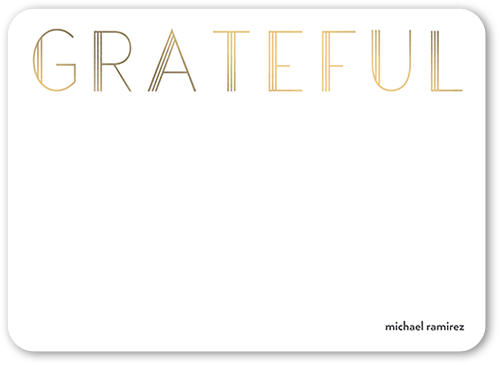 Retro Thanks 5x7 Stationery Card by Float Paperie. Because they deserve it. Give them a personalized thank you card to express your gratitude.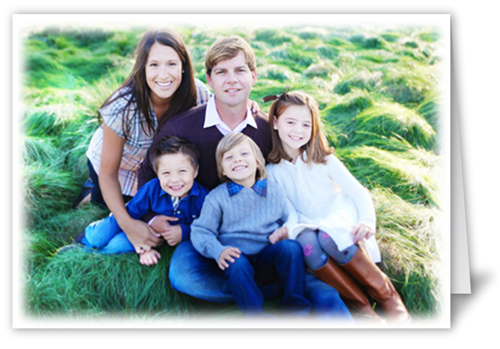 Blurred Edge 5x7 Wedding Congratulation Cards. The edges might be blurry but your greeting to family and friends will be crystal clear with this card