Religious Birth Announcements
What customers have to say about our Birth Announcements
January 25, 2019
A Hit With All the Family!
"We used this card as a birth announcement and thank you card for our baby shower attendees. It's on a nice heavy cardstock, and the print was super clear. With my first order there was a smear on the return address on the back of the envelope, but no big deal. With the first order I also didn't receive the blank envelopes I ordered. The second order everything was perfect. I would highly recommend!"
January 24, 2019
Very nice cards
"Super classy cards"
January 24, 2019
Great buy
"Looks and feels great. Came so quickly and is such great quality!"
January 22, 2019
So sweet
"Easy to create!sweet design"
January 22, 2019
Love this product!!
"I love the simplicity of this birth announcement, it was easy to make and arrived on time!"
Spread the Word with Religious Birth Announcements
There's no greater joy than the arrival of a new child into your family—and with religious birth announcements, you can share that joy with your friends, relatives, and neighbors. These beautiful cards are a great way to spread the good news and commemorate the occasion.
Special Blessings
A birth is an excellent time to celebrate the miracle of life, as well as to express gratitude for your family's blessings. Religious birth announcements can let you express your faith as you share the word. If your baby is born before or during the holiday season, you can send out themed cards that celebrate both occasions. Each of these cards is specially crafted to help you express yourself.
Sharing the News
The main purpose of a birth announcement is to spread the news about your baby, which means there are a few important details you should consider including. Some of the most important things to put on the announcement include:
• The baby's first and middle names
• The time and date of birth
• The weight and length of the newborn
• The parents' names
Our handy template will help you keep track of all the relevant information so nothing is accidentally left off. Visit our blog for more tips and ideas, such as what to wear for your maternity photos.
Custom Design
Every single newborn child is unique, and we believe your birth announcements should reflect that individuality. That's why our custom cards have a variety of options that can be used to give your announcements a special flair. Whether you prefer boys' birth announcements, girls' birth announcements, holiday themed cards, or something else entirely, you can pick the perfect design and add your own photos of your beautiful newborn.
Then you can change the color palette or adjust how the edges are trimmed. You can even choose what type of paper you want the announcements printed on; we offer sustainable Signature 120 lb. cardstock, or our special 110 lb. Pearl Shimmer cardstock, which features a glamorous sheen. Your options are virtually endless.
Let Us Help
No matter what you choose, though, your birth announcements will have an elegant, professional look that's sure to impress your family and friends. And with our handy shipping options, such as super rush delivery and even direct mailing, you can get your cards sent out with minimal time, effort, or stress, leaving you more time to bond with your new baby. If you've had a new arrival within the past few weeks, then go ahead and start browsing our religious birth announcements—let everyone know how blessed you've been.
Related Products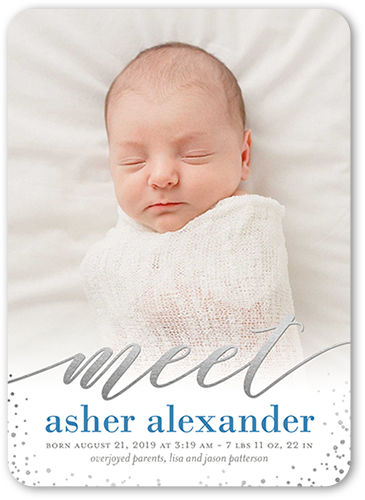 Delicate Introduction Boy 5x7 Birth Announcement Cards. Announce your newest arrival with this stylish birth announcement. Add your baby's name, a favorite photo and the news everyone's been waiting for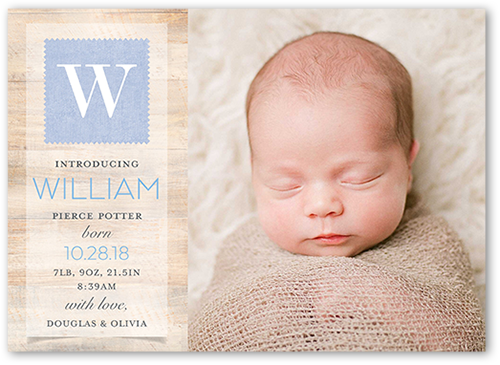 Perfect Monogram Boy 5x7 Birth Announcement Card. Announce your newest arrival with this stylish birth announcement. Add your baby name, a photo with the news everyone waiting for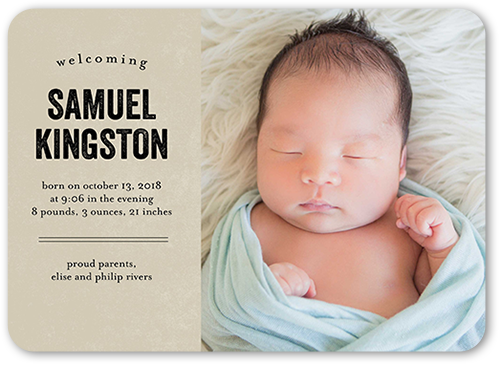 Simple Introduction Boy 5x7 Birth Announcement Cards.Announce your newest arrival with this stylish birth announcement. Add your baby name, a photo with the news everyone waiting for