Religious Christmas Cards
What customers have to say about our Religious Christmas Cards
January 23, 2019
good purchase
"Paper is excellent quality as is the envelope. Shipping can be high unless you are ordering a larger number of cards but I only bought one."
January 22, 2019
Chinese New Year
"Christmas came too soon. No cards went out. New Year's came and went! Still no cards were sent out. But thanx to Shutterfly, made it for a Chinese Greeting! Beautiful cards front and back with pictures of family sent! Halleluah!!!!!"
January 15, 2019
I have so much fun using my pictures on products.
"I have so much fun making unique gifts with my pictures. It makes me feel professional when I am very much an amateur."
January 14, 2019
Outstanding customer service
"The customer service agent who helped me with order 003086838129-9000112 was extremely helpful. I had problems making a Christmas card and she solved all of them. The Card was perfect with her changes. She was very kind and patient. I had an unavoidable interruption while we were working together and she assured me that she would wait on the phone until I could continue. She was committed to help me in every way she could. This was a unique customer service experience! Please thank her for me."
January 13, 2019
Quality cards
"Quality cards delivered in a timely manner!"
Spread Joy With Religious Christmas Cards
Celebrate the holiday season with religious Christmas cards from Shutterfly. Christmas may be the most wonderful time of year, but not because we give and receive gifts or thanks to mom's famously cooked ham. Sending our blessings to friends and family while celebrating each individual faith is why Christmas has and will continue to be a favorite religious observance holiday. This time of year may have spawned long lines at your local department stores for the best deals, but you can rest easy knowing our custom religious Christmas cards will bring out the true essence of love in the holiday season.
Make Religious Christmas Cards That Share Your Faith
If you find yourself searching for an extraordinary religious Christmas card, look no further. Share your faith with near and far family and friends by adding a Christmas bible verse and a beloved picture of you and those important to you. Religious Christmas card sayings and holiday greetings like "Joy to the world" and "Glory to God in the highest" are the perfect way to send Christmas blessings to loved ones. Nothing is more beautiful than being surrounded by individuals that bring out the best in you, so why not show how genuinely happy you are with a religious Christmas card? Your loved ones will love seeing your family's smiling faces on a greeting card this holiday season. If you're the forgetful type, simply allow us to automatically mail your religious Christmas cards out to each recipient. Add extra special touches to your Christian Christmas cards like gold foil and luxury cardstock. Perfect for co-workers, family members, friends and more, these religious cards tick every box for when you want to send Merry Christmas wishes this year.
Religious Christmas Cards Celebrate The True Meaning of Christmas
Christmas cards are the perfect opportunity to celebrate what's truly important – your faith. The true meaning of Christmas dives deeper than food, gifts and time off from work. It's about letting your faith shine through all the Christmas clutter to get to the root of what's truly important, such as kindness, piety, love, and charity. Our religious Christmas cards bring out the best in people and wishing them a blessed holiday or a chance to rejoice with you and your loved ones is something notably special. Christmas is the perfect time of year to start anew and with our nativity Christmas cards, you're able to give thanks and rejoice for God. Send well wishes to everyone on your Christmas list with a card that reflects your faith. Rather than limiting yourself to one generic Christmas card, take the time to personalize each one with our variety of themes, such as wedding Christmas cards and designs like first Christmas, and more. There's no shortage of religious Christmas cards that will put a smile on everyone's face.
More Holiday Cards and Home Decor That Spread Love
Once you send out your religious Christmas cards, set your sights on New Year's. Like Christmas, New Year's should be a celebration for the ages. Each year we have the chance to start over, to become someone new and our New Year's cards make the perfect start to a wonderful holiday. If you're looking for more holiday items after creating Christmas greeting cards, make Christmas ornaments for the tree or Christmas gifts that will wow your loved ones. Create blankets and pillows to cozy up with while opening presents in front of the Christmas tree this year, and document all of your holiday memories in the best photo books you can make completely your own.
Related Products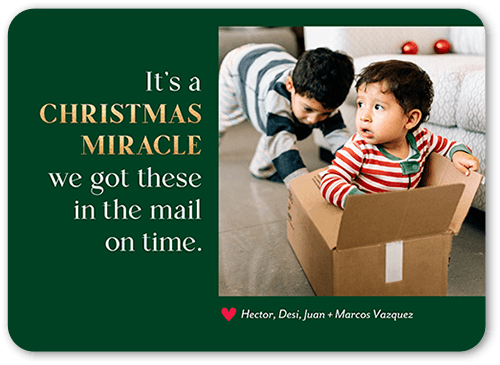 Christmas Miracle 5x7 Stationery Card by Jill Smith. Send a Christmas card friends and family will love. Add your own greeting and everyone's names. There's room for more photos and wishes on the back, too.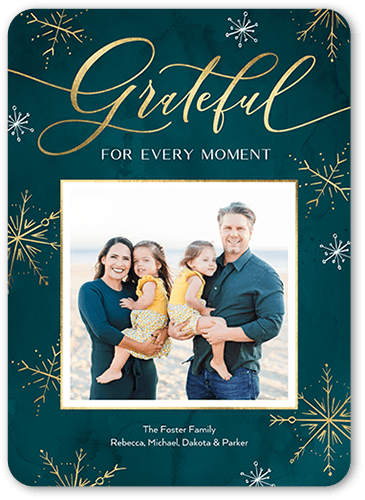 Grateful Snowflakes 5x7 Stationery Card by Stacy Claire Boyd. Send a Christmas card friends and family will love. Add your own greeting and everyone's names. There's room for more photos and wishes on the back, too.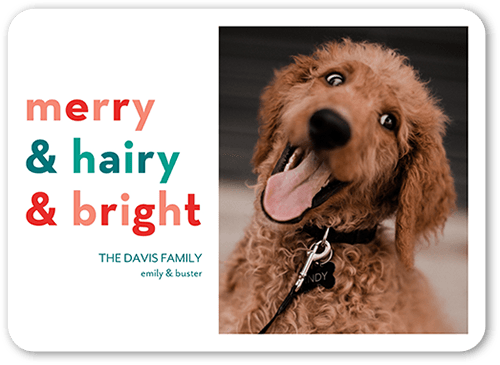 Merry and Hairy 5x7 Stationery Card by Yours Truly. Send a Christmas card friends and family will love. Add your own greeting and everyone's names. There's room for more photos and wishes on the back, too.