Retirement Party Invitations
What customers have to say about our Everyday Party Invitations
January 21, 2019
LOVE LOVE LOVE these invitations!
"I have ordered invitations for a very long time from Shutterfly - for both big and small occasions and they are always perfect! and affordable.....Even for a small event they add a touch of special to the gathering....I use them for everything and would recommend them."
January 21, 2019
Great product!
"Website is very easy to use. Anyone can create beautiful items."
November 26, 2018
Always Quality
"I have done several Shutterfly projects. It takes some practice, but Shutterfly allows me to customize and I have many choices for design with the layouts, backgrounds and embellishments. It is easy to add my own photos, which makes each project special. The stock is always high quality. I would highly recommend Shutterfly!"
November 1, 2018
I LOVE SHUTTERFLY!!
"These cards were lovely!!"
"Surprise party for my husband!! I love them. Quality is perfect!"
Invitations for Practically Any Occasion
It's common knowledge that Shutterfly has a diverse assortment of holiday invitations that fit practically any special occasion, from the winter holiday season to special days like Mother's Day. It's also common knowledge that our wedding invitations and graduation paper products allow you to build the perfect designs for every special occasion, letting you create the invites that go with your event theme perfectly. What you might not realize, though, is that there are also selections for everyday parties that come up from time to time. That means you can use the same customization engine you love for your wedding paper products and holiday gift cards to build the perfect retirement party invitations.
Selecting the Invite To Fit Your Friends' Moods
There are some different ways to approach your retirement party planning, but the best is to make sure the tone of the party matches the mood and tastes of your guest of honor. That means building a more sober and dignified going away party for those who prize their authority and their service, but it also means knowing when it's time to lighten up and let loose for a coworker who appreciates a joke.
When putting the party together, the invitations are important, but you want all of your décor choices to reflect the same values. That's why it can be helpful to check out our idea guides for tips on how to put together a great retirement party and how to select the right invites for your event.
Don't Forget Retirement Presents
When someone is finally retiring after years of service to a profession or an organization, it's important to show them how much you've appreciated their work over the years. When you need to find the perfect keepsake, Shutterfly has plenty of ideas like our bar accessories, custom home décor, and home office accessories to remind them of their time with your organization. You can even use the same customization engine that gives you control over your retirement party invitation to put an individual message on your colleague's gift today.
Related Products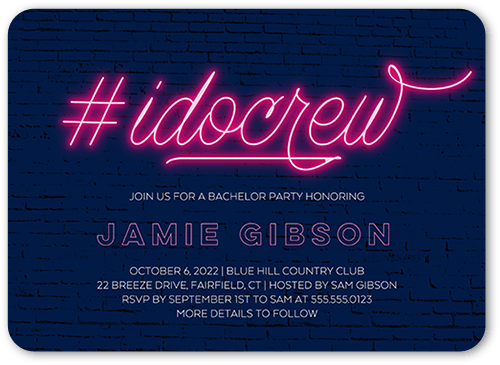 I Do Crew 5x7 Stationery Card by Éclair Paper Company. Ready to party? Invite all the girls to a fabulous fete with Bachelor Party Invitations.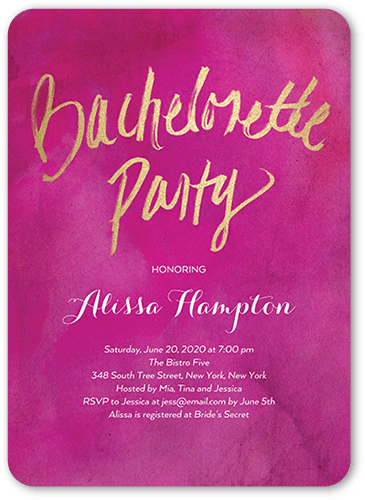 Lush Party 5x7 Stationery Card by Coloring Cricket. Ready to party? Invite all the girls to a fabulous fete with bachelorette party invitations.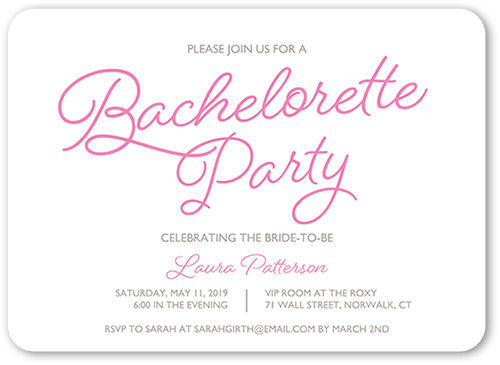 Tropical Affair 5x7 Stationery Card by Magnolia Press. Ready to party? Invite all the girls to a fabulous fete with bachelorette party invitations.