Rose Gold Foil Baby Shower Invitations
What customers have to say about our Baby Shower Invitations
January 26, 2019
I would buy this again definitely!
"This invitation is beautiful I just wish the liners that came with it stuck better"
January 25, 2019
Perfect invite
"These are so cute and came exactly as I expected. Love them!"
January 24, 2019
In love with the shower invites
"These invites are so cute. They came just as ordered. I love shutterfly. They never disappoint."
January 22, 2019
I would buy this product again.
"Bought this for my baby shower invitations and it exceed my expectations."
January 21, 2019
I really liked my purchase experience
"I needed to order baby shower invites. I was pleasantly surprised to find out I could have Shutterfly take care of the invitees addresses, return addresses, and stamps! What a time savor! And the invitations are adorable!!"
Rose Gold Foil Baby Shower Invitations
Want your baby shower invitations to allude to the style and tone of your modern, classy celebration? You'll want to upload your own unique design to one of our rose gold foil baby shower invitation designs. The rose gold foil gives your baby shower invites a one-of-a-kind, shimmering quality that will leave a distinct impression on your invitees.
Custom Baby Shower Invitations
No matter what your personal style or what theme you've chosen for your baby shower (and even if you don't have a theme), Shutterfly's rose gold foil baby shower invitations are a simple way to add luxury to your invitations and make them stand out. Easily upload your very own pictures and/or design elements to our lovely template and then use our online customization tool to further personalize your design. Choose from our various color options, font styles and sizes and more. Then, add your own custom message and details about your shower and you're all set. There's truly no shortage of ways to express your style and create a custom baby shower invitation that's uniquely yours when you use our upload your own design option!
Add Shine to Your Baby Shower Invitation Envelopes
After designing such eye-catching baby shower invitations, the last thing you want to do is place them in plain envelopes that may easily get lost in a pile of mail. So, instead of risking your baby shower invites not being noticed, give your envelopes some shine and personality by dressing them up with our custom stationery items. Create coordinating return address labels, self-inking rubber stamps or custom stickers and your envelopes will grab the attention of your recipients, ensuring your invitations get opened.
Baby Shower Invites and More Custom Baby Stationery
After your baby shower, send friends and family notes of appreciation for their gifts, love and support with our thank you cards. Once your little one makes his or her debut, introduce them to everyone with our beautiful foil-stamped birth announcements. With stunning designs on quality paper, your announcement is sure to become a treasured keepsake. Get details about how to create a custom baby announcement online.
Related Products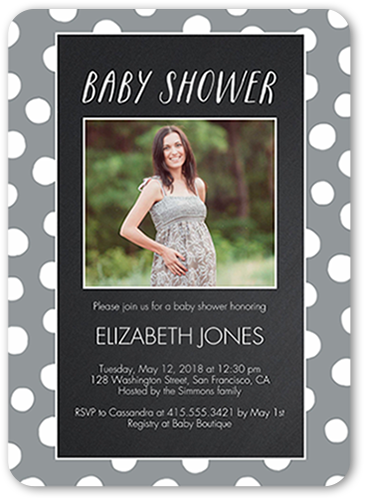 Chalkboard Dots 5x7 Baby Shower Invitation Cards. Shower her with love and a stylish baby shower invitation. Personalize it with the party details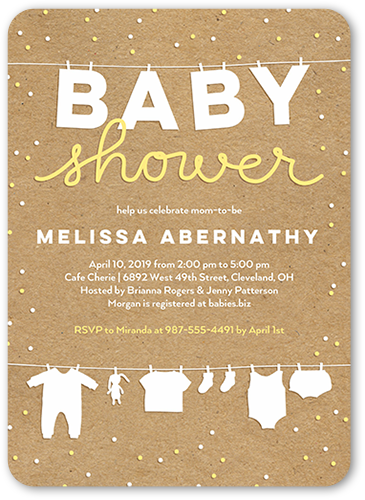 Cute Linens 5x7 Baby Shower Invitation Cards. Shower her with love and a stylish baby shower invitation. Personalize it with the party details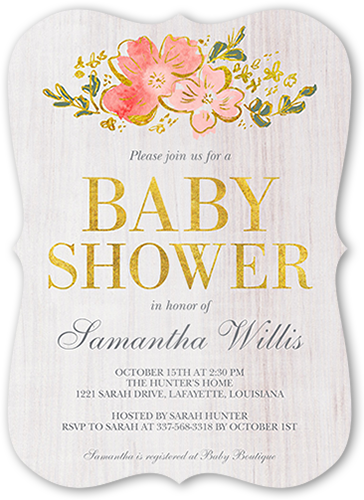 Decorative Woodgrain 5x7 Baby Shower Invitation Cards. Shower her with love and a stylish baby shower invitation. Personalize it with the party details