What customers have to say about our Holiday Cards
January 27, 2019
I highly recommend this card!!
"Absolutely love this card they came out perfect!"
January 23, 2019
good purchase
"Paper is excellent quality as is the envelope. Shipping can be high unless you are ordering a larger number of cards but I only bought one."
January 23, 2019
I will absolutely use this product again.
"The first time I have used Shutterfly for our annual greeting card. Very pleased and will use again."
January 22, 2019
Chinese New Year
"Christmas came too soon. No cards went out. New Year's came and went! Still no cards were sent out. But thanx to Shutterfly, made it for a Chinese Greeting! Beautiful cards front and back with pictures of family sent! Halleluah!!!!!"
January 22, 2019
I looved these cards and they arrived so quickly!
"Shutterfly makes last minute projects easy .. I love these holiday cards and continue to make photo books each month with their app as well as edits on desktop site. I love Shutterfly!"
Scallop Edge Holiday Cards
Shutterfly's uniquely trimmed scallop edge holiday cards are the ideal choice for individuals looking for a nontraditional design this holiday. As with the vast majority of our greeting cards, you will have the opportunity to choose your own words, images, and other features. Unlike ordinary cards that utilize impersonal messages and simple designs, our cards allow you show others exactly how much you care. Use your card to write a personalized message to your family members and friends. Your message will hold significantly more power if your loved one lives in a different city, state, or country. Wherever you choose to send your holiday card, just make sure that you send a personalized Shutterfly card.
Your Choice of Pictures and Words
Our scallop edge holiday cards can be personalized using the photographs, artwork, and messages of your choice. Shutterfly's cards are ideal for any holiday, and we offer a variety of religious, cultural, and secular themes for you to choose from. If you are pressed for time this holiday season, as many of us are, our company can stamp and mail your cards to your desired locations. Our customers can also choose or modify the following holiday card specifications.
• Color
• Number of photos
• Type of paper
• Size
If you prefer sophisticated holiday cards, Shutterfly carries a variety of cards from some of the most popular designers in the industry. Our pearl shimmer and premium cardstock options can take your card to the next level by infusing it with a touch of elegance and luxury. If you really want to get into the spirit, our cards will pair perfectly with our personalized postage stamps and address labels.
Express Yourself
Personalizing your holiday cards will give you the opportunity to express yourself through words and images. If you are ready to design and print your own holiday cards, get in touch with Shutterfly today to start the process.
Related Products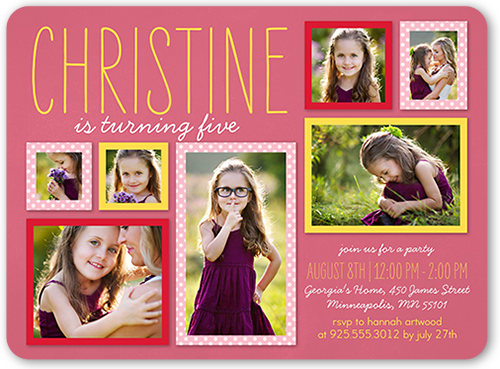 Chalkboard Bash Girl 6x8 Stationery Card by Petite Lemon. Another year older. Another year of fun. Invite all the guests with this stylish birthday invitation. Just add your favorite photos and all the event details.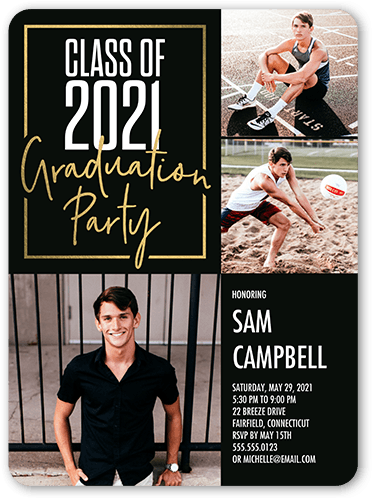 Grand Block 6x8 Stationery Card by Éclair Paper Company. Invite the guests to the celebration with stylish graduation invitations. Personalize with all the event details.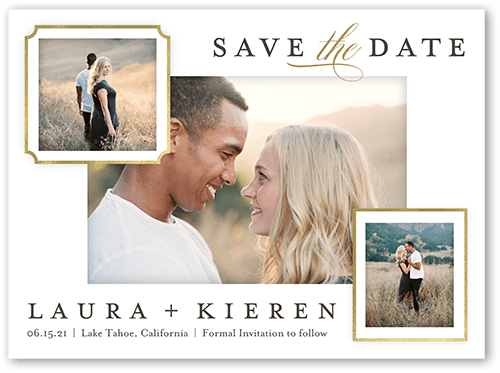 Enchantingly Framed 6x8 Stationery Card by Float Paperie. Make sure they mark their calendars with this stylish Save the Date card. Just add a photo and your nuptial details.