4th of July 4 Photo Card
What customers have to say about our 4th of July
January 22, 2019
Personalized Card Bliss
"Great quality card made from personal photo and personalized captions. Sometimes a store bought card doesn't capture the sentiment you're trying to portray. This is a fantastic option to create your own!"
January 12, 2019
Shutterfly products always look great!
"If you love one of your photos, turn it into a card! Whether it's a Thank you card, a sympathy card, a birthday card or any other kind of card, it'll turn out great!"
January 10, 2019
It exceeded my expectations
"Great, professional results"
"quick and easy. Great pricing."
January 4, 2019
I love these Birthday Invitations!
"These invitation look even better than I expected. The Pearl Shimmer added a nice touch to it!"
Send 4th of July Photo Cards
Cap off your 4th of July celebrations with one-of-a-kind 4 photo Fourth of July cards. 4th of July is a time for celebrating America in your own way. What better way to do that than with a stunning 4 photo Fourth of July greeting card. A great 4 photo Fourth of July card may contain an American flag, stars and stripes, or feature red, white and blue lettering. These inspirational images will kindle the spirit of patriotism in everyone this Independence Day.
Personalize Your 4th of July Photo Card
When imagining classic Americana, Independence Day, fireworks, and BBQs all go together. Why not celebrate American Independence by customizing a 4 photo Fourth of July card to send to friends, relatives, and neighbors? Easily include your own photos, favorite star spangled images, or simply write happy 4th of July or God bless America. No matter what message you write, your happy independence day card will be a joy to receive.
Happy Fourth of July Photo Cards for Everyone
Creating and sending American Independence Day photo cards is for everyone in the USA. Children, teens, and adults can bring their creativity and spirit to a happy 4th of July card and make it unique. Shutterfly's large inventory of cards and stationery templates and design ideas are sure to please if you're looking for new ideas for summer invitations or to show your Independence Day spirit by mailing happy birthday America wishes to someone. This 4th of July, easily send any of Shutterfly's many gifts with your photo card or check out other seasonal greeting cards sure to put a smile on someone's face.
Related Products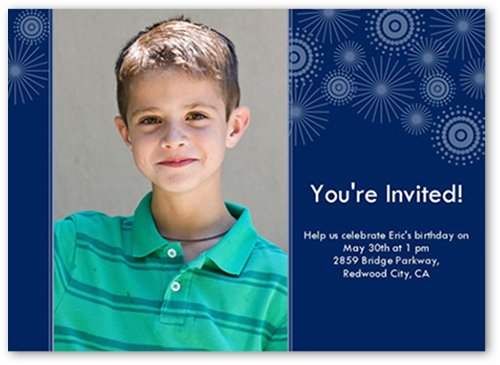 Sprinkle Midnight Swimming Party Invitations. Dazzling swirls pop against a midnight-blue background. Highlight your favorite photo beside important event details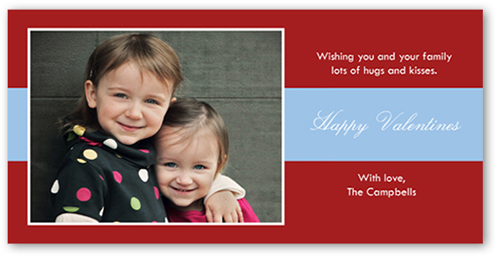 Cookie Cherry 4x8 Photo Card by Shutterfly. Capture elegance for any occasion with ornate lettering and a red/blue background. Room for one special photograph.
It's The Fourth Surprise Party Invitations. What's in a number? Playful dots and a candy-striped number 4 gets everyone in the mood for the holiday. This Fourth of July summer invitation offers room for event details against a blue background ...