Fall Invitations
What customers have to say about our Fall Invitations
November 14, 2018
Fun and Easy to Order
"I needed some quick invitations to send out inviting my family to dinner at our house. They're coming from all across the country. What I liked about ordering from Shutterfly was that you could order in small quantities. All my family members who received them, loved them!"
November 8, 2017
The Thanksgiving cards came out awesome!
"The quality is terrific and the speediness which we received the product was great!"
November 3, 2017
I will buy this product again and again!
"I have ordered these Thanksgiving invitations for about seven years in a row and I hope to continue to order them as long as I keep hosting Thanksgiving Dinner. I try to use a picture from last years Thanksgiving so everyone can watch the children grow. Every invitation I have ordered has been perfect! Thank you."
November 3, 2017
Stunning pearl stock.
"My family loved them. They have a touch of shimmer."
"Super cute. Came out perfect!"
Fall-Themed Invitations
This fall, invite your friends and family over to your home with personalized invitations from Shutterfly. If you'll be celebrating the fall season by hosting a fall-themed gathering or Thanksgiving dinner, you're going to love our fun, festive invitation designs. We have fall-themed invitations that feature the most adorable turkeys, as well as invitations with beautifully colored fall leaves. Whichever design you choose, your invites are guaranteed to delight your invitees when they receive them in the mail!
Designing Fall-Themed Invitations
Shutterfly has everything you need to create custom invitations that are perfect for inviting everyone over for a fun fall-themed party or for Thanksgiving dinner. Our fall-themed invitation templates are all spectacular, so it may be hard to choose a favorite! But once you've selected the one that best matches your style and personality, you'll be able to quickly and easily add in all of your event details. When creating invitations, it is always important to include all the information your guests need to know. Your address, the date and the time the gathering begins are all essentials. Also add any other helpful information, such as the type of event you'll be hosting, whether a sit-down dinner, buffet or potluck style. Including an RSVP by date and contact information is also a smart idea, as this will help you to stay organized and plan your fall festivities with ease. Your thoughtfully designed invitations will help ensure that everyone looks forward to your celebration and has a lovely time.
Decorate Your Fall Invitations' Envelopes
Before sending out your fall invitations, add personality and style to the envelopes they'll be sent in. Shutterfly makes it easy to do so with our personalized address labels, self-inking rubber stamps, and custom stickers. These add-on stationery items will create a cohesive, festive look and help your invitations grab the attention of your recipients when they arrive in the mail. This fall, invite your friends and family over with custom invitations from Shutterfly. And, while you're in the designing spirit, now is the perfect time get a start on your holiday cards and gift shopping! Take a look at our festive holiday cards and our collection of personalized gifts. Give yourself the gift of checking some of those holiday to-dos off your list early!
Related Products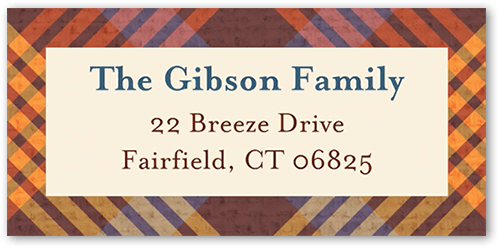 Fall Yall Address Label by Yours Truly. Address your envelopes with stylish address labels. Corresponding invitations, gift tags and thank you cards are also available.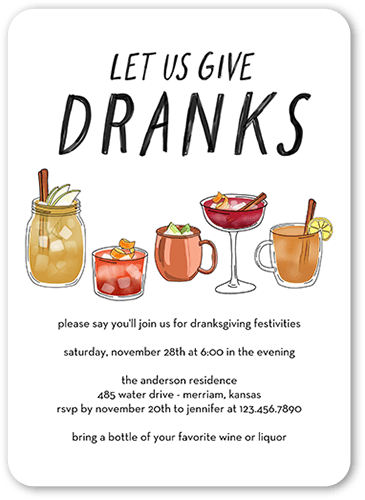 Give Dranks 5x7 Stationery Card by Yours Truly. Invite the guests to a fall fete with a personalized Fall invitation.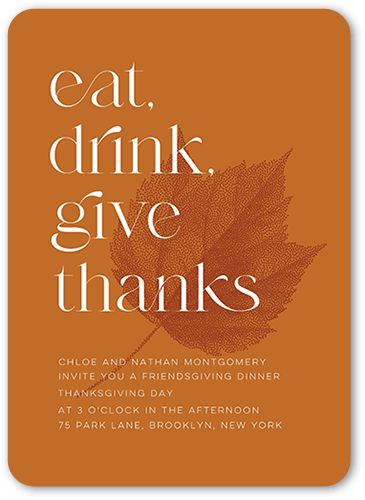 Leaf Imprint 5x7 Stationery Card by Kelli Hall. Invite the guests to a fall fete with a personalized Fall invitation.