Silver Baby Shower Invitations
What customers have to say about our Baby Shower Invitations
January 26, 2019
I would buy this again definitely!
"This invitation is beautiful I just wish the liners that came with it stuck better"
January 25, 2019
Perfect invite
"These are so cute and came exactly as I expected. Love them!"
January 24, 2019
In love with the shower invites
"These invites are so cute. They came just as ordered. I love shutterfly. They never disappoint."
January 22, 2019
I would buy this product again.
"Bought this for my baby shower invitations and it exceed my expectations."
January 21, 2019
I really liked my purchase experience
"I needed to order baby shower invites. I was pleasantly surprised to find out I could have Shutterfly take care of the invitees addresses, return addresses, and stamps! What a time savor! And the invitations are adorable!!"
Silver Baby Shower Invitations
Baby shower invitations are the first step to making the mother-to-be feel special and cared for. Make a thoughtful impression with the beautiful and timeless shimmer of silver foil debossed shower invitations. The classic and distinguished look of our silver baby shower invitations accents your choice of our high-quality standard or pearl shimmer card stock.
After the Shower
Continue the silver theme with thank-you stationery so the new mother can clearly show her gratitude. After the baby finally comes, silver jewelry personalized with adorable photos of the new arrival makes a great gift for the new mother or grandmother.
Mark the Milestones
Metallics like silver and gold are perfect for milestone occasions like the arrival of a baby or a 25th anniversary. Invite friends and family to a silver anniversary celebration with invitations that attendees will remember for anniversaries to come. At the party, you can gift the honored anniversary couple with a personalized gift commemorating the occasion from our wide selection of quality customizable items. If you are celebrating a loved one's 50th anniversary, a glass frame commemorating five decades of marriage shows your pride in their accomplishment.
A Neutral Accent
Silver is also a neutral accent which looks great with just about any other color. Choose silver when you want to give a gift but are not sure what color the recipient would prefer. You can customize calendars, mugs, and fleece blanket gifts and make them in neutral shades. Another thoughtful housewarming gift for new homeowners is grey address labels customized with their new address in neutral tones. For added flair, you can pair it with a coordinated personalized notepad to round out the gift.
Shutterfly realizes the importance of marking both the milestones and the everyday warm moments in our lives, from birth to silver anniversaries and beyond. Look to us to help you commemorate and celebrate your friends and family through one-of-a-kind products.
Related Products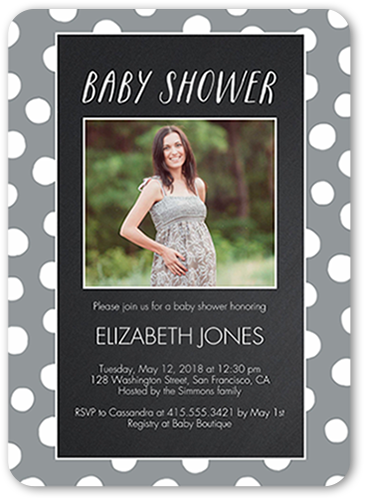 Chalkboard Dots 5x7 Baby Shower Invitation Cards. Shower her with love and a stylish baby shower invitation. Personalize it with the party details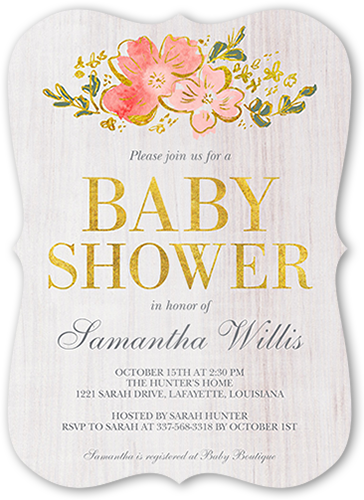 Decorative Woodgrain 5x7 Baby Shower Invitation Cards. Shower her with love and a stylish baby shower invitation. Personalize it with the party details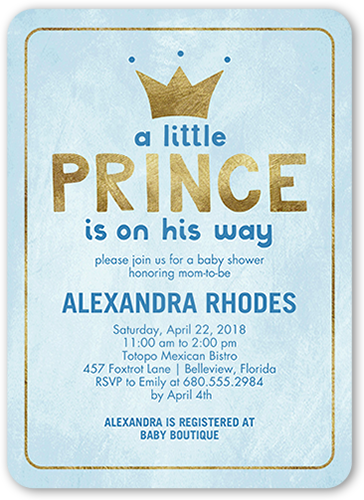 Newborn Prince 5x7 Custom Baby Shower Invitations. Shower her with love and a stylish baby shower invitation. Personalize it with the party details