What customers have to say about our Thank You Cards
January 27, 2019
Grateful for my thank you cards
"I ordered these cards to give out with my closing gifts to my buyers and I am so glad that I did. The quality is amazing and the print was perfect. Can't wait to use them!"
"Love the size, love the card stock, love how our photo fit so nicely."
January 27, 2019
Love these cards.
"Shutterfly always does a great job."
"Once again, Iove my end result from Shutterfly. The people love their personalized cards too."
January 26, 2019
These turned out so CUTE!!!
"The card stock is very heavy and makes it a nice writing experience. Quality, thick, great bright colors on the card. This is a great product and a wonderful purchase."
Write Wedding Thank You Cards Easily
Your wedding was an amazing event enjoyed by all and now it's time to write the thank you cards. You can choose cards which fit the theme of your wedding or use some simple, elegant silver thank you cards. Whichever you use, you can save yourself time with these little tips.
Don't Rush
Everyone expects that you won't be writing thank you notes while on your honeymoon, so you do have some time before these cards will be expected. Taking your time means you have the opportunity to write something personal to each person.
Double Check Your Lists
You'll have the guest book and any other list for gifts which, hopefully, your bridal party put together. Check the two lists together and see if someone who came is missing a gift entry. Take some time to verify whether or not there was a gift. You should still send a card at least thanking them for attending.
Write Some Rough Drafts
To avoid redoing multiple cards, you can use a computer document to write up some rough drafts. This will also help get your creative juices flowing to write nice, personal messages to your friends and family. If you're struggling to write personal messages for everyone, then the rough draft stage is also a good time to come up with a few variations on a formal thank you.
Make it a Joint Effort
Most projects go quicker when two people do them instead of one. You and your spouse can divide the list and both write notes, or you can divide the tasks so that one person is handling the address labels and stamps while another writes.
Thanking your guests and bridal party after your wedding is a definite must for proper etiquette. With some planning and maybe a little help, you can get your cards out in a timely manner to show how much you appreciate everyone's help and involvement in your special day. Whether you choose gold or silver thank you cards, you can further customize them online with photos and decorations.
Related Products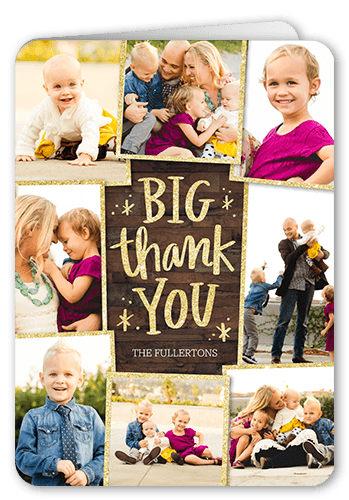 Big Bright Wishes 5x7 Thank You Card. Because they deserve it. Give them a personalized thank you card to express your gratitude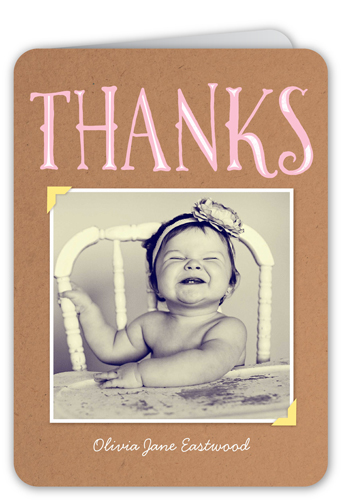 Big Thanks Frame 5x7 Thank You Card. Because they deserve it. Give them a personalized thank you card to express your gratitude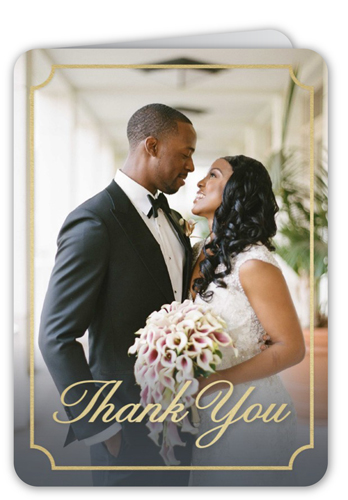 Classic Framed Love 5x7 Thank You Card. Because they deserve it. Give them a personalized thank you card to express your gratitude