Sparkle + Shine Birth Announcement Cards
What customers have to say about our Birth Announcements
January 25, 2019
A Hit With All the Family!
"We used this card as a birth announcement and thank you card for our baby shower attendees. It's on a nice heavy cardstock, and the print was super clear. With my first order there was a smear on the return address on the back of the envelope, but no big deal. With the first order I also didn't receive the blank envelopes I ordered. The second order everything was perfect. I would highly recommend!"
January 24, 2019
Very nice cards
"Super classy cards"
January 24, 2019
Great buy
"Looks and feels great. Came so quickly and is such great quality!"
January 22, 2019
So sweet
"Easy to create!sweet design"
January 22, 2019
Love this product!!
"I love the simplicity of this birth announcement, it was easy to make and arrived on time!"
Make Your Birth Announcements Sparkle and Shine
The joy of becoming a parent is second to none. Show your loved ones how excited you are to welcome your bundle of joy with sparkle + shine baby birth announcements. Sparkle and shine baby birth announcements are a great choice for both genders, with the style and design range perfect for your little boy or girl. Whether you are looking for a more traditional baby announcement or want to go modern with your birth announcement cards, you can create a magical card at Shutterfly. With options ranging from a sweet and adorable birth announcement to cards that are more simple, you can find the perfect baby birth announcement that will sparkle and shine. At Shutterfly, you can design all the details of your birth announcement card to truly customize it for your little one.
Birth Announcement Wording
Sending out the good news of your little one coming into the world is such an exciting experience. However, many new parents struggle to figure out exactly what to put on their baby announcement cards. People will usually include basic information on the baby's birth announcement such as the baby's name and date of birth, along with the parent's names. However, some parents also choose to add an extra introduction to the baby announcements like a heartwarming quote or sweet saying about their newborn. Shutterfly gives you the options to make your baby announcement cards your own. Many parents include additional information on their birth announcement wording such as the location of birth and the baby's length and weight.
How to Make Custom Baby Birth Announcements
Sparkle and shine baby birth announcements are a beautiful and elegant option to share with your friends and family. At Shutterfly, you can create the sparkle + shine birth announcement of your dreams. From customizing the trim and text to choosing the size and shape of your baby announcement, you can inspire your inner artist to make a baby announcement card that fits your little one perfectly. Sharing your little one with friends and family is such an exciting time. To get started on designing the card of your dreams, check out Shutterfly's options for sparkle + shine baby birth announcements. If you're still waiting for your little one's arrival, you can create a pregnancy announcement card to let loved ones know you're expecting. If you receive baby boy gifts or baby girl gifts after they enter the world, don't forget to send a thank you card to share your gratitude.
Related Products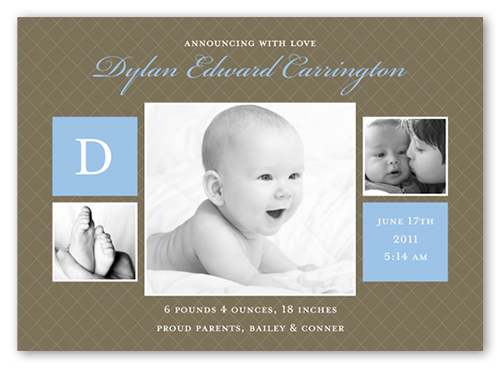 Baby Love Blue Birth Announcement 5x7 Stationery Card by Stacy Claire Boyd. My baby love. Sky-blue squares hold his initials and birth date and time. Add three favorite photos on a classic patterned background in this darling birth announcement.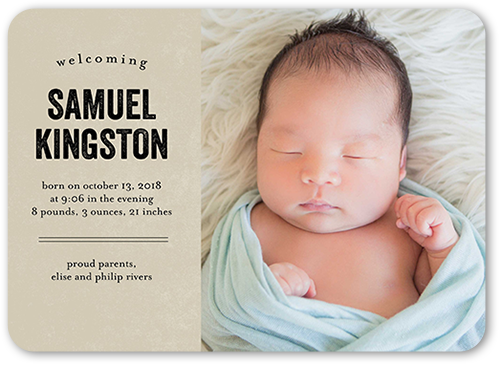 Simple Introduction Boy 5x7 Birth Announcement Cards.Announce your newest arrival with this stylish birth announcement. Add your baby name, a photo with the news everyone waiting for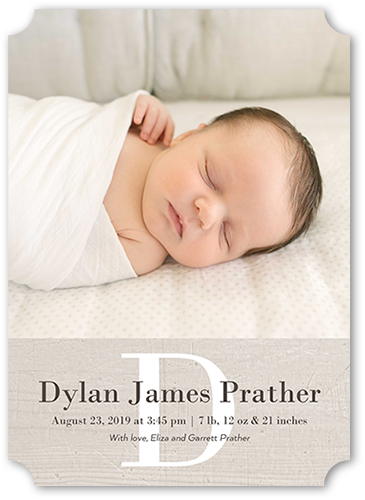 Simple Monogram Boy 5x7 Birth Announcement Cards. Announce your newest arrival with this stylish birth announcement. Add your baby name, a photo with the news everyone waiting for