St. Patrick's Day Cards & Stationery
What customers have to say about our St. Patrick's Day Cards & Stationery
January 22, 2019
Personalized Card Bliss
"Great quality card made from personal photo and personalized captions. Sometimes a store bought card doesn't capture the sentiment you're trying to portray. This is a fantastic option to create your own!"
January 12, 2019
Shutterfly products always look great!
"If you love one of your photos, turn it into a card! Whether it's a Thank you card, a sympathy card, a birthday card or any other kind of card, it'll turn out great!"
January 10, 2019
It exceeded my expectations
"Great, professional results"
"quick and easy. Great pricing."
January 4, 2019
I love these Birthday Invitations!
"These invitation look even better than I expected. The Pearl Shimmer added a nice touch to it!"
FESTIVE ST. PATRICK'S DAY CARDS
Irish eyes will be smiling when they receive a cheerful card from you on St. Patrick's Day. Your loved ones may even think they found a pot of gold when they lay eyes on your one-of-a-kind, St. Patrick's Day greeting card from Shutterfly. Celebrate the day (March 17th) and the luck of the Irish in style and send everyone on your list delightful St. Paddy's Day cards that are sure to make their holiday festive. With templates featuring everything from shamrocks to lucky charms, there's a St. Patrick's Day card template and design for every aspect of this holiday. Send luck and love to the most important people in your life—friends, family, kids, adults—with printable Happy St. Patrick's Day greeting cards from Shutterfly.
FUNNY, CUTE, AND VINTAGE ST. PATRICK'S DAY CARDS
This year, spread luck and Irish blessings with cute, personalized Happy St. Patrick's Day cards from Shutterfly. Designed with four leaf clovers, rainbows, and lots of green, you can find the perfect St. Patrick's Day cards to share with friends and family. With a wee bit of customization, you'll have one-of-a-kind photo cards that will bring joy to everyone on your list this St. Patrick's Day. Choose a unique greeting that suits your style, whether cute, funny, or vintage—you'll find greetings and sayings that reference the familiar themes of luck, cheer, clover, and shamrocks. If you're wondering how to make a cute or funny St. Patrick's Day card, simply choose one of our creative design templates, select a trim, upload a photo (or photos), and add any extra information you'd like, including your name, your family name, a monogram, or a customized message. If you'd like to design your own printable card, select our blank Upload Your Design template and let your creativity do the rest.
MAKE PERSONALIZED, DIY HAPPY ST. PATRICK'S DAY CARDS
Celebrate St. Patrick's Day with a custom greeting card designed by you. A great way to let everyone know you'll be thinking of them is to send them a charming St. Patrick's Day card that says "sláinte," which means "to your health" in Gaelic. Plan ahead, dress in green and send festive St. Patrick's Day photo cards to your loved ones. That is a card sure to make it on the refrigerator. Available in various shapes, colors and sizes, you can choose templates and themes that are perfect for you and your family.. Whichever option you choose, there is definitely something for everyone. In a matter of minutes, you'll be on your way to delighting everyone on this special holiday with personalized St. Patrick's Day cards and greetings that spread good luck. Customize your envelopes with stickers and address labels to make them pop even more. If you want to send a small gift with your holiday cards, consider designing coffee mugs, magnets, tote bags, or candles for your friends and family.
CONSIDER WHAT TO WRITE IN YOUR CUSTOMIZED ST. PATRICK'S DAY CARD
If you're making a custom, DIY Happy St. Patrick's Day photo card, you're no doubt wondering what to write inside to send to your loved ones. Of course, this depends on whether you'd like to send a heartfelt or funny card. Send your St. Patrick's Day wishes in style with sayings like "If it's all green, it's all good" or "A good friend is like a four leaf clover: hard to find and lucky to have." You can't go wrong with "Wishing you all the luck of the Irish this St. Patrick's Day" or something like "May your pockets be heavy and your heart be light." Sticking with the color theme, consider writing, simply, "Go green this St. Patrick's Day." Sayings like these are sure to put a smile on your recipient's face.
Related Products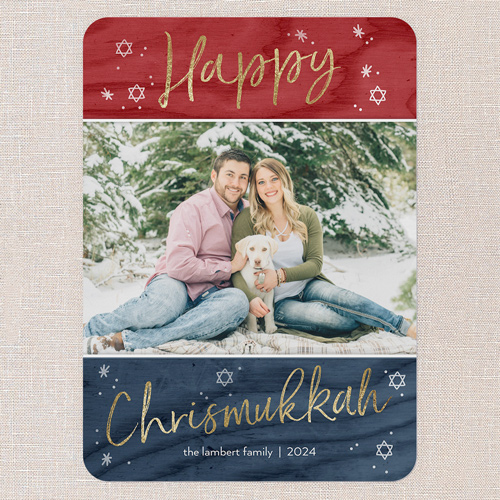 Rustic Chrismukkah 5x7 Photo Card by Shutterfly. Send light and love to friends and family with this Hanukkah card. Add your own greeting and everyone's names.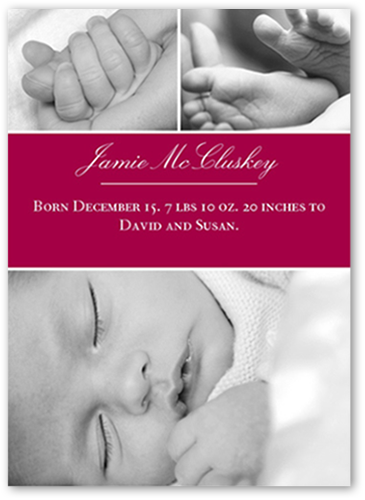 Big Blocks Magenta 5x7 Photo Card by Shutterfly. A bold magenta ribbon adds a pop of color to this classic photo card. Surround a greeting or event details with three gorgeous photos.
Big Cubes Pea 5x7 Photo Card by Shutterfly. For any occasion that's worth remembering. Capture special images with a three-photo layout in pea green.