St. Patrick's Day Cards & Stationery
What customers have to say about our St. Patrick's Day Cards & Stationery
January 22, 2019
Personalized Card Bliss
"Great quality card made from personal photo and personalized captions. Sometimes a store bought card doesn't capture the sentiment you're trying to portray. This is a fantastic option to create your own!"
January 12, 2019
Shutterfly products always look great!
"If you love one of your photos, turn it into a card! Whether it's a Thank you card, a sympathy card, a birthday card or any other kind of card, it'll turn out great!"
January 10, 2019
It exceeded my expectations
"Great, professional results"
"quick and easy. Great pricing."
January 4, 2019
I love these Birthday Invitations!
"These invitation look even better than I expected. The Pearl Shimmer added a nice touch to it!"
Festive St. Patrick's Day Cards and Stationery
Irish eyes will be smiling when they receive a cheerful card from you on St. Patrick's Day. Your loved ones may even think they found a pot o' gold. We send cards at Christmas and Hanukkah and to celebrate birthdays… why not choose an alternative time to send cards to your loved ones? Celebrate the day in style and send everyone on your list delightful St. Paddy's Day cards that are sure to make their holiday festive.
Luck of the Irish
There are so many ways people across the globe celebrate St. Patrick's Day: dressing head-to-toe in green; wearing buttons that say, "Kiss me, I'm Irish;" attending a mass to honor the patron saint of Ireland; pinching those not wearing green; sporting a green plastic bowler hat; and so many more ways, we could lose count. For that one day, we all hope for a little luck of the Irish to come our way.
This is the perfect time to celebrate spring's approach. Personalize your festive card with a meaningful message. A great way to let everyone know you will be thinking of them is to send them a charming card that says "sláinte," which means "to your health" in Gaelic. Plan ahead, dress in green and send festive St. Patrick's Day photo cards to your loved ones. That is a card sure to make it on the refrigerator.
Available in various shapes, colors and sizes, you can choose themes that are vintage, modern, charming or rustic. Whichever option you choose, there is definitely something for everyone. In a matter of minutes, you'll be on your way to delighting everyone on this special holiday.
Share Luck and Good Cheer
The time has come to send your thoughtful card and Shutterfly has many options to complement it in style. Add a little flair with personalized postage stamps and matching address labels or really get into the St. Patrick's Day spirit with custom plates. Your friends will delight in the added attention to this fun holiday.
St. Patrick's Day is a favorite holiday that everyone looks forward to every year. It's a happy, fun day to spend with family and friends. It's also a great day to add a little brogue to your accent. It's hard to say things like, "top o' the mornin' to ya," and "may the road rise up to meet you," without a little roll of the Irish tongue.
With that said, may the road rise up to meet you. After all, for one day a year, isn't everyone Irish?
Related Products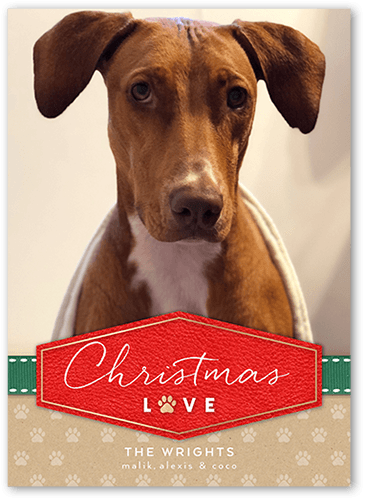 Paw Print Love 5x7 Photo Card by Shutterfly. Send cheer to friends and family with this Christmas card. Add your own greeting and everyone's names.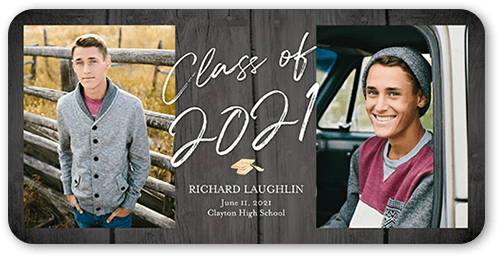 Boarded Script 5x7 Photo Card by Shutterfly. Celebrate the new graduate with this unique graduation announcement. Personalize with the graduate's name and the event details.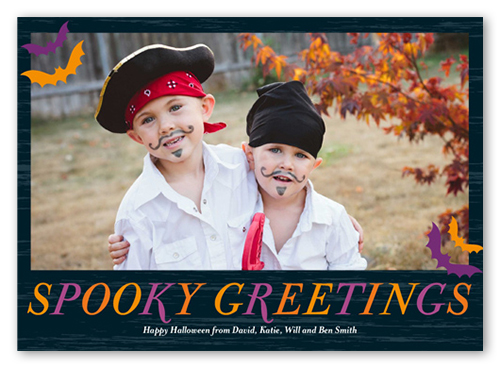 Bright Bat Frame 5x7 Halloween Photo Cards. Invite friends & family to party or trick-or-treat with fun Halloween cards. Shop now!