Sympathy Cards
What customers have to say about our Sympathy Cards
January 20, 2019
Impressive!
"Fantastic collage. Great editing tools and fantastic final product. Sadly, the shipping costs were exhorbitant. Even priority mail is 2/3 less. Too bad. The quality of these cards and envelopes were extraordinary."
January 17, 2019
Meaningful template and easy to modify
"The template was solemn and appropriate."
December 27, 2018
Love creating custom cards
"I really appreciate the opportunity to create a custom pet sympathy card, gave it addresses stamped and mailed all in one fell swoop. I have sent this card twice this year already and recommend it to others."
November 23, 2018
Definitely a must
"I hope I don't have to buy this any time soon, but when I do, this is a must! Beautifully organized, perfect picture quality, and the cardstock material makes these cards well worth the purchase. Unfortunate circumstances, but this made everything just a little easier to deal with."
November 19, 2018
Great product
"They were easy to make and turned out great!"
Show Your Compassion with Sympathy Cards
Grieving can be tough for any person. Often, it is very hard to know the right words to say when someone has suffered a loss. Whether you want to send comfort after the death of a friend or family member, reassure a loved one after an unexpected change in life or simply let someone know they are in your thoughts and prayers, Shutterfly is here to help you eloquently express your sympathy. If you're trying to find the right words to express your thoughts, you might be interested in our sympathy quotes and sayings as a good place to start.
Helping Loved Ones Deal with Loss
We are never prepared to lose the ones we love. When our friends or family have to deal with the unthinkable, it can be hard to know what to do. At the very least, a custom sympathy card can let them know that they are in your thoughts. You can create a card to help celebrate the life and joy of a person and to hopefully help your friend or family member work toward closure. If you are close, offer to lend an ear, run errands or cook meals. Babysitting or even just doing the laundry for someone directly affected by loss can be very helpful in some situations. Often, with grief, we don't know who or how to ask for help. A card can remind someone that they are not alone.
Designing the Card
Shutterfly has plenty of options for designing custom cards. If it is appropriate, you can upload your favorite photograph to help celebrate the memories and life of the loved one who passed. If you prefer to select one of the designs, create your card that way. You can follow the suggested design guidelines or utilize your preferred fonts, colors and personalized condolence message to complete the card. Not sure exactly what you want to say? We have some tips for what to write in a sympathy card that can guide you through the thought process.
Celebrating a Life
Celebrating a life with a hearfelt gift will be remembered by the recepient for years to come. With so many options, choosing the perfect gift can be an overwhelming task. What should you send when someone dies? There are elegant ways to share photos of the ones we love and the ones we've lost. Shutterfly can turn your favorite images into beautifully framed prints. A family photo book is a great way to remind everyone how much joy can surround a person. A photo quilt might be a great way to help people keep the memories alive. Shutterfly can help turn your favorite memories into graceful memorials. Loss is always difficult, so use your favorite memories to keep remembering and keep the light on a little bit longer.
Related Products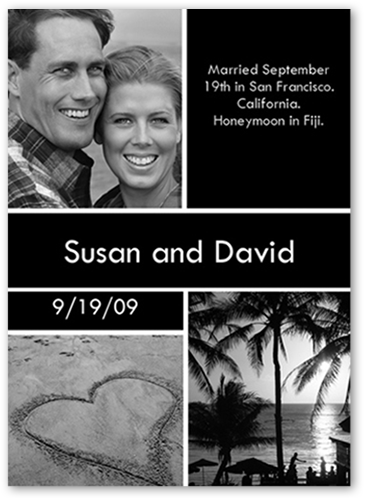 Big Cubes Black Save The Dates. For any occasion that's worth remembering. Capture special images with a three photo layout in classic black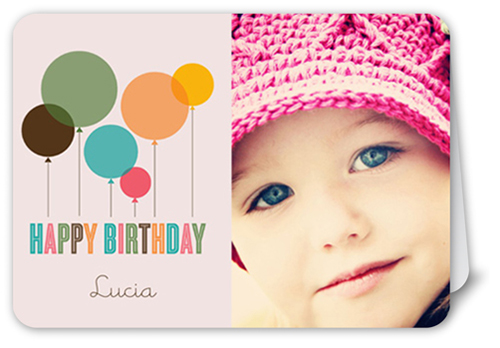 Fun Balloons Pink Birthday Cards. Celebrate her birthday with charming colorful balloons next to a favorite photo. Her name appears in a sweet script font on a cotton candy pink background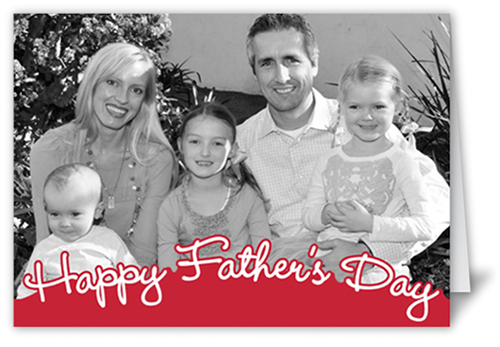 Sweet Script Wishes Custom Fathers Day Cards. Fun scarlet-red script delivers a happy greeting: Happy Father's Day. There's more room inside for your own message and photo