Tarjetas De Navidad
What customers have to say about our Tarjetas De Navidad
January 9, 2019
Feliz Navidad
"I was a little behind on sending my holiday cards and this one included a Christmas greeting AND a New Year's greeting; perfect! The colors where bright and I loved the customizing feature that alllowed me to write a couple of paragraphs on the back of the card. The actual printing of the photo was clean and clear. It looked just like the original. Very happy with the price as well; 40% off!!!"
January 2, 2019
Simple Christmas cards
"I knew I had a photo from our family vacation in Mexico this year that I wanted to use as our Christams card photo. When I was scrolling through samples, this design with Feliz Navidad popped up and I knew it was perfect."
January 1, 2019
Christmas Card Tradition
"I loved how my family Christmas cards came out! I customized almost everything and this site made it easy. These were a big hit with our friends and family! So much that they said they were excited to see next years! I can't wait to be able to make and order more soon!"
December 23, 2018
Good quality and fast shipping!
"I enjoyed"
December 19, 2018
Christmas cards every year!
"We always make our own Christmas cards every year and print them from Shutterfly, and they always come out amazing! This year we made a mini comic book with this particular format and it was AWESOME! We have used Shutterfly for our holiday cards for about 10 years now and we have never had a problem with them!"
Wish Your Family "Feliz Navidad" with Tarjetas de Navidad
It's the holiday season once again and that means it is time to send out your yearly Christmas greetings. Send your friends and family custom holiday cards from Shutterfly. Turn your favorite pictures of the niños pequeños into beautiful photo tarjetas de Navidad.
Designing Personalized Tarjetas de Navidad Cards
If you want to create beautiful Spanish holiday cards, Shutterfly has everything you need to turn your precious memories into personalized season's greetings. Choose from over 40 different tarjetas de Navidad. All you need to do is upload your favorite pictures to the template of your choosing. You can customize the text with your preferred color, font and message. Cards will be shipped directly to your mailbox and come printed on superior cardstock. Whether you want to feature one picture of the familia or a gallery of your favorite photos, Shutterfly has the perfect holiday card for you to make this Christmas festive and bright.
Give Thoughtful and Custom Gifts
Custom candles are the perfect thoughtful gifts to show your loved ones how much they mean to you. Shutterfly can turn your favorite memories into beautiful photo candles that will burn bright and shine joy into the lives of your friends and family. Simply upload your favorite pictures to the easy-to-use design assistant on Shutterfly and select your custom message. You get to pick the perfect scent for each candle from one of Shutterfly's signature fragrance options.
The perfect present for nearly everyone on your nice list is a custom portable charger. This holiday, when everyone runs out of battery, you will be the hero with custom portable chargers for the whole family. There are more than 40 different options so you can create the perfect personalized device charger for each member of your family. Turn their favorite memories and photographs into small gifts that they will use all the time.

This Christmas, show your friends and family how much they mean to you with custom cards and gifts from Shutterfly. It's easier than ever to take photographs that mean the world to you and turn them into delightful presents and stationery that reflects your unique personality. For beautiful, one of a kind tarjetas de Navidad, Shutterfly has you covered.
Related Products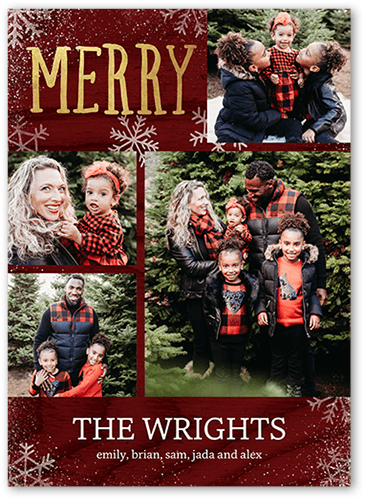 Ruby Glee 5x7 Photo Card by Shutterfly. Send cheer to friends and family with this Christmas card. Add your own greeting and everyone's names.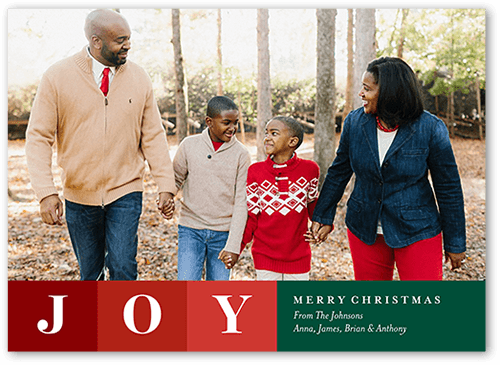 Simple Squares 5x7 Photo Card by Shutterfly. Send cheer to friends and family with this Christmas card. Add your own greeting and everyone's names.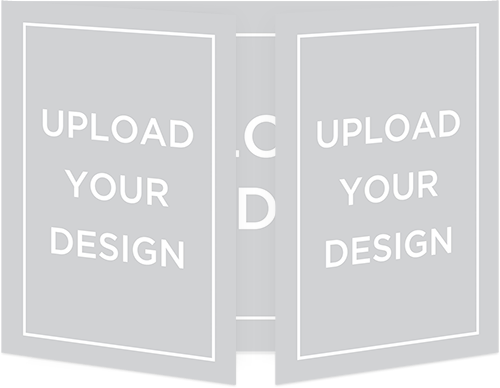 Upload Your Own Gate Fold Design 5x7 Gate Fold Custom Christmas Cards by Yours Truly. Let your story unfold with this unique card that opens up from the middle to reveal your photos like a present. Enjoy more room for ...