What customers have to say about our Thank You Cards
January 27, 2019
Grateful for my thank you cards
"I ordered these cards to give out with my closing gifts to my buyers and I am so glad that I did. The quality is amazing and the print was perfect. Can't wait to use them!"
"Love the size, love the card stock, love how our photo fit so nicely."
January 27, 2019
Love these cards.
"Shutterfly always does a great job."
"Once again, Iove my end result from Shutterfly. The people love their personalized cards too."
January 26, 2019
These turned out so CUTE!!!
"The card stock is very heavy and makes it a nice writing experience. Quality, thick, great bright colors on the card. This is a great product and a wonderful purchase."
Show Your Appreciation With Personalized Thank You Cards
Create your own custom thank you cards with Shutterfly. Gratitude will never go out of style, so no matter how old or young, everyone loves to feel appreciated with a personalized thank you card. Maybe you'd like to thank a favorite teacher with a graduation thank you card or send a wedding thank you card to show your appreciation for the guests. Perhaps you want to extend your gratitude to gift-givers after your event with a baby shower thank you card, a birthday party thank you card, or communion thank you cards. Whatever the case, they deserve something special. Thank a loved one, friend, or even a complete stranger for their kindness, generosity, gifts, or support with personalized thank you cards from Shutterfly.
How to Created Personalized Thank You Cards
With Shutterfly, it's easy to create fully personalized thank you cards. With a variety of personalization options and card designs, you can customize your cards down to the finest details. Choose a thank you card design that matches specific occasions, including weddings, graduation, holidays, new years, and more. Our easy-to-use templates are waiting to be filled with photos of your favorite memories and heartfelt messages of gratitude for your loved ones. You can start with a meaningful thank you quote to lead the rest of your message. With flat and folded greeting card options in a selection of sizes and paper types, it's easy to find the perfect thank you note for the occasion.
What to Write in a Thank You card
No matter which custom thank you note card you choose, what matters most is the message you write in your thank you notes. The true personal touch is the words you use to express your thanks, so above all be sure to craft a note that is genuine, sincere, and specific. Looking for the right words? Check out our guide on how to write a thank you note. We also have rounded up great tips for thank you card wording. As long as your custom thank you cards are honest and special, they'll touch the heart of each recipient and could even be a memorable keepsake for years to come.
Order Thank You Cards With Personalized Stationery
Once you've created photo thank you cards that you love, go the extra mile with added flair. Use custom self-inking stamps to enhance your thank you card envelope with a unique design, monogram, or family name. Make it extra special with personalized address labels, many of which complement our thank you note cards with matching themes and designs. Seal your envelopes in style with stickers, too. You can customize these fun details with favorite photos, colors, and text to make them your own. No matter the season, reason or occasion, it's always nice to give thank you greeting cards. Show your true appreciation for all the gift-givers, partygoers, and supportive friends in your life with beautifully personalized thank you cards from Shutterfly. After all, they deserve the very best.
Related Products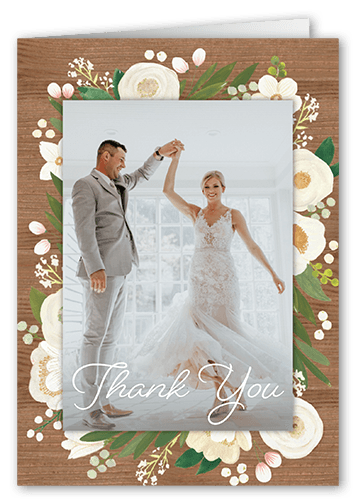 Elegant Bouquet 3x5 Folded Card by Petite Lemon. Because they deserve it. Give them a personalized thank you card to express your gratitude.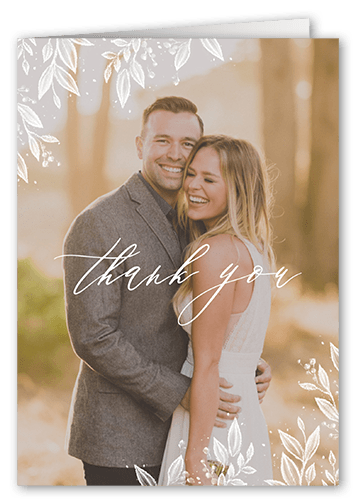 Garland Bliss 3x5 Folded Card by Petite Lemon. Because they deserve it. Give them a personalized thank you card to express your gratitude.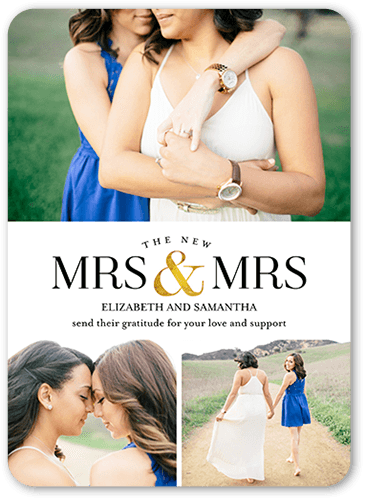 Gratefully Together Mrs 5x7 Stationery Card by Magnolia Press. Because they deserve it. Give them a personalized thank you card to express your gratitude.